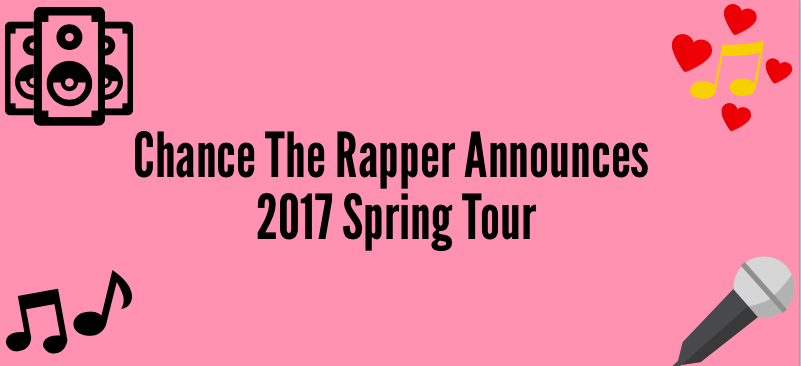 On February 14, Chance the Rapper gave a huge Valentine's Day present to his fans by announcing his Spring 2017 Tour.
Two days prior, the rapper had been nominated for seven Grammy awards and won three. Chance won the Best New Artist Award over Kelsea Ballerini, The Chainsmokers, Maren Morris, and Anderson.Paak. He also took home the Best Rap Performance Award for "No Problem," and was up against Desiigner, Drake (featuring The Throne), Fat Joe & Remy Ma (featuring French Montana & Infrared), and Schoolboy Q (featuring Kanye West). His last win of the night was for Best Rap Album and received this award for his most recent album, Coloring Book. For this award, he was nominated with De La Soul, DJ Khaled, Drake, Schoolboy Q, and Kanye West. Following his success in the awards ceremony, he performed a rendition of two of his songs with a gospel choir by his side.
For many Chance's success and announcement of his concert was the highlight of their weekend and their Valentine's Day.
Junior Emily Anderson, says, "I saw him in concert during my freshman year and I had so much fun, and since then I've only become more supportive and a bigger fan, so I definitely plan on going."
However, Chance's concert falls on the same night as U2's concert at Raymond James Stadium in Tampa. This has caused dismay and frustration for those who are fans of both Chance the Rapper and U2.
Senior Sophia Bahr says, "I am a huge U2 fan and when found out about Chance being on the same day as U2, I was kind of perplexed because now both these astonishing artists might lose attendees. Personally, if I had to choose, I would definitely go to see U2."
Not only does the rapper have his 2017 tour scheduled, but is also set to perform at multiple festivals, including Firefly, Bonnaroo, Governor's Ball, Boston Calling, and Sasquatch.
#ICYMI The daily lineup is here! Daily tickets also available exclusively with our Nashville shuttle packages!
Tix: https://t.co/dM2TAOixsF pic.twitter.com/fChB9opmd9

— Bonnaroo (@Bonnaroo) February 22, 2017