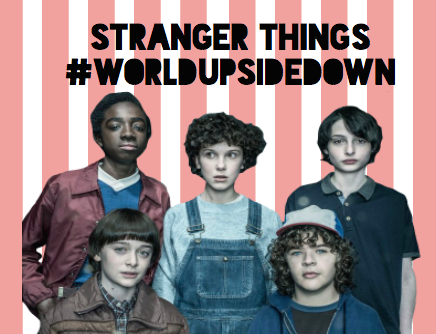 Early in July 2016, Netflix released the original sci-fi series, Stranger Things. Quickly becoming successful, the show acquired a solid fan base, including a vast majority of Academy's students.
Since the original release of the show, the cast themselves have also become very popular. They have been featured on multiple magazine covers such as Interview, Dazed, and most recently, Entertainment Weekly.
Hold on to your Eggos! Your exclusive first look at #StrangerThings season 2 is officially here: https://t.co/VX7a2uOwtP 😱 pic.twitter.com/stAY6xGzuC

— Entertainment Weekly (@EW) February 8, 2017
However, the Entertainment Weekly cover raised some questions for fans, as Eleven has curly hair.
Senior Teresa Toranzo says that she is going to need some more information on that aspect of the photograph and wonders if it will have something important to do with the next season.
Senior Addison Diaz joins in, "Why does Eleven look like Ross Geller from Friends when they show flashbacks of him in college?"
The show has also since been nominated for many prestigious awards, such as multiple Golden Globes, Grammys, Screen Actors Guild Awards (SAGA), and they actually won the SAGA award for Outstanding Performance by an Ensemble in a Drama Series. The cast has also been featured on The Tonight Show with Jimmy Fallon and in Fallon's opening monologue for the Golden Globes.
Sophomore Julianna Cianfrocca says, "I love Jimmy Fallon and I love the Stranger Things kids, so I get so excited whenever they do anything together."
Upon watching the First Season, Stranger Things fans have all been anxiously awaiting the Second one and cannot help but get even more excited each time the cast is featured in magazines, award shows, or interviews. Finally, on February 5, the official Stranger Things twitter account posted the well-awaited trailer. At first, this brought tons of excitement to multitudes of fans, but the excitement quickly turned to feelings of frustration when the end of the trailer announced a Halloween release date.
#WorldUpsideDown pic.twitter.com/znwe9YAezp

— Stranger Things (@Stranger_Things) February 6, 2017
Senior Gianna Gonzales says, "The trailer got me so excited for the next season but I'm super bummed that I have to wait until Halloween for it to come out."
@Stranger_Things When you have to wait 8 months for your life to be worth living pic.twitter.com/9ekV6bDjWA

— Ace (@KreativAce) February 6, 2017
Senior Kendall Perez is already planning to group Facetime some of her Academy friends so they can all binge watch the second season together when it is released, despite all being away at different colleges.
Although the release of the second season is still a long eight months away, the trailer ensures that it will be worth the wait.