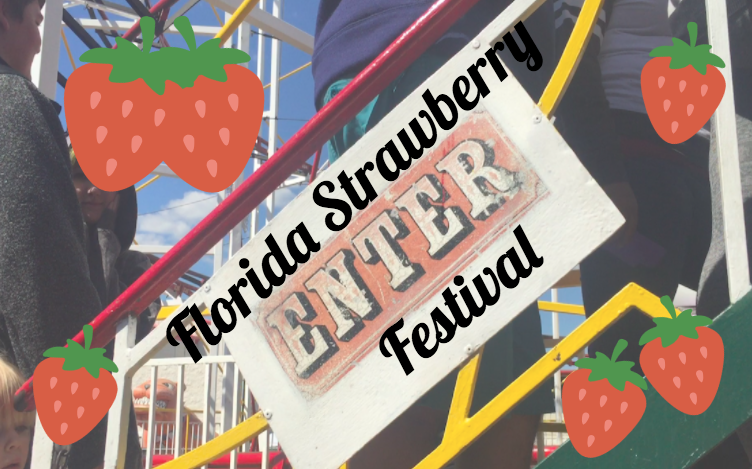 Through March 2 to March 12, 2017, the Florida Strawberry Festival will be in full swing. Since 1930, this annual festival spans through ten days filled with concerts, rides, and strawberries. Located in Plant City, Florida, this festival entertains people from all ages.
As you walk through the grounds, there are a large array of food choices to choose from. From generic fair food, such as hot dogs and burgers, to the unique fried Oreos and chocolate dipped bacon. It is truly a delicacy in need to be tried at least once in your life. Another big find that is only located at the Florida Strawberry Festival is the St. Clement Make-Your-Own Strawberry Shortcake Ministry. Here, you pay $4.00 to be given either a cake or a biscuit to make your strawberry short cake.
Florida Strawberry Festival 2017 – Food from AchonaOnline on Vimeo.
Finding sources of entertainment is not hard at this fair. Within ten feet of wherever you are standing, there will be a game station where you can win large prizes or a roller coaster. There are three categories of rides at this festival: Major Rides, Spectacular Rides, and Kiddie and Family Rides.
Major Rides:
Orbiter
Crown Merry Go Round
Eagle
Giant Slide
Mardi-Gras
Morbid Manor
Scrambler
Spectacular Rides:
Music Express
Giant Wheel
Giant Scooters
Vertigo
Fireball
Foot Loose
Kiddie and Family Rides:
Jet Ski
Dizzy Dragon
Chopper Hopper
Frog Hopper
Wet Boats
All rides have height requirements.
Florida Strawberry Festival 2017 – Entertainment from AchonaOnline on Vimeo.