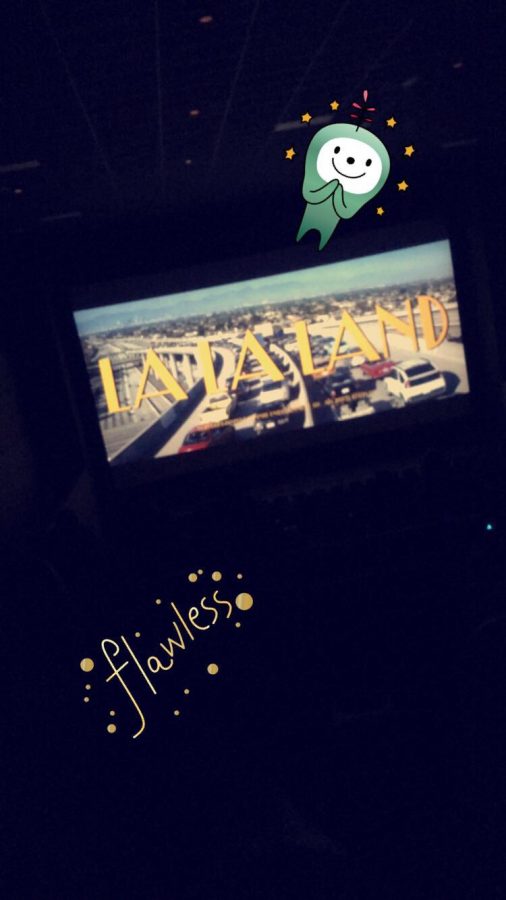 Photo credit: Samantha Cano (used with permission)
La La Land is the musical story of Mia, a girl who aspires to be an actress, and Sebastian, a devoted jazz musician with a calling to open his own jazz club. It further follows how they must choose between their love for each other or their dreams. The movie is set in modern day Los Angeles, California. La La Land received a review of 93% on Rotten Tomatoes.
New York Times writer, A. O. Scott, says on the site, "La La Land succeeds both as a fizzy fantasy and a hard-headed fable, a romantic comedy and a showbiz melodrama, a work of sublime artifice and touching authenticity."
The commercial success of the musical resulted in 341.1 million dollars. Forbes.com has reported that the musical will soon be one of the biggest-grossing original musicals of all time falling behind Mamma Mia, Les Miserable, Chicago, and Grease.
La La Land's director, Damien Chazelle, is an American director and screenwriter. He is a Harvard graduate from Rhode Island who fell in love with music but soon realized he lacked musical talent. He then pursued filmmaking. He received his first award as Best Director at the 89th Academy Awards for La La Land.
But how do Academy girls feel about the musical? (*Spoilers Ahead*)
Junior Isabel Toranzo is a La La Land fanatic. Her favorite song is one of the beginning songs, "Someone in the Crowd". At the 89th Academy Awards, La La Land was nominated for Best Picture but sadly, lost to Moonlight.
Toranzo says, "I really wanted La La Land to win Best Picture but I knew Moonlight was going to win because it's known that whoever wins the Golden Globes is most likely not going to win the Oscar. So I wasn't surprised when they announced that La La Land didn't win but Moonlight did."
Senior Olivia Stevens felt the opposite of Toranzo. She was disappointed with the speed of the plot and did not enjoy the emphasis of jazz in the musical.
Stevens says, "It was very overrated and everyone was too obsessed with it when it first came out. I saw it as soon as it came out and I progressively started to dislike it as it grew in popularity. Also, the characters didn't stay true to themselves and they didn't stay true to each other. I wanted the soundtrack to be more of a musical so I only liked the first two scenes where they sang "Another Day of Sun" and "Someone in the Crowd".
Freshman Amelia Traviesa agrees with Stevens' opinion on the speed of the movie.
Traviesa says,"The ending wasn't good because Mia and Sebastian went through all their hardships and accomplishments together, and they looked so good together. Though they could follow their dream, in the end they couldn't share their dreams with one another. It was especially sad because they were both each other's reasons for chasing their dreams, and they still weren't able to share that happiness in the end. "
Though La La Land did not win Best Picture, Emma Stone who played the part of Mia, won the Academy Award for Best Actress.
In one part of Stone's acceptance speech she explains,"I want to thank Damien Chazelle for allowing me to join you on this amazing journey and to be a part of this project that was so special.This was a once in a lifetime achievement."