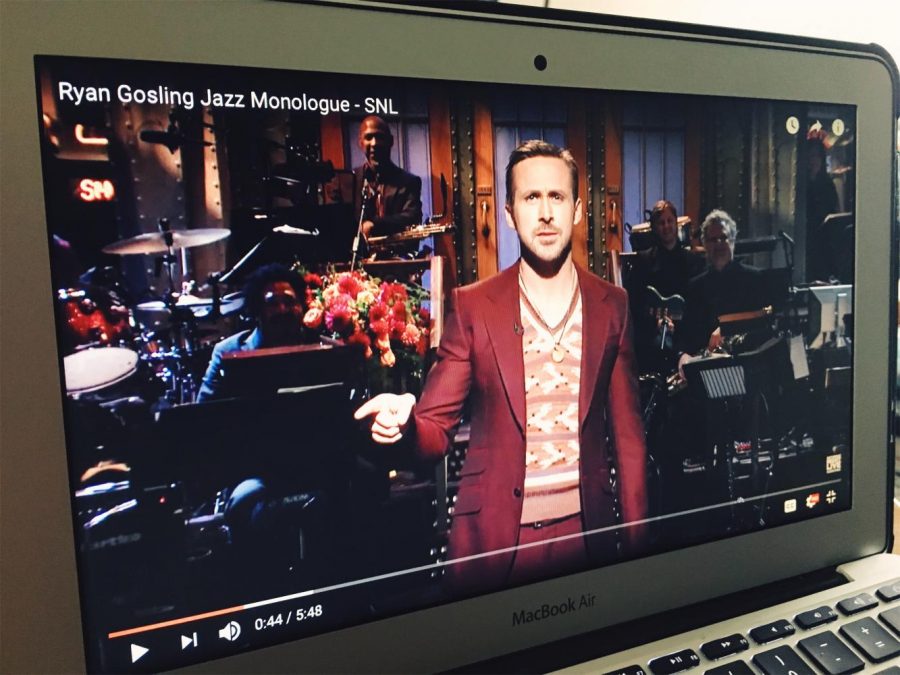 (Photo Credit: Alex Smith/Achona Online)
"Saturday Night Live", one of the longest running comedy series in the United States, premiered its 43rd season on Sept. 30, 2017. The show was hosted by actor Ryan Gosling, with New York native, Jay Z, as the musical guest. Following the pattern that began with the final four episodes on Season 42, Season 43 is being broadcast live in all four time zones within the U.S.
Neha Simon ('18) has grown up watching SNL saying, "It was a family tradition when I was little. My mom, brother, and I would all stay up late every Saturday to watch the newest episode."
When you realize it's almost time for #SNLPremiere. pic.twitter.com/1YgqBMMP0k

— Saturday Night Live (@nbcsnl) October 1, 2017
Before the start of this season, well known cast members Bobby Moynihan (a cast member since 2008), Vanessa Bayer (a cast member since 2010), and Sasheer Zamata (a cast member since 2014) left the cast. To fill these positions, the show hired three new comedians: Heidi Gardner, Luke Null, and Chris Redd. The rest of the cast from season 42 would also return, including guest star Alec Baldwin in his role as President Donald Trump.
Julianne Hahn ('20) is a Gosling fan, saying, "I loved his monologue about saving jazz, especially when Emma Stone, his co star from "La La Land" came onstage and joined in."
The premiere included classic skits like "Another Close Encounter", as well as fresh ideas like "Henrietta & The Fugitive". According to indiewire.com, cast member Chris Redd was named "Best First Impression", Cecily Stong was named "Best Female Performer", and Michael Che was named "Best Male Performer."
Lindsey Perez ('18) has never watched the show, but was interested in the premiere because of Gosling, saying, "Gosling is a great dramatic actor, but he's also very funny. I knew he would be a great host."