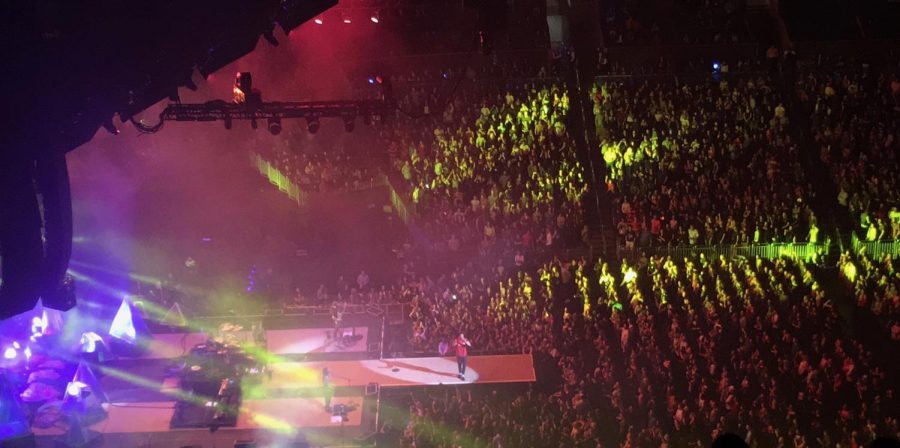 Photo Credit: Juliana Ferrie/Achona Online
On Nov. 10, 2017, Imagine Dragons, a band whose songs range from alternative rock to indie pop, visited Orlando's Amway Center on their Evolve World Tour. The concert featured their newest album, "Evolve," which was released in June.
Maddie Rodriguez ('21) said, "I like Imagine Dragons because their music is different than other artists' music. Their music is more rebellious and loud."
Prior to "Evolve", Imagine Dragons gained fame with their first album "Night Visions," which featured popular songs such as "Radioactive" and "Demons." The band's second album, "Smoke + Mirrors," received the same response from their fans and contained hit songs like "Gold." After releasing "Evolve," Imagine Dragons found their way back onto the charts with hits such as "Believer" and "Thunder."
The concert began at 7:30 and featured a total of three different acts.The opening acts were K.Flay and Grouplove.  
HI ORLANDO

see you tonight with @imaginedragons & @grouplove. we hit at 7:30 pic.twitter.com/ddaYm8Bps5

— K.Flay (@kflay) November 10, 2017
After opening with their hit "I Don't Know Why," Imagine Dragons entertained their audience with a high-energy concert. The setlist included songs from all three of their albums, as well as a cover of Tom Petty's "I Won't Back Down." Lead singer Dan Reynolds engaged the audience throughout the show by explaining the meanings and topics behind several of the band's songs.
Caitlyn Asher ('19) said, "I loved being able to see and hear the artist of songs that I listen to on a normal day sing live. It made their [Imagine Dragon's] music even better, especially since I got to go to the concert with friends who also like the artist."
The Imagine Dragons concert attracted a crowd of all ages. Crowd favorites included their performance of "Demons," "Believer," and "Radioactive."
Gabrielle Boyd ('19) said, "I really enjoyed the Imagine Dragons concert. The band was really good. I loved how they incorporated a lot of different colors and lights into their performance."
Imagine Dragons' Orlando concert was one of the last being held in the United States. After finishing the American leg of their tour, Imagine Dragons will head to Asia, followed by Europe.