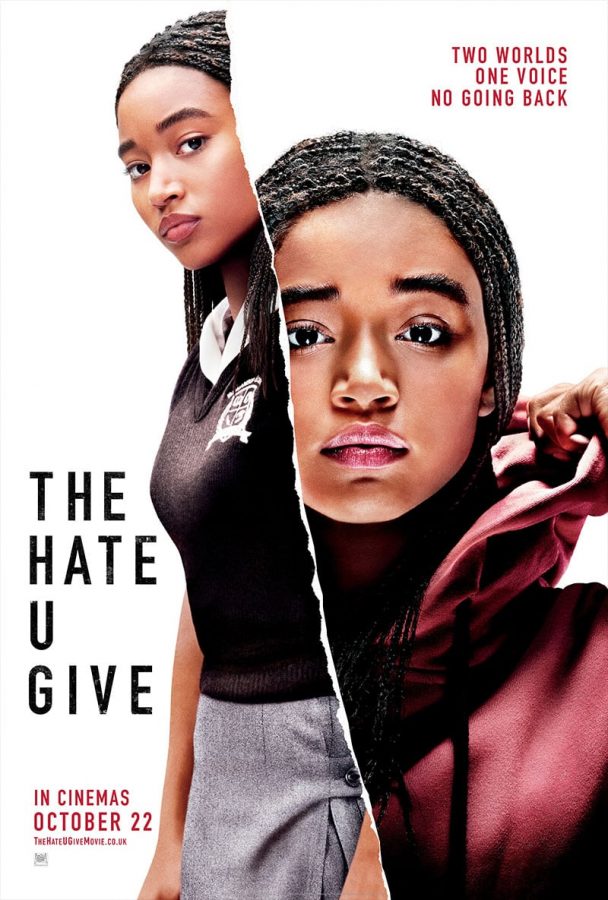 Photo Credit:Fox 2000 Pictures/State Street Pictures/Temple Hill Entertainment
"The Hate U Give" hit theaters on October 5, 2018. The movie is based on the New York Times bestseller by Angie Thomas and stars Amandla Stenberg as Starr, with Russell Hornsby, Regina Hall, "Common", Sabrina Carpenter, Anthony Mackie, KJ Apa and Issa Rae.
The film premiered at the 2018 Toronto International Film Festival on September 7, 2018 and. It has grossed $19.6 million worldwide.
The protagonist Starr Carter spent her life between two worlds: her mostly black, poor, neighborhood and the mostly white, rich, preparatory school she attends during the day. Her life turns upside down when her best friend Khalil is shot dead by a police officer. She becomes determined to break down the wall that separates the two societies.
Greta Dieck ('19) states, "I think "THUG" was a movie that was long overdue. The empathetic and realistic representation of the struggles that the main character, Starr, faces as she navigates the different expectations of Gardenside Heights and her prestigious, mostly white private school is incredibly powerful. The representation of the ways in which racism manifests among white audiences was very accurately depicted; especially in the way Starr's white friend Sabrina is unable to sympathize with the challenges Starr faces."
This movie has brought themes to life that are very prevalent in society today. They are themes and issues of discrimination, brutality, and stereotypes that are usually not talked about and if they are, it is in a negative light. The creators of the movie made it a priority to spark conversation among all races about the issues facing society this day in age. Also, celebrities and figures of today's society have showed their support and gratitude for this movie and it's message.
Thanks @kendricklamar for your support. #TheHateUGive pic.twitter.com/Ttv0H6k5bu

— The Hate U Give (@hateugivemovie) October 21, 2018
Chanita Belcher ('19) says, "Being African American, I really related to the main character Starr during the movie. We both go to private schools and though I do not necessarily feel like I am a "different Chanita" as she does when she refers to Garden Heights Star and Williamson Starr, I do personally relate to the fact that people outside of school think of me as different. I genuinely enjoyed watching a movie that I could personally relate to and, not only that, I felt represented in the media as well."
Dieck also says, "I think the movie did a fantastic job of starting a dialogue among nonblack audiences and forcing them to broach difficult questions."
POWER club hosted a discussion based on the book as well as the movie, which they had gone to see this past Sunday.
Stacy Filocco said, "We talked about the various similarities and differences between the book and movie and why the production team chose to do this. We found that most girls agreed that movies sometimes differ from their original books for cinematic purposes. Another topic we discussed was what made the film difficult to watch. For example, there were parts in the movie where people were insensitive about other character's experiences as well as parts including violence and crime. These were especially challenging to watch when they involved teenagers."
"The Hate U Give" has become a successful film that has reached audiences across America. On review site Rotten Tomatoes, the film has earned an approval rating of 97% based on about 154 reviews, and holds an average rating of 8.2/10.
Belcher also states, "Overall, it was a beautiful movie about the troubles of Black communities and I highly recommend that everyone should go see it."