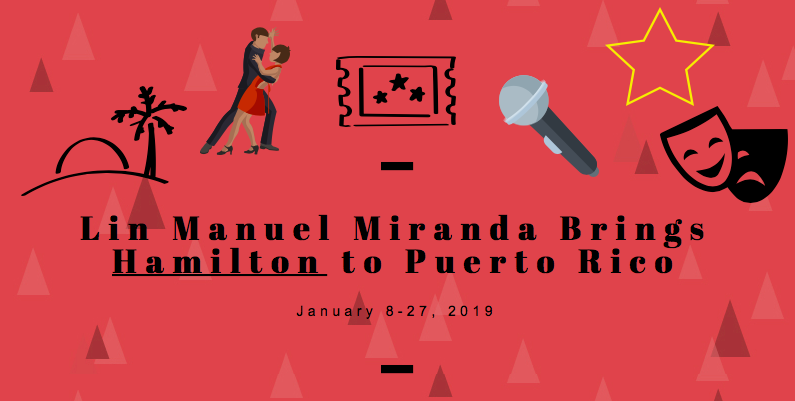 (Photo Credit: Adriana James-Rodil/Piktochart)
On Saturday, November 10, tickets will go on sale starting at 8:00 am EST for "Hamilton" in Puerto Rico where Lin Manuel Miranda will take on his role as Alexander Hamilton again.
There will be a total of 24 performances from January 8 to January 27, 2019, at San Juan's Teatro UPR at the University of Puerto Rico.
Maeve Miller ('22) said, "I think that's [bringing "Hamilton" to Puerto Rico] pretty cool, especially since like the hurricane. I've never been to Puerto Rico, but I heard it was pretty bad over there, and I know that Lin Manuel Miranda is Puerto Rican. My sisters and I love 'Hamilton,' so we used to listen to it all the time, not as much anymore, but still sometimes we'll have like a throwback to two years ago. I actually saw 'Hamilton' in London over spring break, so my parents don't really want to go, just because like it's so expensive to go see it, but it was really cool."
People can purchase tickets at the Teatro UPR Box Office in person (University of Puerto Rico, Río Piedras Campus), at all the Ticketpop destinations in Puerto Rico, online via the Ticketpop website, the HAMILTON app, or through the Flamboyan Arts Fund.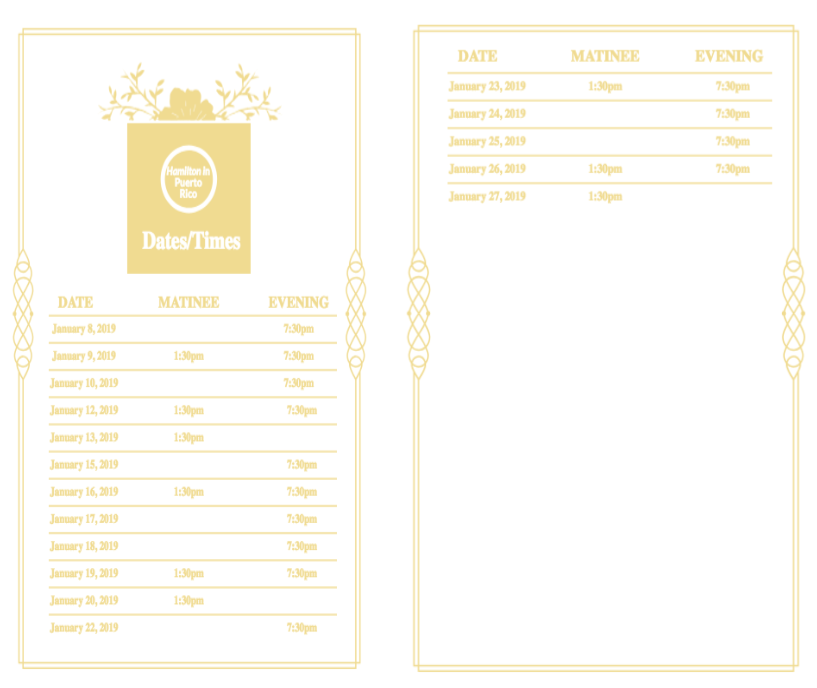 Miranda teamed with producer Jeffrey Seller to partner with the Flamboyan Foundation and have thus created the Flamboyan Arts Fund. Money raised will benefit Puerto Rican art institutions, artists, musicians, and galleries. Miranda's goal is to secure the artistic future of Puerto Rico, which is the root of his ancestral heritage. Organizations have already stepped up and donated money towards the fund. Airbnb gave a percentage of its fees earned from places booked in Puerto Rico from June to September 2018. Marriott International will give a portion of its earnings from  reserved hotel rooms during December 2018 through February 2019 from each of its 11 Puerto Rican hotels.
Maggie Jaap ('20) said, "I think it' really nice of him [Miranda] to, especially, take up his role as [Alexander] Hamilton again because I feel like he's just trying to inspire people, and I feel like this is only to help people, so that's really nice of him. A lot of places that are lower income don't have good art programs and so for him to step up and help them out is really good."
@Lin_Manuel @HamiltonMusical @TeeRico_LinMan When Alexander Hamilton was just freshly two years old. Already the look of determination on his face. #hamilton #TeeRicoTreat pic.twitter.com/SRY8bmGb5u

— Marissa Chow (@marissieann) November 1, 2018
10,000 tickets will be sold via the HAMILTON mobile app at $10 for islanders, and 1,000 of the tickets are exclusively for UPR college students with their appropriate ID for the January 9 matinee performance at 1:30 p.m. There will be a select number of VIP tickets aimed towards supporting the Flamboyan Arts Fund. The Puerto Rican Tourism Company will also sell tourism packages that include tickets and a 2-or-3 night stay in Puerto Rico, but there are limited packages.
Isabella Bahr ('19) said, "I love 'Hamilton,' so what he's [Miranda] doing is really great, and I wish I could go see it because I want to see Lin Manuel Miranda in 'Hamilton' again because he doesn't play it [anymore]. I think he'll get a lot of money."
Through digital lottery, the remaining January 9 and two succeeding Wednesday matinee tickets will be sold for $10, and more than 200 tickets, by lottery, will be sold to residents for the other performances.
Regularly priced tickets will range from $99.00 to $338.40, and there is a purchase limit of four tickets per online account at Ticketpop. However, the regular priced tickets, $10 lottery tickets, and tourism packages are not being directly sold by the Flamboyan Arts Fund.
After becoming aware of the regular and lottery ticket prices, Bahr said, "I mean I think that's significantly cheaper than going to see it on Broadway, so I think that's good that he's giving the opportunity to people that like wanna go see it. They're probably still devastated from the hurricane last year, so I think it's gonna give like a lot of people over there something to look forward to for not that much money."
The Flamboyan Arts Fund will sell a limited number of premium "Hamilton" tickets starting at $5,000 a piece. It includes exceptional seating and VIP access to a post-show donor reception.
To ensure better seats and no fraud, people should not purchase tickets through ticket resellers or secondary markets because Ticketpop, the Flamboyan Arts Fund, Puerto Rican Tourism Company, and some corporate sponsors are the only official ticket sellers.
Julie Bolling ('21) commented on the high risk of ticket fraud, "I personally haven't, but I do know that there are like places online that like can, but the places, personally for me, that I've gotten tickets, it'll usually end up having 'Are you a robot?,' so it's kinda more secure, but no I haven't encountered ticket fraud."
All profits from "Hamilton" in Puerto Rico will be donated to the Flamboyan Arts Fund.
Since Hurricane Maria struck Puerto Rico in September 2017, Miranda has tirelessly worked in his efforts to ensure the island can rebuild and the arts do not suffer as a cause of this.
Miranda said, "As someone whose life has been transformed by the power of the arts, and who has witnessed the incredible healing, growth, stability and wellbeing that cultural institutions can bring to local communities, I cannot stand idly by and watch Puerto Rico's arts and culture scene suffer."
On October 5, 2017, shortly after the impact of the hurricane, Miranda released the song "Almost Like Praying" with stars ranging from Jennifer Lopez, Gloria Estefan, Anthony Ramos, and others to raise money for the Hispanic Federation's UNIDOS Disaster Relief Fund. Dedicated to Puerto Rico, "Almost Like Praying" mentions all 78 towns of PR.
Bolling said, "I think it's actually a great idea. I haven't seen 'Hamilton,' but I do believe that it was a good fundraiser because a lot of people that do like it, so I'm sure that a lot of people would go."
And after learning some tickets are being sold for just $10 a piece, Bolling said, "I've gotta go now to go watch 'Hamilton.'"