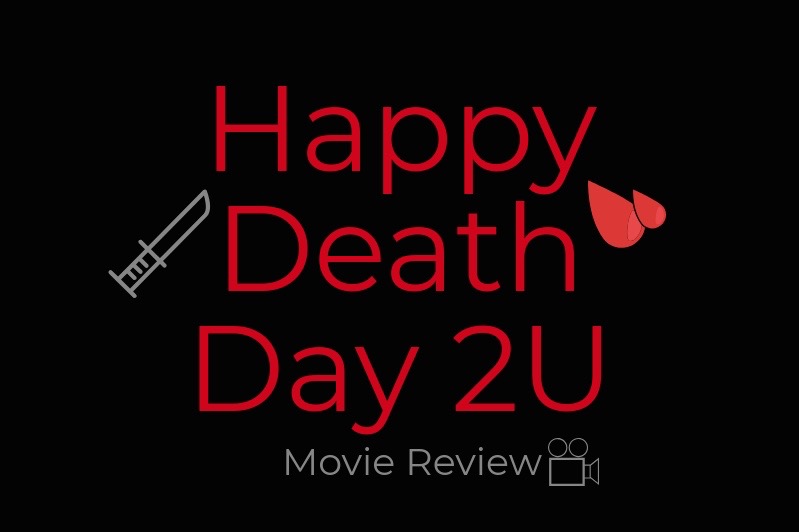 (Photo Credit: Megan Scanlan/Achona Online/Piktochart)
"Happy Death Day 2U," directed by Christopher Landon, was released into theaters February 13, 2019. This movie is the second movie in the series, "Happy Death Day."
Isabella Leandri ('21), "I am super excited to see this movie because I loved the first movie and all the thrill that came with it. I love horror movies, and I'm so excited to go watch this movie."  
The main character, Collegian Tree Gelbman, wakes up in horror, believing that she is yet again in a parallel universe. She realizes that she is living in a different universe when her loving boyfriend, Carter, is now dating someone else, and everyone she knew in the previous movie is completely different.
The main task for Tree in the movie is to help Ryan build his machine by learning mathematical equations and Quantum mechanics. By learning these concepts, she is able to reteach Ryan in order to fix the machine, eventually getting it to operate in the end.
Tree then realizes that the killer is no longer going after her, but everyone. With an accidental fall off of a building, she realizes that in order to relive everyday, she must kill herself in order to save everyone.
Alyssa Sanchez ('20) says, "I loved this movie so much because I was always curious as to what was going to happen next. I knew that Tree would end up killing herself, but it still kept me curious as to what would happen in between."
WHO IS THE REAL KILLER??? #HDD2U is NOW PLAYING. https://t.co/lGKNHhftZj pic.twitter.com/zdAd9fu2u8

— Happy Death Day 2U (@UniversalHorror) February 15, 2019
**WARNING: spoiler**
The Babyface killers ended up being Gregory, John Tombs, and Stephanie. Both Gregory and Stephanie wanted to kill Lori because of her affair, similar to the first movie, but in Death Day 2U, Gregory does not know Tree.
Through Carter's help, Tree manages to save the lives of those who were murdered and expose Babyface. Tree then returns to her normal universe, where she is back together with Carter, and the loop is "apparently" closed for good.
Personally, I loved this ending because even from the first movie, I shipped Tree and Carter together. It made me upset to see him with other people throughout the movie and just kept hoping that they would end up together in the end. I also loved the final reveal of the Babyface killers because I predicted that Gregory was one in the beginning of the movie and could not wait until I finally figured it out. There was a lot of anticipation and cliff-hangers that kept me intrigued.
***end of spoiler***
Landon wrote the second sequel in more of a sci-fi comedy aspect, inspired by "Back to the Future II."  With more of a focus towards universes and science fiction, many viewers were surprised by the movie's plot twist.
The movie received a six out of 10 on Rotten Tomatoes with the explanation that there is not as much violence or evilness as expected, but can still please the viewers.
Alexis Ortega ('19) said, "I was not expecting the sci-fi portion of the movie at all, and it kind of threw me off, but in the end I ended up really enjoying it."