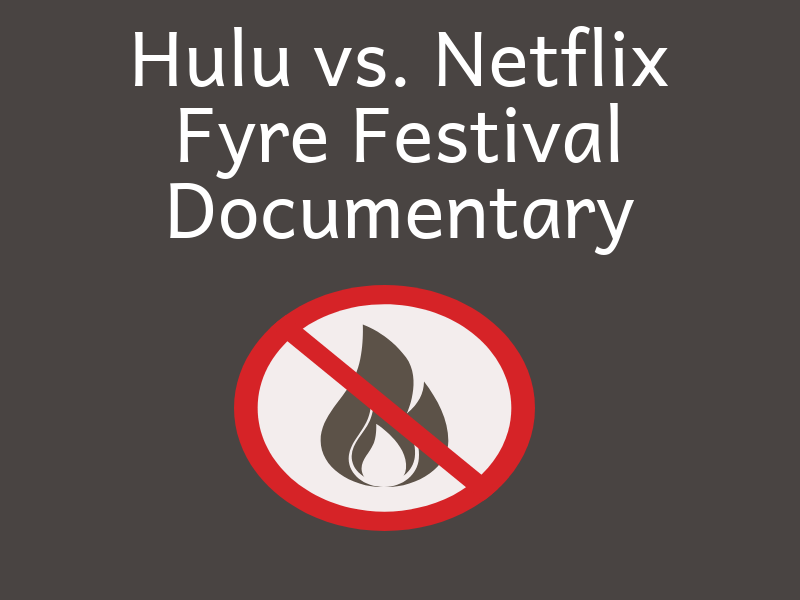 Photo credit: Katherine Rodriguez/Achona Online/Piktochart)
In 2019, Netflix and Hulu both dropped documentaries on the infamous Fyre Festival. Both documentaries were released in January 2019; however, Hulu came out with theirs a few days before Netflix did. Fyre Festival was a music festival that is known as a major fail and that scammed thousands of people. The event occured in 2017, and through social media, it brought attention to how terrible the experience was because it was a scam. The ironic part of it is that social media is what made millions of people hear about this festival and want to purchase tickets.
Through social media influencers, like Bella Hadid, Kendall Jenner, and Hailey Baldwin, the company was able to sell thousands of tickets, which cost up to $100,000. In the promotion video, people were going to be staying in amazing tents and villas, be able to party on the beach, go to concerts with performers like Kanye West, and be given gourmet food. When guests arrived in the Bahamas, they arrived to a small island surrounded by concrete. The tents were not at all as advertised, and there were only mattresses in them. All of the bands pulled out, so there was nothing for them to do but go back home.
As a result of social media, Fyre Festival became a trending story. Billy McFarland is the founder of Fyre Festival, and was sent to jail for not only defrauding his investors, but also scamming thousands of people. After going to jail, he was soon released on bail. While he was on bail, he continued scamming people by lying about having tickets to the Met Ball, as well as other exclusive events. He stole thousands of dollars from people. He is currently serving six years in federal prison.
Just a selection of the tents with holes in, broken doors etc. #fyrefest #fyrefestival pic.twitter.com/74koC5WpJ2

— Adam Thompson (@AdamThompson1) April 28, 2017
I enjoyed both the documentaries, and I found that Netflix and Hulu did a good job explaining what exactly occurred, especially since I did not know much about it before watching them. I did like the Netflix one a little better because there were more interviews from the staff that worked with McFarland and the Fyre Festival itself, so I found that you learned more about what happened behind-the-scenes. An interesting part of the Hulu documentary, which Netflix did not include, was that they were able to interview McFarland. I would recommend the Hulu documentary if you want to find out more about McFarland and his life. I really did enjoy both, so I do not think that you can go wrong with either.
Crushed it #fyrefestival pic.twitter.com/H7jz41fw3E

— Allison Vatz (@avatz) April 28, 2017
"I liked the [Netflix] documentary. It exposed a lot, but then it also didn't go into that much detail. It exposed that is was a giant scam, but it gave [McFarland] a platform because they had to pay him for the footage that they used," says Takkarri Mungin ('19).
Since the Hulu documentary had an interview with McFarland himself (and subsequently paid him for the appearance), some viewers felt that Netflix should have tried to get an interview too, so there would be another point of view.
"I think they did really well on [the Netflix documentary]. I'm sure Billy McFarland would have said no, but I think they should have tried to get him in the documentary. I feel like it was one-sided," says Summer Wolf ('19).
The dinner that @fyrefestival promised us was catered by Steven Starr is literally bread, cheese, and salad with dressing. #fyrefestival pic.twitter.com/I8d0UlSNbd

— Trevor DeHaas (@trev4president) April 28, 2017
Some people found that Netflix did a good job of digging up footage to see more of what happened behind the scenes.
"I thought [the Netflix documentary] was really interesting. I think they did a really good job on filming the actual footage and interviews," says Bella Brooks ('19).
Some viewers chose to watch both documentaries, and found that each one offers something different, so it just depends on what your looking for.
"I did not know anything about it before I watched it. I watched the Netflix one first. The Netflix one is more about the details of what happened. The Hulu one is more about social media and how it impacts society, and the sociological implications," says High School Administrator Lori Troutman.