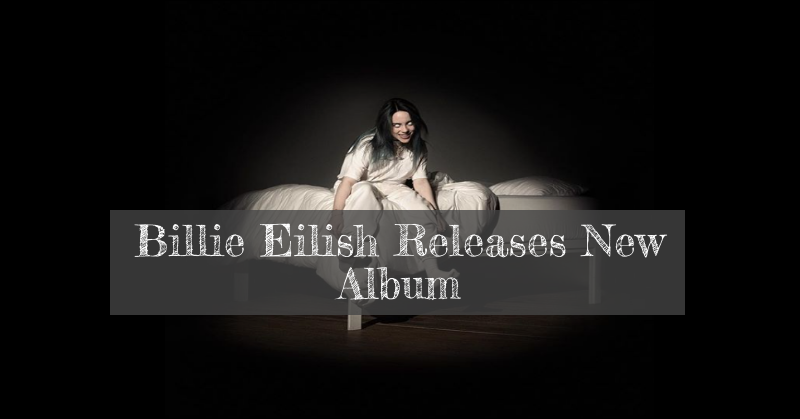 (Photo Credit: Juliana Ferrie/Achona Online/Piktochart)
On March 29, 2019, singer-songwriter Billie Eilish released her debut album "When We All Fall Asleep, Where Do We Go?" with a total of 14 songs and recordings. The 17 year-old pop singer rose to fame after she released her single "Ocean Eyes" on Soundcloud at 13 years-old. Following the song's success, Eilish released her EP "dont smile at me" in 2017, which has over 1 billion streams on Spotify. The EP combines several different genres to create Eilish's own unique and recognizable sound.
Caroline Van Horn ('21) said, "I like to listen to her [Billie Eilish] when I am in certain moods. I like her because she has a very unique voice, and her music is a lot different from everyone else's. My favorite song is 'i dont wanna be you anymore' from her EP because it is one of the first songs I ever heard by her."
Upon the release of Eilish's album, "When We All Fall Asleep, Where Do We Go?" debuted at No. 1 on the Billboard 200 chart. Eilish's album also achieved the third largest amount of streaming within one week for a woman, and she is the youngest artist since 2015 to reach No. 1 on the Billboard charts.
Mckenzie Diaz ('19) said, "I like the music of hers that I have listened to; however, I have not listened to any songs from her newest album. I think her music is unique and fun, but sometimes it can be too much for me."
.@billieeilish's 'WHEN WE ALL FALL ASLEEP, WHERE DO WE GO?' posts the biggest US sales week for a debut album since @NICKIMINAJ's 'Pink Friday' in 2010.

— chart data (@chartdata) April 8, 2019
Leading up to the release of her highly anticipated album, Eilish released popular singles such as "you should see me in a crown," "when the party's over," and "bury a friend." Her song "when the party's over" currently has over 339 million streams. By listening to these three songs alone, the listener is exposed to three very different styles. In "you should see me in a crown," the fast-paced music contributes to the song's catchiness. The song's background includes distinctive sounds, specifically that of sharpening knives, that add to the music's overall ominous feel. However, the lyrics have an empowering message overall.
In contrast, "when the party's over" has a sad and melancholy sound. The song's rhythm is much slower and calmer than her other two singles. This single, however, has a beautiful and dramatic melody that matches Eilish's airy voice perfectly. The song leaves a haunting impression on the listener, drawing people to it.
Her third single, "bury a friend," has a quick, memorable beat. Despite the song's almost sinister lyrics, its refrain is easy to recall and a standout on the album. Eilish wrote the song from the perspective of a monster under her bed, explaining the creepier aspects of the song. 
The rest of Eilish's album includes the fan favorites "bad guy," "i love you," "my strange addiction," and "8." Eilish's use of catchy and changing beats within her songs, as well as dramatic instrumental moments, adds to the albums overall appeal. Each song has its own unique sound and elements, which is what makes Eilish stand out as an artist. For example, within her song "my strange addiction," Eilish incorporates audio from the television show "The Office," adding to the song's eccentric nature.
Gabby Boyd ('19) said, "I really like Billie's new album because it was very different from her first one. I think it's great honestly. My favorite songs are either 'bad guy' or '8' because I love the sound of '8' and the transition in 'bad guy.'"
Furthermore, on the track "8,"  Eilish seems to intentionally twists parts of the song to make her voice sound younger. Throughout the song, the sound of her voice transitions to fit these two different personas: a "younger" version of herself, presumably an impression of herself at the age of eight, and her regular voice.
From a personal standpoint, one of the album's prettiest songs is "i love you." The song's melody serves as evidence of Eilish's beautiful and haunting style. The listener can almost feel the words Eilish is singing as a result of the fluid, dramatic instrumentals in the background.
Looking at the album comprehensively, Eilish displays her immense talent in a variety of different ways. Her meaningful lyrics, purposeful special elements, and powerful melodies add to the album's success. Each of her songs have catchy refrains, making them easy to sing to and to remember. Eilish's incorporation of different types of music styles increases the probability that there is at least one song on the album for every kind of music lover.
Starting on May 29, 2019, Eilish will begin her tour for her album. She will start in San Francisco, California, and will end her tour in the middle of July. Eilish does not have a show scheduled in Florida; however, she will be performing in Atlanta, Georgia, at the end of June.