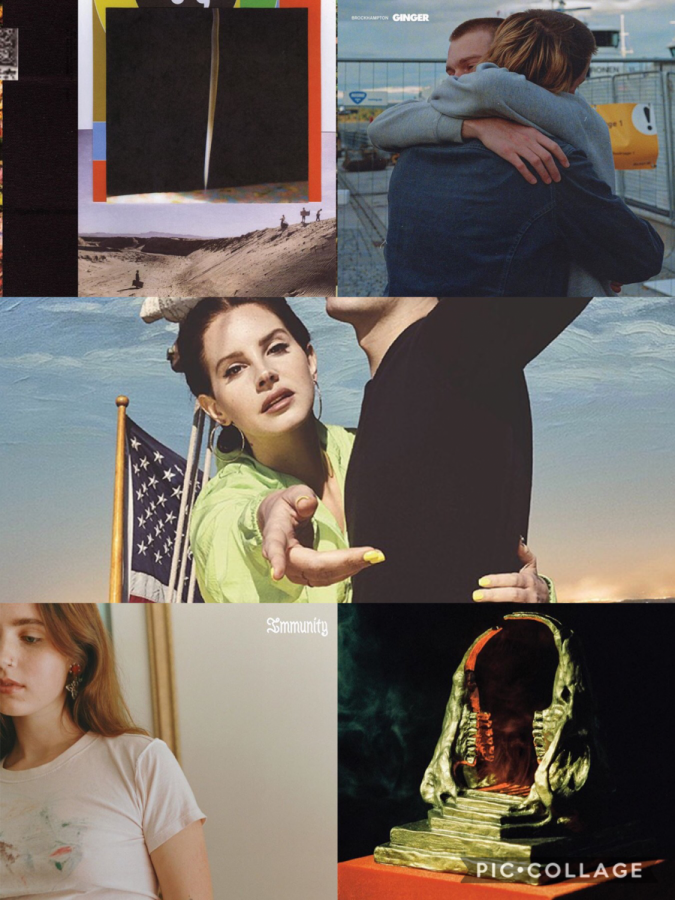 Photo Credit: Sydney Wills/Achona Online/PicCollage
The month of August has graced us with many musical masterpieces from the creative minds of artists such as self-taught electropop Clairo and the self-titled boyband Brockhampton. Here's a further look into some of this month's top albums, and a playlist featuring the albums' highlights.
Brockhampton: Ginger
Brockhampton is a self-titled boyband and rap collective started in San Marcos, Texas and currently based in California. The group met on a Kanye West fan forum and was pioneered by Kevin Abstract. The powerhouse collective consists of vocalists, producers, graphic designers, and web designers: each creative aspect of the group is highlighted. 
"Ginger" is their fifth album released under the record label Question Everything/RCA, with features such as Slowthai, Deb Never, and Ryan Beatty.
The album as a whole, and Brockhampton in general, is defined by their use of voice pitching, catchy hooks, and unique song arrangements. General themes seen throughout the album are those of friendship and growth.  Simply: "Ginger" sounds like a group therapy session and feels like a long hug from an old friend. The record, while sounding a bit cramped at times, contains a myriad of unique beats and performance styles. Similar to the majority of Brockhamptons' discography, the album evokes a chaotic yet nice one-for-all energy.
Notable song #1: "SUGAR" features a glittering chorus from Ryan Beatty and the soothing sounds of a gentle guitar strum and pitched up vocals throughout. 
Notable song #2: "BOY BYE" is the only Brockhampton track so far that features every vocalist and producer, quite literally epitomizing the diverse and inclusive concept of Brockhampton. "BOY BYE" is simultaneously boastful and introspective, a nice juxtaposition of themes layered over a quirky, upbeat string sample. 
Notable lyrics: "Find that truth trickles down, hits the fan, freezes over like a dagger to the spine" on "Dearly Departed."
Clairo: Immunity
Clairo is a singer songwriter from Massachusetts who produces her own unique lo-fi bedroom pop sound. Clairo's sound is inspired by 1980's music and dreamy tones that she channels into her music, using minimal resources such as her guitar and a miniature keyboard. Standout songs have gotten her popular such as "Flamin' Hot Cheetos" and "Pretty Girl".
On August 2, Clairo's first album, "Immunity" was released with the label Fader, stirring up much excitement from all corners of the internet. However, there was one word on my mind for the duration of my listen that could be used to describe the album: bland. Many were excited to see what Clairo's first album would entail, as she was one of the major pioneers of the DIY, dreamy, reverb-heavy bedroom pop movement- yet "Immunity" did not meet expectations. 
Despite the albums' general blandness, Clairo pivoted slightly away from her trademark bedroom pop sound and focused a bit more on soft rock and breezy beats, which she dispersed around lush melodies. Many tracks feature gentle choirs and even slightly 808s And Heartbreak style autotune. The album's production, while at times on the brink of collapsing into mush, is notable because it contains all the essential features of bedroom pop with Clairo's own unique twist. 
Notable song #1: "Alewife" opens with beautifully light piano work and contains themes that overarch the rest of the record, such as the importance of human relationships and overcoming sadness. 
Notable song #2: "I Wouldn't Ask You". This track is split into two conceptual parts, differentiated by tempo and instrumentation. Part one features Clairo's soft, slightly autotuned voice layered over a quiet children's choir and gentle synthesized piano in a way that can only be described as haunting. Part two switches to a more upbeat, R&B style sound as Clairo sings about allowing yourself to be cared for.
Notable lyrics: "Tell you how I felt, sugar coated melting in my mouth" on "Bags".
King Gizzard & The Lizard Wizard: Infest The Rats' Nest
King Gizzard & the Lizard Wizard are an Australian rock band from Melbourne with a lengthy discography of two EPs and fifteen studio albums since 2010. King Gizzard initially adopted a unique sonic blend of surf music and garage rock, but have since expanded their sound and drawn inspiration from other influences, most notably psychedelic rock, folk, and heavy metal. 
"Infest the Rats' Nest" was released August 16 via Flightless and ATO Records, diving deeper into heavy metal, specifically thrash metal, than any of their previous records. Considering King Gizzards' usual eclectic nature of sound blending and juxtaposition, this album is relatively concise as one general theme overarches the entire record: society's utter ignorance- or simply, denial- of climate change. The albums' second side discusses the impending doom of a society forced to flee Earth, and the importance of this issue is highlighted by the songs' backdrop of angry rock. 
Notable song #1: "Planet B" is a very heavy opening track that perfectly sets the tone for the rest of the record and touches on humans' role in the demolition of the Earth. The lyrics, while extremely minimalistic, take on an entirely new power when bellowed over such powerful guitar and fuzz-bass.
Notable song #2: "Perihelion" quite literally exemplifies the themes of the album with the title alone, as perihelion is the point at which the Earth is closest to the sun. 
Notable lyrics: "Urbanization, scarification, population exodus, there is no 'planet B'." on "Planet B".
Bon Iver: i,i
Bon Iver is an American indie folk band founded by Justin-Vernon, frontman-singer-songwriter. The name 'Bon Iver' was chosen based on the French phrase meaning 'good winter', perfectly in line with wintry motifs throughout Bon Ivers' music. 
"i, i" is Bon Ivers' fourth studio album and was released August 30 with the record label Jagjaguwar. The most notable aspect of the album is its employment of chamber folk, the distinctive Britain-based guitar fingerstyle that combines elements of folk, blues, and jazz. In typical Bon Iver fashion, "i,i" is scattered with acoustic guitars, synthesizers, horns, and borderline jittery electronics- taking all traditional elements of Bon Ivers' music and completely rearranging it. 
Notable song #1: "U (Man Like)". The whimsical production, lyrical themes of finding peace, and sampled chorus sounds contribute to an undeniably serene musical atmosphere. Listening to this track conjures nonexistent memories of sitting bundled up underneath a pine tree in the midst of a snowy Wyoming winter. 
Notable song #2: "Hey, ma". This track and its nostalgic feel discuss childhood and motherly affection, with gentle lyrics framed by a steady electronic blip that loops throughout the entire song. Extremely minimal instruments pair exquisitely with Vernon's peaceful voice to create a sonic, emotion-evoking masterpiece. 
Notable lyrics: "Full time, you talk your money up while it's living in a coal mine" on "Hey Ma".
Lana Del Ray: Norman (…) Rockwell
Lana Del Ray is a New York born singer-songwriter who creates poetically emotional pop music with a notable cinematic quality. Lana Del Rey creates extremely stylized melancholy albums frequented by themes of tragic love, the American dream, and drugs. 
"Norman (…) Rockwell" is Del Ray's sixth studio album and was released on August 30th with Polydore and Interscope Records. The record demonstrates Del Ray's exquisite writing prowess as she sings of the trials and  tribulations of life, and the pain of being alive. She replaced many of her usual stylistic elements with cascading piano ballads and folk-influenced sound. The minimalistic production by Jack Antonoff allows Del Ray's haunting voice and stunning lyrics to shine to their full extent and convey the dreamy atmosphere that is so often associated with her music.
Notable Song #1: "The Greatest" acts as the album's emotional closing track and is filled with references to American culture (a common theme in Del Ray's music), such as the Beach Boys. These references, in conjunction with a piano ballad that Pitchfork described as "A piano ballad to close down the bar at the end of the word", create a nostalgic atmosphere that epitomizes the feeling that Lana Del Ray has been attempting to convey with her music for years. 
Notable Song #2: "Venice (…)", a psychedelic track that feels like a half-asleep car ride through the California desert as Del Ray croons about the story of two lovers and the passage of time. This nine-minute track does not bore the listener for even one second, as it is undeniably sweet and balmy. 
Notable lyrics: "You don't ever have to be stronger than you really are" on "California".