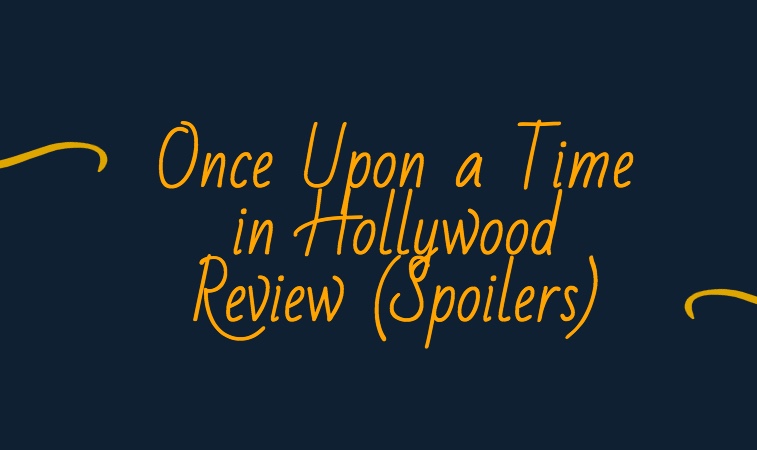 Photo Credit: Kasey Brennan/ Achona Online/ Picktochart
Quentin Tarantino's new film, "Once Upon a Time in Hollywood", recently came to theater July 26, 2019. The film depicts the lives of two actors, a stuntman, and a group of hippies, known as the Mansons. The actor and the actor's stuntman practically live together, while another actor, known as Sharon Tate, moves in next door to them. The stuntman gets involved with the Mansons, which ends up impacting the actors lives at the end of the film. The film is mostly fiction, but is partially based on the real life cult-leader Charles Manson. It was a relatively long film, spanning 2 hours and 40 minutes. 
The most surpassing aspect of "Once Upon a Time in Hollywood" is the all-star cast, says senior Noelle Choueifati.
"The cast had some of my all-time favorite actors, such as Brad Pitt, Leonardo Dicaprio, Margot Robbie, and Maya Hawke," says Choueifati.
With an 80% rotten tomatoes score, movie critiques say the "thrilling yet solidly crafted film tempers Tarantino's proactive impulses with the clarity of a mature filmmaker's vision." 
Some, however, did not like the film despite its all-star cast.
"Despite loving the cast, the movie was so long that I could not really pay attention to most of it. I had a hard time understanding a majority of the movie because I kept zoning out. The movie was way too long for my short attention span," says Choueifati. 
Others loved the movie and expected nothing less from Tarantino.
"It is really good, and I would not expect anything less from Tarantino, you just need a good attention span to watch it," says Carmen Harrell ('20).
In a town of make believe, things are about to get real. #OnceUponATimeInHollywood – now playing. pic.twitter.com/AUWjzbJpl8

— Once Upon a Time in Hollywood (@OnceInHollywood) July 31, 2019
Tarantino's new film also faced a bit of controversy surrounding Bruce Lee's character. Bruce Lee's daughter, Shannon Lee, said harsh words to Tarantino about how the depiction of her father was "not how he was in real life". Shannon Lee also said that her father's confidence can be mistaken for cockiness. However, Tarantino holds firm in his view of Bruce Lee, saying that he was a "pretty arrogant guy", and how he was depicted in the film should be taken as an accurate description of how the martial arts legend was in real life.
I would definitely recommend seeing Tarantino's new film while it is still in theaters, due to an amazing performance by both Brad Pitt and Leonardo Dicaprio, and how Tarantino did a great job at both depicting Old Hollywood and the surprising twist on actual events that happened in history.
"I liked how Tarantino rewrote history and how the film portrayed each actors story, and how they all came together at the end," says Maria Garcia Gil ('20). 
https://vimeo.com/achonaonline/review/358343536/8e0c09e48a