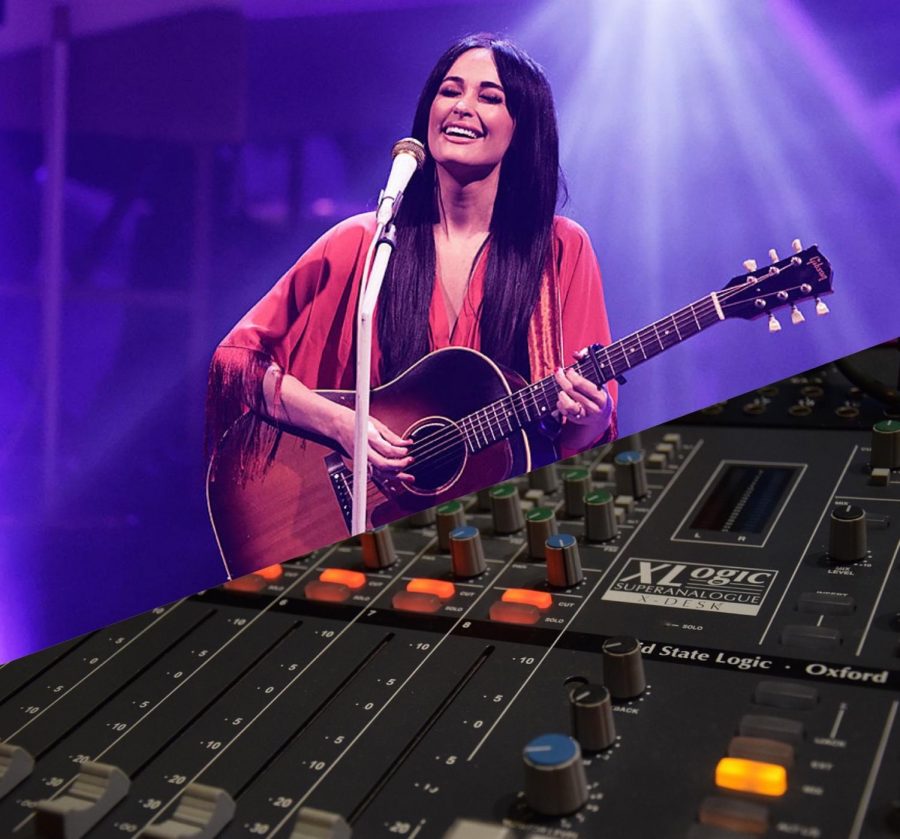 Photo Credits/ Achona Online/ Kasey Brennan/ Pic Collage
The American Entertainment industry is in a long term battle against a lack of representation, discrimination, and the pay gap. Recent studies have found that women are heavily underrepresented in a certain industry: music. In a recent Northwestern study, it is shown that men release more songs than women, are signed to record labels more frequently, and are aligned with more collaborators to produce music. 
In 2018, women were only found to be artists of 17,1% of songs on the top charts, according to a report by the USC Annenberg Inclusion Initiative. Out of the 1,455 artists studied, the ratio of males to females was 6:3:1. 
Females are extremely underrepresented in the behind-the-scenes aspects of music as well. Very few female producers work in the music industry. According to the report, the ratio of male to female producers across 400 popular songs is 47 to 1. In 2018, 97.7% of music producers were men, while 2.3% were female. In 2018, 12.2% of songwriters were female and 87.8% were male.
Women of color, in particular, are inconspicuous as music producers. According to the report, 4 out of 871 producers were women of color. 
"I actually want to go into the music industry myself one day, possibly as a producer. I feel like women are less likely to get opportunities in this industry. Companies are more likely to give men more opportunities because that is what they recognize in the industry, being that it is a male-dominated," said Tess Ricco ('20).
Also behind the scenes of the music industry, women felt that they faced unfair treatment. In a survey, over 40 percent of respondents admitted their colleagues dismissed or discounted their work or skills. Also, 39 percent have experienced stereotyping and sexualization. A third said the music industry is male-dominated. A quarter experienced being the only woman in the recording studio.
The gender gap at the Grammy's is clearly evident in the report. From 2013-2019, only 10.4% of the Grammy nominees were female, while 89.6% were male.
"These findings do not really surprise me because in most fields women are overlooked when they are just as qualified, or more qualified, than men. Some women in the industry are looked at for their image, rather than their talent or music," said Mary Kelly Cardillo ('20).
Famous female music producers today include Grimes, Lady Gaga, P!nk, Sylvia Massy, Missy Elliot, Beyonce, Alicia Keys, and Kacey Musgraves.
Out of the nearly 5,000 record labels in the study's data set, only one third have ever signed at least one female artist.
According to the findings, genres such as rock, electronica, rap, techno, and reggae are more commonly associated with men while pop, vocal, R&B, vocal jazz and soul are attributed to female artists. Listeners assigned nearly all 571 fine-grained genres at least once to male artists but less than half of the genres were assigned to female artists, indicating that women are known to create in fewer musical styles, Horvat said.
The country genre, in particular, displays discrimination against women more than any other genre. Country songs are often sung about women, whether that be women breaking hearts or wearing boots. However, when listening to any country radio station, you will hear at least 10 songs sung by male country artists before you hear one song by a woman. 
In radio's Top 50 for the week of Aug. 19, compiled by industry newsletter Country Aircheck, only nine songs were from women or female-fronted bands. Only two made the Top 10, including Carrie Underwood's "Southbound" and Runaway June's "I Can Buy My Own Drinks."
At the Seven Peaks Music Festival that took place this past August, curated by Dierks Bentley and Live Nation, further constitutes the inequality of female artists in the country genre. Of the 27 acts on the lineup, only nine are female.
Female country artist Maren Morris has used her popular place in country music to speak up against the inequalities against female artists in the genre. Her goal is to make sure up-and-coming female country artists are not ignored.
The Annenberg researchers plan to help bring equality into the country genre: They are partnering with a number of companies and organizations, including Universal Music, Live Nation and the Academy of Country Music.
One of the reasons we did the gender in country music research is that there is so much fear in this space. People are terrified to speak. Let's all raise our voices so @iHeartRadio & @CumulusMedia will play female artists and give them the visibility their talent deserves. pic.twitter.com/mxEBsCQQAy

— Annenberg Inclusion Initiative (@Inclusionists) April 5, 2019
Those who work in the music industry are aware of this issue, and some have already taken steps to incorporate more women, especially those of color.
Ethiopia Habtemariam, president of Motown Records, speaks on this issue: "You know, it's interesting, because I think there are a good amount of women in the music industry in marketing and publicity roles. I think what I've noticed as I've come up is that we're missing a lot of women — of color, specifically — in creative roles like A&R [the division of a record label that scouts talent]. When I was first coming into the game, I remember there being women of color running A&R departments, but that's decreased. And that's a problem, because those roles have a real influence on who gets signed, from artists to songwriters to producers."
Jacqueline Saturn, co-general manager of Harvest Records, talks about the steps she has taken: "One thing that I'm 100% known for is hiring women. I've had almost entire staffs that are female, and I've seen people that start as my assistant go on to grow to senior positions or running things in artist development. I've made it my business since early in my career to surround myself with and hire women, while also making sure they were the best people for the job. But I've seen and heard firsthand that that just isn't a common practice in this business. And it should be."
Focusing on these gender differences could help inform about the lack of female representation and resulting pay gap in the music industry, an influential gig economy that is an important trendsetter for the new labor market and beyond, said author Anges Horvat.
Women who have a voice in the music industry are aware of this issue.
Popstar Lady Gaga said to Billboard: "I want to show women they don't need to try to keep up with the 19-year-olds and the 21-year-olds in order to have a hit. Women in music, they feel like they need to sell everything to be a star. It's so sad. I want to explode as I go into my thirties." 
Singer-songwriter Lily Allen said to NME: "You will also notice of the big successful female artists, there is always a 'man behind the woman' piece. If it's Beyoncé, it's Jay Z. If it's Adele, it's Paul Epworth. Me? It was Mark Ronson and the same with Amy Winehouse. You never get that with men. You can't think of the man behind the man. Because it is a conversation that never happens. If you are Ed Sheeran or someone, no one ever talks about who has produced or who is the man behind Ed Sheeran."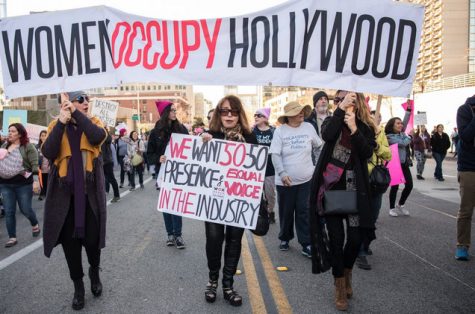 So, given this research, what steps can the music industry take to be more inclusive to women?
Dr. Smith from the USC Annenberg Inclusion Initiative states that the first step to take is really a sober look at the data and how it's consistent with current thinking about the music industry, who is being signed, who is being promoted. The industry needs to think about the steps towards more inclusive practices from a business perspective and in the recording studio to ensure that talent has every opportunity to be seen and heard and that there are not biases based on gender and racial or ethnic identity. Dr. Smith states that he is hoping to use this data as a basis for a series of qualitative follow up investigations where he actually takes a deep dive, talks to executives, talks to producers, and talks to songwriters about the impediments or biases that might face different groups with getting into the industry or having career sustainability within the industry. 
Dr. Smith also states that he is encouraged to see consumers taking an action on these findings by letting companies and artists know that female songwriter's matter, positing online and asking who artists are working with in terms of making songs in the studio, starting to create a national conversation about the issue so that young people are aware of it so that they can be apart of the solution.
So is the music industry doing anything right in terms of inclusion?
According to Dr. Smith, 42% of all artists are from underrepresented racial/ethnic groups. This is above the U.S. Census and a pattern that has not been seen in previous reports when looking across film and television. The music industry seems to be leading within the entertainment space when it comes to the inclusion of racial and ethnic diversity of artists. Most notably, a full 50% or more of female artists are underrepresented in 2016 and 2017 on the top Billboard year-end charts. This is not a pattern we see in other forms of entertainment media and something the music industry is getting right. For example, only three women of color were leads or co-leads across the top 100 films in 2016. The film industry can take a note from music's playbook on how to ensure that all forms of talent are seen and heard.
For women who are looking to go into the music industry, Jacqueline Saturn gives advice: "Don't be shy. Be passionate and be vocal. Because you never know who might somehow get you connected. It could be a parents' friend who's a piano teacher or the guy taking your order at a restaurant. I myself started out as a receptionist, and I was fine with answering phones, but in between, I was telling anyone who would listen to what I wanted to do."
"This study gives us a chance to reflect on challenges faced by female musicians," said author Agnes Horvat, assistant professor in the department of communication studies at Northwestern. "Ideally, someday we'll define a 'female way' of producing music that could help women advance better in this industry and support a broader range of talent in the global music scene."