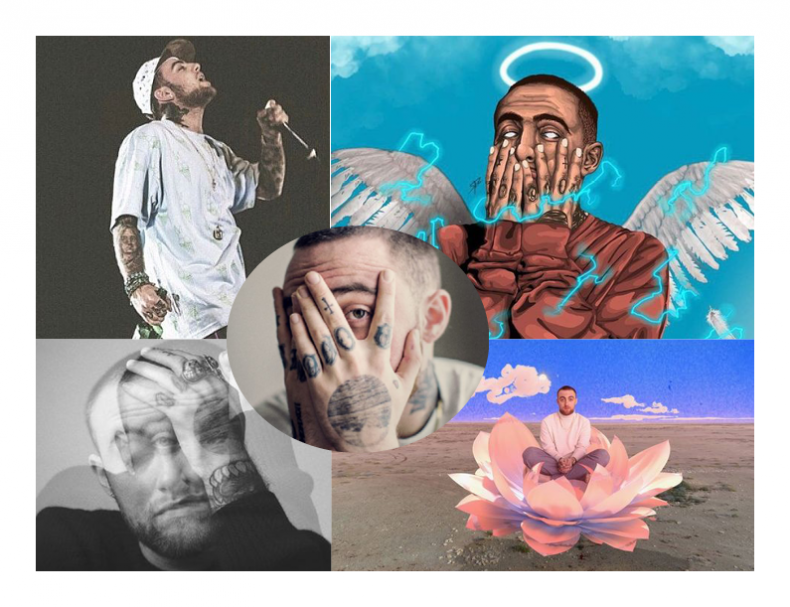 Photo Credits: Sydney Wills/Adobe InDesign
On September 7, 2018, the world reeled with despair as the news of singer, rapper, and songwriter Mac Miller's unexpected death spread across media outlets. Miller was found dead in his home in LA, reportedly of an accidental overdose involving suspicious Fentanyl. 
Miller's sudden death was indescribably impactful, as he was widely considered to be a legend of the music industry and was one of the first of the younger generation's artists to pass away so suddenly. Fans of Miller and music lovers in general spent weeks mourning, honoring him on social media, and visiting his memorial at the infamous Blue Slide Park in Pittsburgh, which Miller often mentioned in his music and even named an album after. 
Olivia Tremonti ('20) said, "I was really impacted by Mac Miller's death, I'm not even sure why. He was one of my favorite artists and did a lot of cool things for the genre of hip hop. He was just really young and likable so his death was super shocking and really sad for me." Mac Miller's death was made even more shocking and heartbreaking considering that it came in the wake of his ninth studio album "Swimming," which contained themes of recovery, tackling problems face on, and general optimism towards life. 
Thus, "Circles," Miller's upcoming sixth studio album and posthumous release, is intended to be a companion to his previous album, "Swimming." The styles of the albums are meant to complement each other, prompting the concept of "swimming in circles." According to Miller's family, he had been working on the album for some time before his death alongside producer Jon Brion, who had heard early demos of the album and wanted to help with its production. 
"Circles," was announced in an instagram post from Miller's family that explained minor details and expressed the tremendous difficulty required in the decision of whether or not to release it. The family decided that all releases, including the album's first single, would not be publicly announced on any platform in order to "keep sacred what should be sacred." The album's first single, "Good News" was released January 9, already demonstrating a connection to "Swimming." The album itself came out this January 17.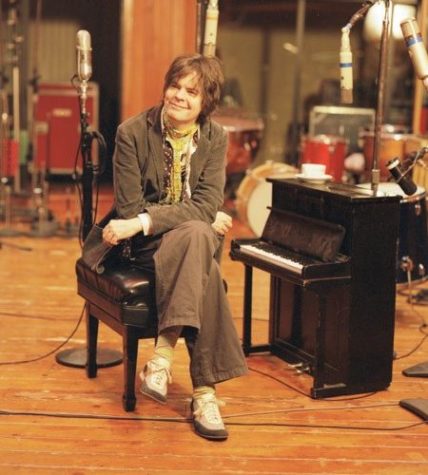 "Good News" was released alongside a video featuring psychedelic imagery of animals, pianos, flowers, candles, and pictures of Miller himself cascading across soothing landscapes such as deserts and meadows. The video feels as though it was sent from heaven itself, as the soothing visuals and cutouts of a delighted Mac flow to the tune of the song's breezy, calm instrumentals. 
After watching the video, Grace Anthony ('20), said "I loved the new song and thought the video was really cool, it made me very sad because of how hard he was struggling and no one seemed to know what he was going through. It makes me think of how much other people go through that I just don't realize."
A similar reaction was seen from popular YouTube music review personality Anthony Fantano, who is known for his scathing reviews of commercially worshipped albums. In his surprising review, Fantano breaks down upon hearing the song, an uncharacteristic action that further demonstrates the impact of Miller's death and posthumous releases. 
Maria Garcia Gil ('20), who has been a longtime fan of both Miller and Fantano, said, "It was really weird watching Anthony Fantano cry after hearing Mac's song, it made me really sad. But it's nice that he feels comfortable enough with his fan base to put himself in that vulnerable position on YouTube."
The instrumentals of the song are very soothing, containing rhythmic drum patterns dispersed among bouncy plucked strings and slow-building layers of guitar that create a lighthearted atmosphere of gentle reflection. 
Verse one is packed with rhetorical questions that demonstrate Miller's self reflection and general confusion. Some lines are purposely sung higher and more melodically, emphasizing them and making them appear as pauses in his self reflection, words of self-reassurance, to Miller from Miller.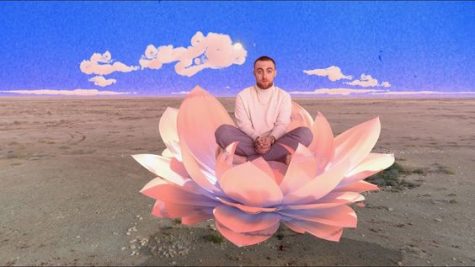 Overall, he discusses being trapped in his head, which is filled with negative thoughts, and he acknowledges his need (yet inability) to rid himself of these thoughts, rapping, "do a little spring cleaning." Miller expresses despair at feeling like he needs to live for others and the pressure that this brings, as he says, "got the cards in my hand, I hate dealing." Throughout this verse and the song in general, Miller draws parallels between flying and being high on substances.
The song's chorus discusses the overarching theme of the song that is also addressed in "Swimming," the fact that Mac feels as though no one truly cares about his mental state, they just want him to act like he's alright so that they can feel that he is. This idea continues into the second verse and starts to take on a very depressed tone as Miller discusses "running out of gas," or motivation, never going outside, his existential exhaustion, and tendency to ruin things in his life that are good.
Mac raps, "Why I gotta build something beautiful just to set it on fire? / I'm no liar, but / Sometimes the truth don't sound like the truth," referncing the themes of self growth and rehabilitation established on "Swimming." Clearly, some things in Miller's life have changed since that record was written, and his positive mental state and avoidance of drugs has changed, causing him to second guess himself. He wonders if the positive themes expressed on "Swimming" were merely a wall between reality and his depressed state of mind. It would be reasonable to assume that these introspective themes will be ones tackled on "Circles."
The song's third and final verse is hauntingly heartbreaking to look back on in the context of his death: it expresses hope towards his current negative situation, which is uncommon in people who are irreparably deep in the pits of depression. "There's a whole lot more for me waitin' on the other side," he sings as the instruments momentarily swell and the outro fades out.