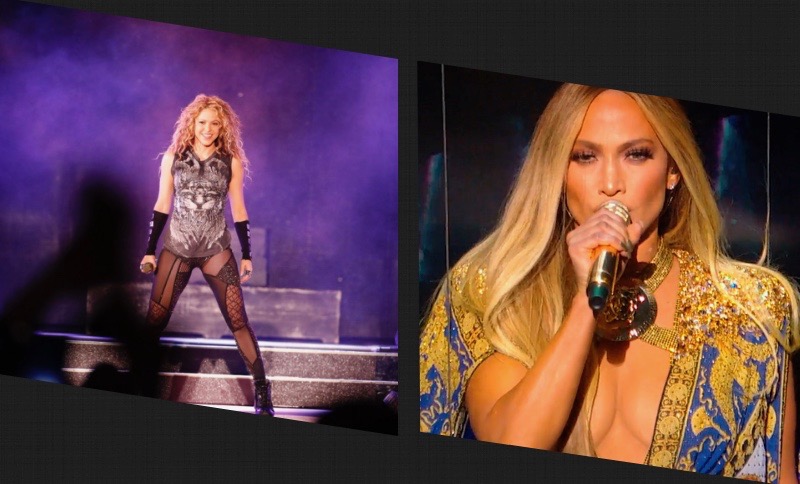 Photo Credit: Piktochart/Wikimedia/Used with permission
Puerto Rican actress and singer, Jennifer Lopez, and Colombian singer, Shakira, performed together for the Super Bowl LIV halftime show. Many criticized the two women of color for what people perceived to be a morally indecent performance, but what Americans failed to realize is that their display was the real picture and growing power of America today. 
Jennifer Lopez has to laugh off the critics who called her #SuperBowl performance with Shakira "too sexy," saying the show was "a celebration of women and our Latino culture" https://t.co/RzL2Nnn51s pic.twitter.com/rE0iUKnwOY

— Variety (@Variety) February 8, 2020
There are more than 60 million Latinos in the United States, and the two stars represented a diverse and growing Latino population while also being gloriously Hispanic. During the show, Shakira shouted out "Hola, Miami," to the city that is more than 72% Hisapnic and showed off her talents by playing the electric guitar and singing hits such as "Hips Don't Lie" and "She Wolf".  Lopez did not disappoint either, with her dramatic entrance atop a pole that resembled the Empire State Building. 
Lopez wrote to Shakira on Instagram before the show saying, "Let's show the world what two little Latina girls can do."
"I think this halftime show was iconic. Two minority women coming together to do a powerful performance. It was amazing," said senior Amelia Traviesa. 
J-Lo shouts out LOVE for Puerto Rico! Jennifer Lopez and daughter Emme Maribel Muñiz rock the country, "Born in the U.S.A." blasting strong. Behold the Puerto Rican flag proudly displayed on stage during the Pepsi Super Bowl LIV Halftime Show. pic.twitter.com/uYzY9QySMy

— Stephanie Kennedy (@WordswithSteph) February 3, 2020
Jennifer Lopez, Shakira Give Master Class On How To Command An Audiencehttps://t.co/F1dJ7portk

— Nina Garcia (@ninagarcia) February 5, 2020
"I know many people thought the performance was 'scandalous', but I think once you realize how much meaning there was behind it, especially for J.Lo, you really how good it really was," said junior Caroline Vanhorn.
A Christian Activist Is Planning To Sue The NFL Because The JLo and Shakira Halftime Show May Keep Him Out Of Heaven and Put His Soul In Danger Of Hellfirehttps://t.co/E4LGdxh3IM pic.twitter.com/3b8Z88oz4z

— Barstool Sports (@barstoolsports) February 5, 2020
The performance was also of significance to show that women can be the "best version" of themself at any age. Through the performance, Shakira (43) and Lopez (50) celebrated their career, their bodies, and their culture. Many people shamed Shakira and Lopez for their revealing performance, but many of Shakira's moves were a tribute to her culture: belly dancing from her Middle Eastern side (her father is Lebanese) and a few Afro-Colombian dances later on. 
The paramount moment for Puerto Ricans was the moment when Lopez took the stage with her daughter, Emme, 11, and sang a mashup of the chorus "Born in the USA" by Bruce Springsteen and Lopez' own anthem, "Let's Get Loud",  while J.Lo donned an American flag cape with Puerto Rico's flag on the inside. Puerto Rico has endured a federal financial control board imposed by Washington, suffered from a 13-year recession brought on by a $73 billion debt, recent earthquakes, the horrible aftermath of Hurricane Maria that killed 3,000 people.  
"I absolutely love Jennifer Lopez and Shakira. I think their music is so fun and upbeat and their performance was definitely a showcase of their Latina ethnicity," said senior Tess Wadsworth.
All of this reminding the next generation that their success is possible by being just who they are.