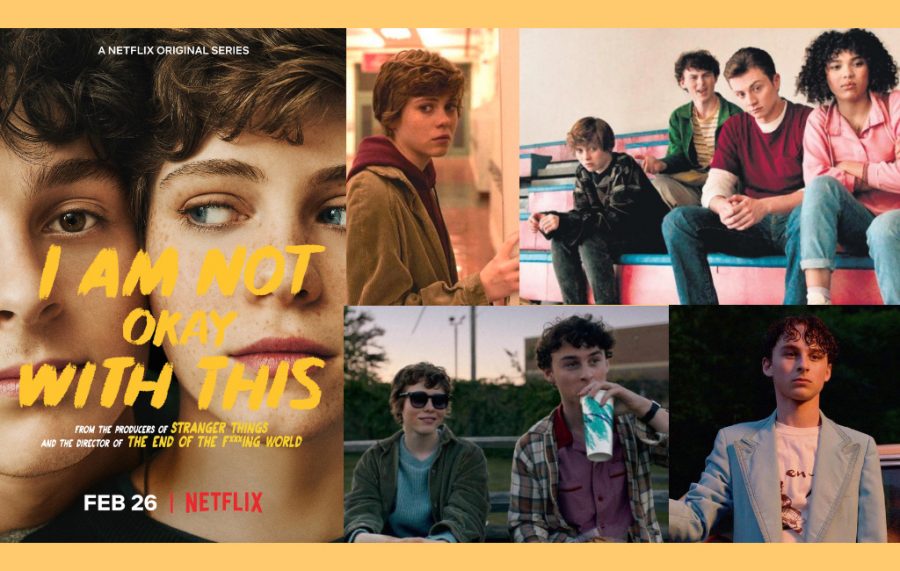 Photo Credit: 21 Laps Entertainment; Monkey Massacre/ Achona Online
On February 26, 2020, Netflix released the first episode of it's new series "I Am Not Okay With This", a coming-of-age comedy focusing on the lives of awkward teens and the main character's, Sydney Novak (played by Sophia Lillis), telekinetic powers, troubled family, and questioning of her sexuality.  
The first season consists of seven episodes, all around 20 minutes long, making it an easy binge. It begins with a clip of Sydney walking down an empty, eerie-looking road covered in blood with absolutely no context. This beginning clip acts as a hook and makes you wonder what happens later, or creeps you out a bit and makes you contemplate whether or not you want to continue to watch. It then transitions to Sydney introducing herself as a "boring 17-year-old white girl", which proves to be completely false as you continue to watch. 
"My first impression of the show was that it was a little bit of a mystery/sci-fi and the first scene with her walking down the road with blood covering her scared me a bit. I didn't continue to watch it, but after learning more about the actual plot I probably will because I love "Stranger Things" and people are saying it's similar," said Anna Warnke ('20).
Sydney's best friend, Dina (played by Sofia Bryant), continues to dazzle her and make her feel a different way, which prompted her realization of her sexuality towards the end of the season. The show includes pretty much every aspect of a teenager's life. The superpowers part is just an added bonus. 
Not only does the show wow you with it's content, but the casting and costume choices could not have be selected better. The style of the characters matched their personalities perfectly. With a vintage and trendy look, the characters, specifically Stanley Barber (played by Wyatt Oleff), proved to have a big personality and stood out amongst one another with their own unique style.
"I thought the show was a little corny, but very cute. It was easy to watch because the episodes were so short. I loved the style of the main characters and thought it was a cute story with a good message, as well as an interesting twist with Sydney's powers. It reminded me of "Stranger Things"," said Mary Kelly Cardillo ('20). 
"I Am Not Okay With This" is a great show to watch if you are entertained by the lifes of awkward teens as well as thought-provoking sci-fi twist. It's a great binge and leaves you wondering what happens next, with the hopes for a season two coming out soon.