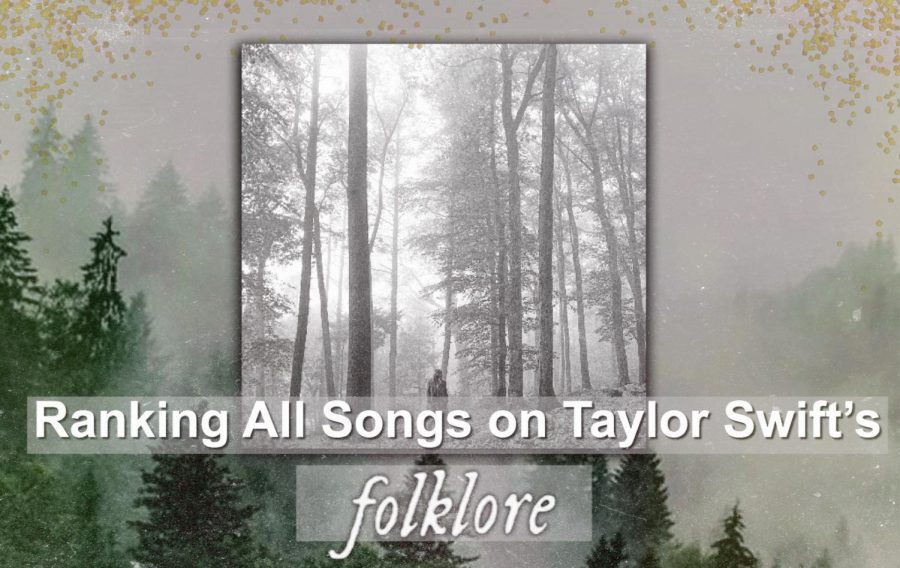 Photo Credit: Beth Garrabrant/Modifications using Superimpose by Amelia Cuttle
Unveiling the revelations, heartaches, and intricacies of stories previously untold, "folklore," Taylor Swift's eighth studio album, was released last Friday, July 24. The release came less than 24 hours after a surprise announcement made by Swift who claims that, amid the chaos of our times, "if you make something you love, you should just put it out into the world."
The greatest shock of "folklore," however, was not its quick release — but, instead, its genre: alternative, indie-folk. Collaborating with indie legends Bon Iver and The National's Aaron Dessner, Swift's new album is a complete shift from her most recent releases, all of which were contemporary pop.
According to Swift, the birth of "folklore" began with imagery of stories, moments, and tales yearning to be told. Through its rhythmic, earnest lyricism and elusive, yet enticing symbolism, "folklore" proves not just to be her first jump into alternative music, but also the greatest example, so far, of her talents in storytelling. Brimming with reminders of lost love, the aches of wounds that have not healed, and echoes of broken souls in need of saving, the stories of "folklore" touch all hearts.
In the body of sixteen songs that remember everything and forget nothing, Swift's latest work is a veracious, twisted collection of human history. In its cruel honesty, it holds together like a motley of tales that are both separate and the same, asking its listeners only for an open ear, open heart, and open hand strong enough to pass it down forever.
Judging them symbolically, lyrically, and sonically, this is my definitive ranking of every song on the standard edition of "folklore" from worst to best. Worst, in this case, only meaning "least best"— as, on this record, there are no bad songs, only better ones.
taylor swift is finally making "that indie record that's much cooler than mine"

— 𝙟ames ᵇˡᵐ (@redputationaotd) July 23, 2020
16. "the last great american dynasty" (Track 3, Written by Aaron Dessner and Taylor Swift)
Best Lyric: "I had a marvelous time ruining everything."
Based off of the life of Rebekah Harkness (a well-known patron of the arts, and the original owner of a house recently bought by Swift), this track reads like a true storybook tale. Each lyric provides a new piece of the story, and every verse provides a new anecdote about its inspiration. For that reason, it is no wonder how a song like this one ended up on "folklore." Yet, while it functions flawlessly as a melodic fable, it lyrically does not progress into anything further — therefore, falling short in comparison to the other tracks on the album. Nonetheless, though at the bottom of this list, "the last great american dynasty" remains as both a delightful tune and a fascinating story.
15. "peace" (Track 15, written by Aaron Dessner and Taylor Swift)
Best Lyric: "All these people think love's for show, but I would die for you in secret."
Both precious and devastating, this song serves as Swift's musical recognition that, despite how deeply she wishes she could, she will never be able to grant her partner "peace." Similar to songs on her previous albums, like "Back to December" and "Afterglow," this track is about Swift's own shortcomings in a relationship versus someone else's. Lines such as "would it be enough if I could never give you peace?" expose Swift's vulnerability, as she grapples with the fear that her partner will not be able to love her because of what she cannot offer them. It may not be the heaviest or boldest track on the album, but in its unshielded honesty — "peace" shines bright and true, and it is great for it.
14. "epiphany" (Track 13, written by Aaron Dessner and Taylor Swift)
Best Lyric: "Only twenty minutes to sleep, but you dream of some epiphany/Just one single glimpse of relief to make sense of what you've seen."
An epiphany, or an "illuminating realization or discovery that results in a personal feeling of elation, awe, or wonder," is the theme of this "folklore" track. Through the metaphor of a soldier's death, it retells the feeling and hope of finding comfort and ease in the face of madness and suffering. Sonically, this track may be soft and tender — but lyrically, it is dark and painful. Something about the yearning for harmony, particularly in a time when nothing seems fine at all, feels both deeply personal and entirely universal. Only containing two unique verses and a chorus, this song does not say everything— but what it does say is some of Swift's most meaningful lyrics.
13. "invisible string" (Track 11, written by Aaron Dessner and Taylor Swift)
Best Lyric: "Time, wondrous time — gave me the blues and then purple-pink skies."
This song, both catchy and pure, identifies the curious happenings of fate as an "invisible string." As she describes moments in time that connected her to someone else without her knowing, Swift portrays the deeply human message that everything happens for a reason. Each moment — no matter how lovely, how cold, how perplexing — leads us to our own destiny. A beautiful message to believe in, this song has become a fan favorite.
As stated by Stephanie Oehler ('21), "From early on in our lives, experiences shape the person we will become and the life we will make for ourselves. I love this song because it reassures my belief that even the worst experiences serve a purpose in leading us down the path we are supposed to go down."
Time, indeed both "curious" and "wondrous," will surely solidify this track as forever wonderful.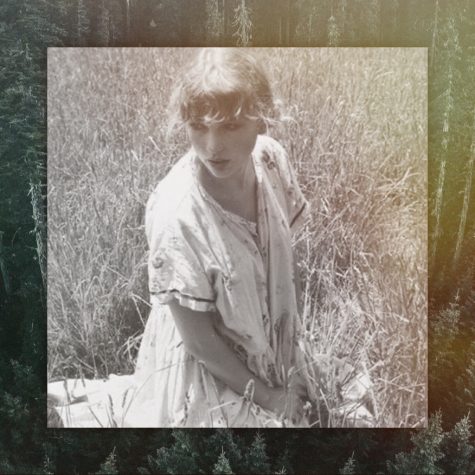 12. "illicit affairs" (Track 10, written by Jack Antonoff and Taylor Swift)
Best Lyric: "Don't call me 'kid,' don't call me 'baby'/Look at this godforsaken mess that you made me."
In this quiet, slow track, Swift handles the complicated mess that is infidelity. However, unlike in some of her previous songs, this track is far more nuanced than just a simple criticism of someone else's wrongdoings. Instead, she handles it delicately and sensitively, characterizing adultery as something more than just felonious, but as something that can also be addicting. In one line, in particular, she even labels it as a "dwindling, mercurial high." This deeply complex and thoughtful approach, that infidelity is both enticing and destructive, is ultimately what makes this song so powerful.
11. "seven" (Track 7, written by Aaron Dessner and Taylor Swift)
Best Lyric: "And just like a folk song, our love will be passed on"
On a record in which every song is sorrowful, this song may be the saddest. In it, Swift describes a child watching one of her friend's life get harder and harder, naively believing it can be easily solved. Both relatable and unfortunate, this track is difficult to listen to. It may be sonically beautiful, but lyrically it cuts even harder. It is almost too brilliantly accurate as it mournfully revises and conjures up difficult memories of childhood innocence lost long ago.
10. "mad woman" (Track 12, written by Aaron Dessner and Taylor Swift)
Best Lyric: "No one likes a mad woman/What a shame she went mad, you made her like that."
Though not exactly one of my favorites, I would encourage everyone to listen to this track. Though not the first time she has tackled this idea, Swift describes the world's distorted perception of women. Lyrics like "every time you call me crazy, I get more crazy" and "when you say I seem angry, I get more angry" analyze the infamous characterization of women as "delusional." Fixing the way women are recognized and treated may be a long, complicated journey, but songs like this one help get the world a little bit closer to finishing it.
there's nothing like a mad woman #folklore pic.twitter.com/vt2sF2OirJ

— ronnie (@folkloreronnie) July 27, 2020
9. "this is me trying" (Track 9, written by Jack Antonoff and Taylor Swift)
Best Lyric: "I just wanted you to know that this is me trying/At least I'm trying."
Like "peace," Swift takes blame for messing up a relationship. Yet, instead of merely asking for forgiveness, she talks about how, though she does not know the perfect solution, she is at least doing her part to fix things. Beyond its potent theme, this song's greatest strength is its strong metaphors and imagery. Sincere and beautiful, "this is me trying" is the most vivid example of the impeccable storytelling in "folklore."
8. "mirrorball" (Track 6, written by Jack Antonoff and Taylor Swift)
Best Lyric: "And, I'm still a believer, but I don't know why."
This track may just be my favorite of the album. Thematically, it is a bit peculiar — as Swift compares herself to a disco ball. She talks about her ability to reflect others onto herself and her deep desire to please all. Though an unusual metaphor, this song is incredibly personal and relatable. The lyrics are absolutely fantastic, and are even more elevated by the glistening, enchanting melodies. From beginning to end, this track is undoubtedly one of Swift's all-time best.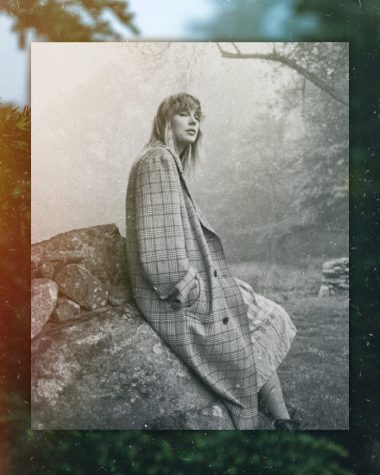 7. "betty" (Track 14, written by Taylor Swift and William Bowery)
Best Lyric: "I'm only seventeen/I don't know anything, but I know I miss you."
The last of what Swift described as the "Teenage Love Triangle" on the album ("cardigan," "august," and "betty"), this track speaks from the perspective of the love interest described in "cardigan" and the partner in the love affair in "august." This song, to no surprise, has become an intense fan favorite.
Isabella Yepez ('22) said, "I love the lyrics, especially how specific Taylor makes them because it feels like the girl in her songs are you."
Ultimately, whether for its catchy music or its engaging lyrics, "betty" is an all-around amazing listen.
6. "hoax" (Track 16, written by Aaron Dessner and Taylor Swift)
Best Lyric: "Don't want no other shade of blue but you/No other sadness in the world would do."
This track, the final one on the album, is a perfect conclusion to "folklore." It's dark, brittle lyrics about hopelessness and pain fit flawlessly on an album that exudes this agony and sadness. Yet more than just being sad, this song also relates deeply to the function of "folklore" which is essentially a collection of pieces of lost memories that disregard the lines between fiction and reality. In "hoax," Swift describes a toxic relationship that she knows is fake and will head nowhere, but still can't seem to let go of it. Like reading a fairytale that turned twisted and wrong before you got to see the happy ending, this track recalls feeling hopeless in the face of something you still want to love.
5. "the 1" (Track 1, written by Aaron Dessner and Taylor Swift)
Best Lyric: "You know the greatest films of all time were never made."
The opening track of the album, "the 1" centers around the contemplation of a relationship lost, and the wonder of what could have been. Saying it all through beautiful lyrics and enjoyable melodies, this track captivates the very relatable feeling of wishing things could have gone right. Whether it is a lost love or a broken friendship, it is easy to picture how life could have turned out if the heartbreak never happened. Ultimately, you can never know, but you can't help but think, as stated in the song itself, "if one thing had been different, would everything be different today?"
4. "august" (Track 8, written by Jack Antonoff and Taylor Swift)
Best Lyric: "Back when we were still changing for the better/Wanting was enough, for me it was enough."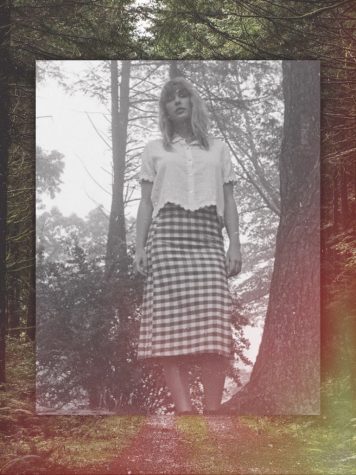 This is the second track in the previously mentioned love triangle. This one describes the affair that the partner in "betty" described as the "worst thing they did." But, "august" doesn't make this affair appear like the worst thing that could have happened. Instead, it is reminiscent of a relationship that was real and true, but was unfortunately doomed from the start. A relationship in which one was truly in love, but always knew that the other was never really their's.
Speaking upon this idea, Brooke Kubiak ('21) said "august" is her favorite on the album due to the way Swift sings "about her memories of a summer love and being carefree with her relationships." Truly brilliant, this song's painful, but lovely nostalgia sets it apart on the record.
3. "my tears ricochet" (Track 5, written by Taylor Swift)
Best Lyric: "And, if I'm dead to you, then why are you at the wake?"
If you were to ever meet someone in doubt of Swift's skills as a songwriter, please direct them to this track. The only self-written song on "folklore," this is, lyrically, one of the greatest songs Swift has ever written and likely one of her most complex. As stated by Swift herself, this song is about an "embittered tormentor showing up at the funeral of his fallen object of obsession." This idea, of someone mourning a death they initiated, is both intriguing and depressing, and it is why this song succeeds so intensely. "my tears ricochet" is a harrowing experience described in lyrics that are nuanced, haunting and absolutely impossible to forget.
2. "exile [feat. Bon Iver]" (Track 4, written by Justin Vernon, Taylor Swift, and William Bowery)
Best Lyric: "I think I've seen this film before, and I didn't like the ending."
This track, which includes a feature from Bon Iver, was very close to becoming the number one song on this list. Yet, even though it didn't reach it, this song is absolutely sensational. About a failed relationship, it compares and portrays two very different perspectives in a way Swift has never achieved quite as well before. As Iver sings "you never gave a warning sign," Swift combats with "I gave so many signs," so even listening to this track makes you feel like you are listening to an argument. Both conceptually and sonically flawless, this album could never have succeeded so intensely without "exile."
thinking about how bon iver and taylor are talking about a failed relationship and the lack of communication in exile and in the song they keep singing over eachother instead of listening and responding to eachother…like an argument that doesnt end pic.twitter.com/3ROzv2d3GM

— lilly (@taylenahq) July 24, 2020
1. "cardigan" (Track 2, written by Aaron Dessner and Taylor Swift)
Best Lyric: "When you are young, they assume you know nothing, but I knew you."
The first track in the album's love triangle, this song is spoken from the perspective of "betty." Though otherwise lyrically/musically wonderful, this song is the greatest on "folklore" because it so beautifully captivates the overall theme of the album. In "cardigan," she describes the great love between her and her partner. Even in the darkest moments where she felt unwanted or was told that she was too young to believe in it, the love in their relationship stayed true and persevered always. "folklore" and its underlying purpose speak similar to this. "folklore" is an album of stories once forgotten — stories so personal, melancholy, and sad that they were almost lost forever on the premise they deserved to be forgotten. But, these stories deserve to be remembered. They may not all be kind, sweet, or lovely, but on the mere basis that they happened, they are worth repeating over and over. And, on "folklore," they are. The memories may fade and the feelings behind them may soften, but like the love that was so certain in this track — they will always, for the rest of time, be known.