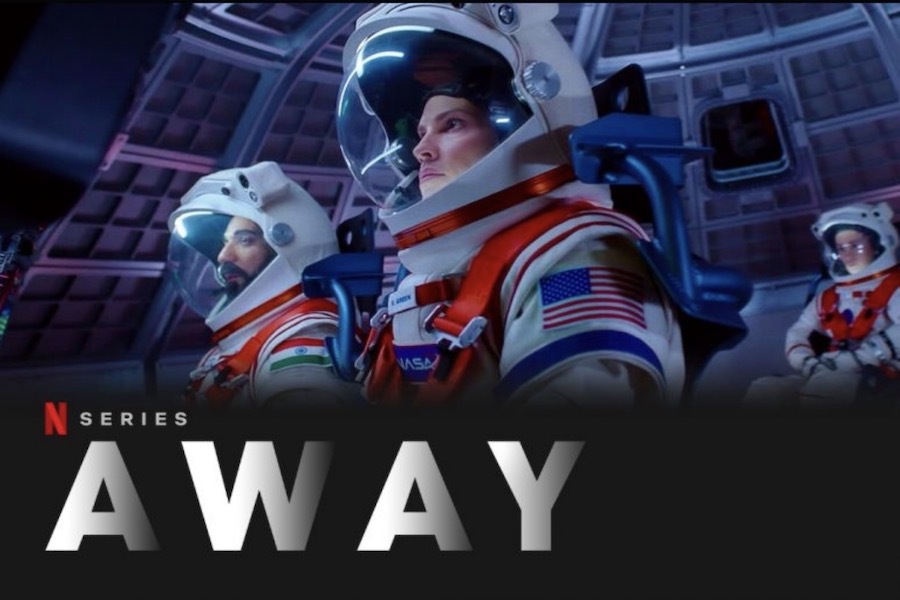 Photo Credit: Netflix/6th & Idaho Productions/True Jack Productions/Universal Television
As climate change's effects on the world persist, governments have begun to imagine a life on Mars. Netflix managed to bring these possibilities to life through their new Sci-Fi show "Away," released internationally on Sept. 4.
Nyonyose Varmah ('23) said, "I haven't seen the show, but the trailer was very interesting. For all of these families of different ethnicities and backgrounds coming together for a common goal is heartwarming. Sometimes you have to make the hard sacrifices that impact your family for a greater mission."
"Away" has three directors: Edward Zwick, who won Oscar for his 1999 movie "Shakespeare in Love"; Jason Katims, who won an Emmy for his show "Friday Night Lights"; and Matt Reeves, best known for the "Planet of Apes" movies and is directing the Batman movie set to release next week. "Away" was filmed in North Vancouver, Canada, from August 2019 to February 2020, just before the coronavirus became as widespread as it is now. This sci-fi drama stars Hilary Swank, Talitha Bateman, Josh Charles, Ray Panthaki, Mark Ivanir, Vivian Wu, and Ato Essandoh. 
"Away" has been widely accepted on Netflix, staying on the Top 10 TV shows list everyday since its release with a 6.6 average rating on IMDb. 
The show centers around the Mars Joint Initiative, a 3-year expedition to Mars with a crew onboard. The participants were selected through an international training program. The participants selected were pilot and commander Emma Green, USA; chemist Lu Wang, China; engineer Misha Popov, Russia; captain and medic Ram Arya, India; and botanist Kwesi Weisberg-Abban, UK. Each crew member has two episodes dedicated to developing their backstory. Throughout the show, the audience sees how their relationships falter because of Green's poor responses to crisis situations. 
After watching the trailer, Grace Carreja ('23) said, "First of all, that looks really good. Second of all, I think it draws people in because it shows the perseverance that people have when they want to achieve their dream. How going into uncharted territory has specific positive and negative outcomes. I really liked the trailer, so I might have to watch it."
Netflix did an incredible job of incorporating diverse characters without playing into stereotypes or making any of the characters a token. By making the Mars Join Initiative an international effort, they allowed for a diverse set of characters, most of whom have accents or speak different languages. For example, Kwesi is representing the UK, but was originally born in Ghana and dedicates most of what he contributes to the Mars mission to his home country. 
"I think the cast is amazing especially since it includes multiple different races and cultures. Especially that part of the woman speaking Mandarin with her son. That part kind of struck me because I know some people especially in America think having parts that show other languages and/or ethnicities isn't important but in reality it is essential. Having a diverse cast is also very beneficial because I'm sure many younger people will watch this show and it brings recognition to people who aren't white," said Carreja.
Commander Green leaves her daughter Lex and husband Matt, the other main characters of the show,  as she ventures to Mars. The show switches focus between the crew in space and Green's family on Earth. This keeps the danger of the mission in perspective because we get to see how Green's family is affected by her absence and the constant stress they are under as they, and the rest of the world, wait to see how the mission will play out. 
"I think the story of a grown woman with a determination to be on the first ship to Mars is beautiful. it's her dream and she's following it with the support of her family. It's something I am definitely interested in seeing and just the trailer brought tears to my eyes," said Carolyn Jacobson ('23).
Although this season is ten episodes long, and each episode about 50 minutes long, the plot captivates you in a way that makes it hard for your eyes to leave the screen. If you enjoyed this show, you will be excited to know that "Away" is predicted to be renewed for a second season.