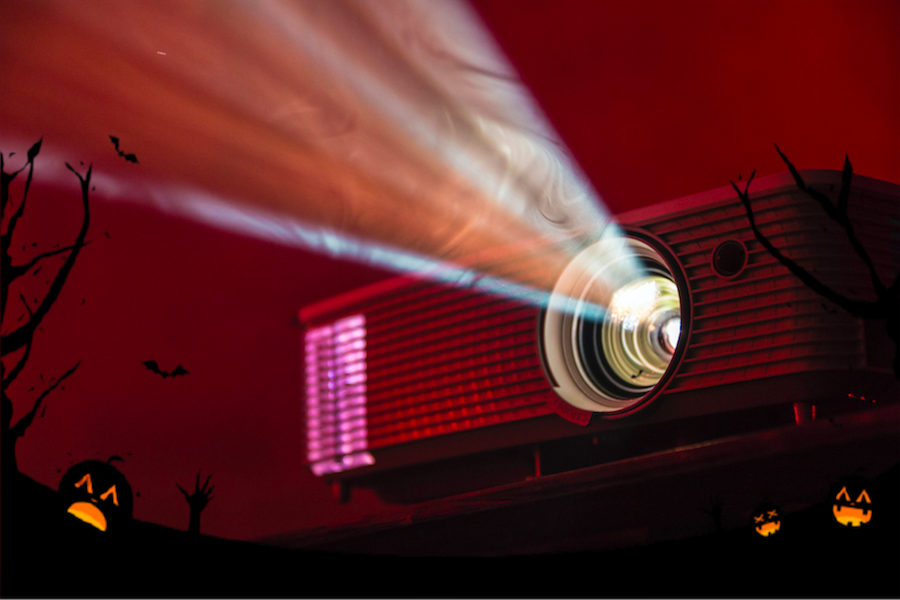 Photo Credit: Sophia Garcia/Achona Online/Piktochart
As we enter the beginning of Autumn and the Halloween atmosphere creeps in, what could be better than a late night scary movie binge? Here is a list of ten great spooky movies to watch with friends and family to truly get in the Halloween spirit.
#10 The Witch
The Witch is a chilling tale set in 1630's New England. A rural family moves into a desolate land to begin their new lives. While at first glance their new lives appear to be normal, terror and anxiety seep through their daily lives once the youngest son Samuel disappears. In a nosedive of sanity, the family shifts the blame towards Thomasin, the oldest daughter, and accuses her of witchcraft. This thriller broadcasts a closer look at family ties, strength and love and how easy it is to crumble.
#9 It Follows
Jay is an average teenage girl with little fears and trials in her way, that is, until she sleeps with her new boyfriend, Hugh, and is forced to come to the reality that her life is in danger. Hugh never told Jay that he contracted a curse that has supernatural figures constantly following and creeping towards her in the form of a friend or stranger. The curse is passed through sexual intercourse and can only be eliminated by passing it onto another victim. In a fit of paranoia, her friends deny her so-called delusions until the effects of this curse affect their own lives and they must muster up ideas to combat these demonic figures or run far away.
#8 Midsommar
Midsommar showcases a story of relationship troubles meshed together with cultish activities and murder. Dani is troubled with the recent deaths of her mother, father and sister and takes comfort in her boyfriend, Christian. They couple takes a journey  along with Christian's hipster friends to Sweden to visit a friend's rural hometown for its bizarre and alluring midsummer festival. Towards the start, the audience can see a tension between both Dani and Christian but as the tale unravels into a more sinister tale, we can view the violent and eccentric competition orchestrated by the Swedish pagan cult.
Amanda Castillo ('22) said "Midsommar is probably my favorite movie. I really like A24 films and this one made me so unnerved I spent a whole day reading peoples theories on it. Also, the outfits and cult itself were so intriguing. I would definitely recommend it to anyone."
#7 The Lodge
Even after the abrupt suicide of a families mother, Richard months later begins to date a woman named Grace to start off his new life. The children Laura and Aidan have a personal disdain for Grace, so the father decides to go on a family trip to a remote winter cabin over the holidays. Everything was going smooth, until the father is forced to depart for a few days for his job, leaving the girlfriend in charge of the two children. A mix of cabin fever, isolation and previous mental illnesses events from Grace's dark past alter the innocent trip and leave a trail of misery and despair all while shut in a desolate lodge.
#6 Perfect Blue
Directed by Satoshi Kon, this 1997 classic is a thrilling and mentally terrifying movie that deals with loss of identity and loss of sanity. Mima Kirigoe is an up-in-coming star that leaves her successful trio pop band to pursue a solo career, but once she departs from her group her mental health declines. Soon, she begins to see an alter, Mima, who terrorizes and mocks her, but cannot discern whether this girl is a real or false person. Throughout the rest of the film, Mima questions who she is and comes to a chilling conclusion that alters her perception of the world around her.
Georgia Head ('22) said "Perfect Blue is honestly the best thriller and psychologically terrifying movie I've watched. Each moment feels so eery and unsettling I had to force myself to sit through it."
#5 The Lighthouse
In 1890's New England, Thomas Howard picks up a seemingly easy job that includes maintaining a lighthouse with it's deranged captain and owner, Thomas Wake. As Thomas Howard slowly begins to go into hallucinations, his aggression and restlessness  are amplified due to the desolation and loneliness of the lighthouse. As the film progresses, it becomes clear that the narrator is unreliable and the truth of what is occurring is murky. Once a powerful storm surges through their area, Thomas Howard begins to understand the true reason he was placed here and the grim reality that he will never leave.
#4 The Killing of a Sacred Deer
Dr. Steven Murphy is a renowned and adored cardiovascular surgeon who lives his life in perfection, with a polished household filled by a loving wife and two children. Martin, on the contrast, is a teenager with father issues who latches onto Dr. Murphy's spotless and impeccable life. The adoration proceeds to become more and more bleak as the true intentions of Martin's kindness face the front and their dynamic is disturbed and broken forever.
Sophia Torres ('22) said "The Killing of a Sacred Deer is one of my favorite movies not just horror movies but all together films I've watched. The progression into madness and how the story reveals it's more sinister and dark colors drew me in and captured my interest. It's extremely well made and written please give it a watch, you won't regret it."
#3 Super Dark Times
Zach and Josh live in a small town and have grown together as best friends, but when a fatal accident occurs, their friendship is put under a spectacle of doubt. The incident leads to a line of delusions, psychosis and apathy as each boy tries to cope with it in their own way. The secret eats away at both boys until a deep wedge of paranoia and violence is too embedded to fix. 
#2 The Thing
The thing is an 80s classic that occurs in remote Antarctica, with a group of American research scientists disrupted at the base of camp by a helicopter shooting a sled dog. This sled dog is taken in by the crew and begins to attack the rest of the crew and a chilling discovery unravels that this dog contains a beast that can shift into its victim. A battle of wits begins as the crew desperately cuts off who is real and who is the beast and attempts to win against this creature even if there is one man standing.
#1 Misery
At number one, Misery is a fantastic 90s Stephen King story that undergoes obsession, captivity and a spark of creative writing. Infamous novelist Paul Sheldon goes to a hotel in a small rural town each winter to help with his story ideas and writing, but once he ventures home and gets into a serious car crash, his initial plans are postponed. A former nurse Annie Wilkes rescues Paul from his fate and even appears to be his biggest fan! While Annie returns home with Paul to nurse and heal him, the bond of trust is shattered when Annie realizes Paul has plans to kill off her favorite character from his novels. The story turns into a disturbing and cruel as Annie keeps Paul captive and forces him to turn his pieces of work into her own personal vision of how Misery should be told.