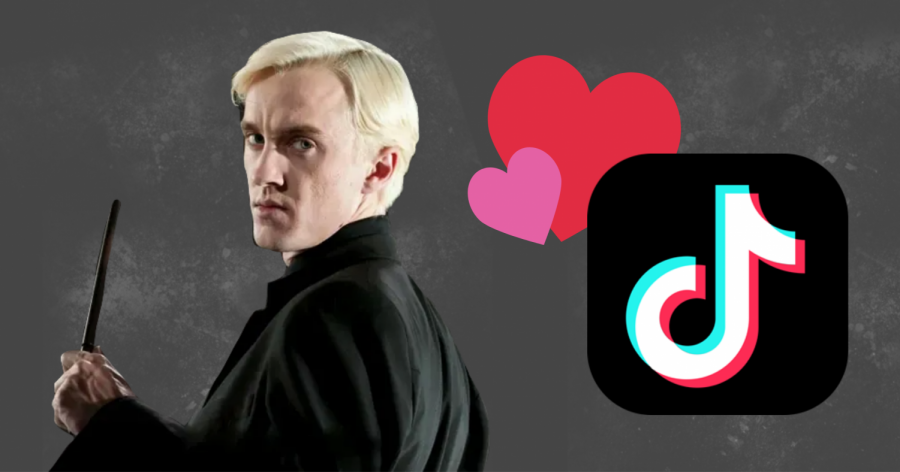 Photo Credit: Winsome Storm/Achona Online/Piktochart
Starting in August, the Harry Potter fandom made a resurgence on the popular app TikTok. Many new fans have hopped on the Harry Potter train, and a certain character is making users go bananas. 
Draco Malfoy, one of the main antagonists of the series, has been gaining popularity recently because he looks good. Over 600 million TikTok videos have been made under the hashtag #DracoTok on the app, with 3.2 billion views in total. TikToks praising Draco Malfoy and his godly good looks have even caught the attention of his actor, Tom Felton. 
A few of these popular TikToks are edits, point of views, and clips showing he is not a bad person.
This surge in popularity of Draco Malfoy has spawned a cult of sorts, many new accounts have been made dedicated to the trend. TikToks that are point of views, edits, and slideshows about Draco are some of the more common ones.
"He didn't get the redemption arc he deserved really, he is one of the most underrated characters but without being one of the more overrated characters. He only gets around 30 minutes of screentime throughout the entire series, but the effects of him and the Slytherin team are lasting on Harry and the Golden Trio. He has a loud effect and message to people that most people take negatively, but he isn't a negative character. He is truly a good person who was raised wrong," said Morgan Perry (23) who is a fan of Draco.
With this newfound popularity, some new fans on TikTok don't even know who Draco really is, and what his house Slytherin is. Most of the longtime Harry Potter fans on TikTok wonder why Draco is the character that got popular though, when he didn't even get a proper redemption arc, and was a jerk for a majority of the series.
Draco is a complicated character, from the start he is shown as a spoiled rich boy, who was raised to believe that he is superior to other witches and wizards because he is from an all-wizarding family. Throughout the series his character doesn't seem to stray from that image, until the later books, where he is given a task that lays his life on the line. He even turns from Voldemort when he realises how delusional he was about pure blood wizard supremacy. Though he can be considered a good guy in the end, he was still not given the proper redemption a complex character like Draco needed.
Many of Draco's fans on TikTok strongly feel that he deserved better in the series, and use the #DracoTok as a way to commemorate him as well as praise him. While Draco's sudden surge of popularity was certainly a random one, it is a welcomed one by all.