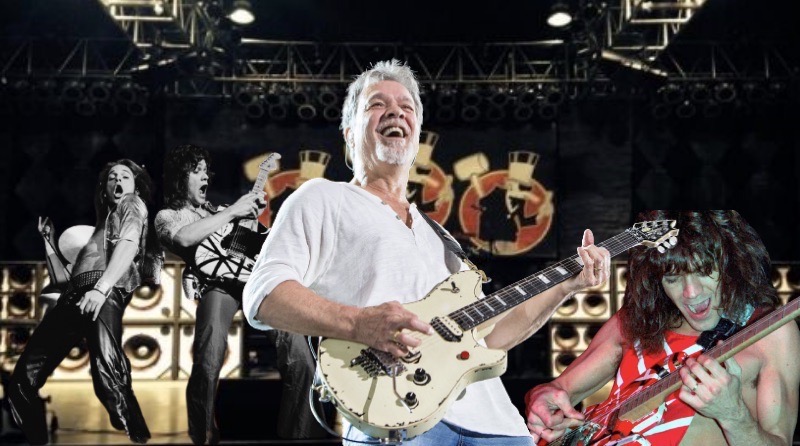 (Photo Credit: Alison Perez/Piktochart/Achona Online)
Eddie Van Halen was the lead guitarist of one of the greatest rock bands in history, Van Halen. Sadly, he died on October 6 from throat cancer at the age of 65, but his music and legacy will live on. 
Van Halen is known as one of the most skilled guitarists the world has seen. His biggest influence on the Rock N' Roll industry was his invention of the two hand tapping technique on the electric guitar. He was inspired by watching Jimmy Page, guitarists of Led Zeppelin. Page played guitar with one hand on the guitar and one hand in the air. This led Van Halen to imagine what would happen if both hands played guitar rather than having a free hand. Van Halen started using both hands on his guitar and popularized the two hand technique, which debuted on the song called "Eruption."
Not only did Van Halen perfect his own guitar technique, but he also contributed to the lyrics of many of the band's biggest hits. He worked alongside lead vocalist, David Lee Roth ,and subsequently, Sammy Hagar, to write songs for the group as well as providing backup vocals as well. 
Van Halen has a style unlike any other guitarists before his time. His honorable playing, lighting speed solos, and effortlessness redefined the sound of the electric guitar and paved the path for 80's rock and glam metal. He was nominated for three Grammy awards and won once for best rock instrumental performance. Additionally, Guitar World magazine voted him the best guitar player of all time. 
Van Halen's skills have influenced guitarists such as Dj Ashba, guitarist of Guns N' Roses, and Alex Skolnick, guitarist of Extreme, and will continue to influence many others. 
"Eddie is one of my biggest influences ever. He changed the way guitar was played, and he became a huge influence on me. He's one of the #1 reason why I picked up a guitar. It just blew my mind, the way he approached the guitar. It was just incredible," said Ashba.
While Skolnick said, "When I heard the sound of Eddie's guitar, just the pure sound he made, it was magical. I never knew a guitar could sound like that. It just kind of reached out and grabbed me like nothing else had before."
His creativity is what made him stand out from the rest of the guitarists in his time. In 1978, Eddie created the eerie and slow motion sense at the beginning of the song "Running with the Devil" with actual car horns. 
Heartbroken and speechless. My love to the family. pic.twitter.com/MQMueMF2XO

— Sammy Hagar (@sammyhagar) October 6, 2020
"We just took the horns out of all our cars — We just used them as noisemakers before we got signed. Ted [the producer] put it on tape, slowed it down, and then we came in with the bass," explained Van Halen in an interview in 1980. 
As the world mourns Van Halen's death, it's important to shine a light on what a great guy Van Halen was. He supported causes like abuse, adoption, creative arts, and mental challenges. He donated 75 of his own guitars to poor public schools in LA through the Mr. Holland's Opus Foundation. 
"Music education and families are dealing with the economic times, and I wanted to help them. If I can help a kid discover a liking, or even a passion for music in their life, then that's a wonderful thing. Music has provided a good life for me and hopefully it can help make life better for others with this donation," said Van Halen. 
In the age of Rock N' Roll, Van Halen changed the standards of Rock N' Roll. He redefined what it meant to be a rock guitarists and his memory lives on through his music.
Theology teacher Felix Kalinsowski said, "He was a classic rock legend, and it was awesome to watch an immigrant from Sweden change the way we listen to rock. I still listen to some of the music that his band gave us."
Although many people from today's generation may not know who or how Van Halen influenced the world, he is still seen as a dominant member of the Rock N' Roll industry.
"I don't really know much about Van Halen, but I have heard some of his songs on the radio. I have seen a lot of Van Halen graphic tee-shirts. If he is on shirts, he must have been important," said Angelie Pena.
The world will remember Van Halen as the creator of the two hand tapping technique, one of the most influential guitarists,  and an advocate of many important and necessary causes. May he rest in peace and let his legacy live on forever.