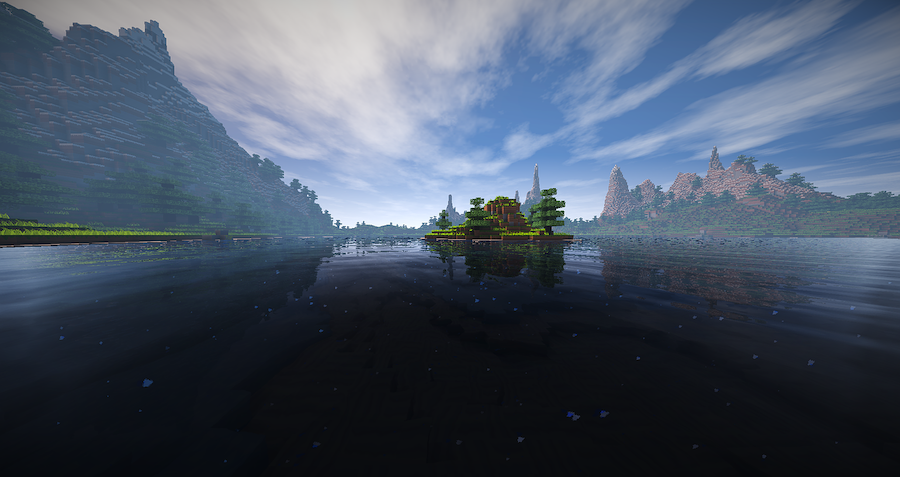 (Photo Credit: Francois_Bellay/Pixabay)
Minecraft was developed by Mojang Studios and released in 2009. The game can be accessed on different platforms from Playstation to mobile app. Minecraft is a simple block-based building game with monsters to fight, land to explore, and structures to build. It can be played by a single player or with friends, and there are different public and private servers. Three spin-off games were released, although none have reached the height of popularity as the original game. 
Players were drawn to the 3D pixelated style and colorful blocks. The game had frequent updates to keep the game fresh and add new elements. Minecraft has no direct storyline; players are free to roam, explore, and make up their own adventure in randomly generated terrains. Those who played the game recall fond memories, whether from playing with friends or watching YouTubers. 
YouTube was the gateway that introduced many fans to Minecraft and formed the game into a cultural phenomenon. Many popular YouTubers began their channels to play Minecraft and upload videos covering the game. The genre of "Let's Play" videos are playthroughs of the game with the player's commentary. Gameplay was easy to upload into multiple videos, giving the gaming community a place on YouTube. While everyone plays the same game, viewers could watch YouTubers react differently to situations and conflicts in the game. Content creators with originality and likable personalities were successful in captivating audiences. Videos were more than just playthroughs; they became narratives with goals and challenges between friends.
"When I was younger, I was allowed to watch some of stampylonghead, only around two ten minute videos a day. He was funny, kind, kid-friendly, and creative. It was a fun tradition to watch with all five of my siblings huddled around a computer laughing," said Lauren Anderson ('21).
Fans were inspired by watching custom content that content creators added. Since Minecraft's source is easily accessible, YouTubers played with modifications (mods) and extensions, which allowed them to add multiplayer minigames and custom texture packs. Mods can be coded or downloaded to enable custom features, items, tools, and change difficulty to enhance the game's performance. There are many opportunities for fans to contribute their different talents to the community, from building structures to creating adventure maps. Everything in Minecraft can be changed and experimented with based on the players' creativity. 
"It was made popular back then because we were all little kids. We all wanted to be like Disney movie characters and explore a mystical, imaginative world. Minecraft was that outlet where we could build houses, farm, and create anything we wanted. When you are younger, you are more creative; all I would do after school was draw, color, build, mold, craft, and imagine. Minecraft was just another creative outlet for everyone," said Anderson.
View this post on Instagram
Original or Modded Baby Pig ? – follow @ecraftmods for more mods ————————————————————— ℹ Information: ▶ Give credit when you repost – ▶ If you need information dm me I answer fast ! ▶ I only post MCPC mods – ▶ Mod : Animania ————————————————————— Tags : – #minecraftmods #minecraftmod #minecraftps3 #minecraftbuilds #minecraftmeme #minecraftmemes #minecrafttutorial #pewdiepie #minecraftskin #minecraftfr #funnyminecraft #creeper #herobrine #minecraft #minecraftcursedimages #minecraftdiamonds # #minecrafts #ertinoxcraft #mcpe #mcpc #minecraftbuild #minecraftbuildings #minecraftsurvival
With such a successful piece of media, it was bound to fall out of favor. In 2014, Mojang was bought by Microsoft for $2.5 billion. This decision caused mixed reactions amongst fans, worried that the fun would be ruined. 2017 introduced the Marketplace on Bedrock Edition, where user-generated custom maps and resource packs had to be paid for with microtransactions. In comparison, in Java Edition, these features are still free to add. There was a steady decline in interest after Microsoft acquired Mojang. The hype for Minecraft died down as popular YouTubers changed the focus of their videos to other topics. With the game being talked about and played so often, Minecraft's corporate image was all over mainstream media in merchandising. As children grew older, they began to play more "mature" games and moved on from their childhood fantasies. Minecraft hit its lowest interest rate in the fall of 2018, around the time of Fortnite's success. While the game never "died," it just decreased in public attention. 
Spring of 2019 saw Minecraft's resurgence as YouTubers started returning to the game, resulting in an influx of Minecraft videos. PewDiePee, a Swedish YouTuber with over one hundred million subscribers, uploaded a series of videos playing Minecraft starting June of 2019. His videos gained attention bceause of his engaging storytelling. What made his series memorable was that he was relearning how to play after many years, and this series brought back his love for making videos. While other games can feel repetitive, Minecraft offers unique experiences every time with infinite land for building. Most importantly, the community has affected Minecraft's spike in popularity. With so many new updates, old players could return to the game they love and be reminded of simpler times. A new generation of kids who grew up watching old YouTubers are rediscovering their passion for the game. 
"I watched PewDiePie's recent Minecraft series, which was absolutely amazing. Essentially a Shakespearean tragedy with a long, complicated storyline filled with characters and catastrophic events. What's not to like?" said Anderson.
The events of videos and live streams are what inspire fans to make content. Survival multiplayer (SMP) servers have taken off. SMPEarth featured a 1:3000 scale replica of the Earth. Over 60 content creators participated, and wars, treaties, factions, quests, and alliances were aspects that made the story of the server entertaining for viewers. On the Dream SMP with YouTuber Dream and 20 of his friends, a reverse American Revolutionary War took place where the British players wanted freedom from the American players. The war inspired many animatics featuring music from Lin-Manuel Miranda's musical "Hamilton." The majority of events that occur on SMP servers is roleplaying and skits, so there is no real drama between the players.
Minecraft manhunt videos were popularized by Dream, where one player tries to beat the game while one to four opponents attempt to stop and kill them. Dream's "Minecraft, But A Black Hole Grows Every Second…" and BadBoyHalo's "Minecraft, But I Let My Subscribers Make My Texture Packs" show that mod videos are still popular, just like in the past. Content creators also modify the game's difficulty beyond the typical peaceful, easy, hard, and hardcore modes. YouTuber Fundy has coded several different versions of the game, trying to create an impossible version. He puts the plugin in his video description, allowing fans and content creators alike to attempt to beat the game. Speedrunning— attempting to beat the game as fast as possible— has also made a comeback. Hypixel server was released in 2013 and is still popular today, with 112 million monthly players.
On YouTube and Twitch, comments and donations can be left for content creators on live streams. Charity streams are often organized where fans can donate money to charities such as St. Jude Children's Research Hospital. Fans sometimes upload highlights and funny moments from the stream to their YouTube channels. On Twitch, fans can follow the creator for free but subscribing has a cost. Gifting a subscription earns a tier of rewards for the fan while giving the creator money. For members of Amazon Prime, Prime Gaming allows them to use their free channel subscription ($5 value) every month to support Twitch streamers. When donations are submitted, fans can send special messages for the content creator. Fans can apply to be Twitch chat moderators. Minecraft Championship (MCC) and Minecraft Monday are competitive events that are streamed. These competitions are similar to game shows, where content creators team up, play various minigames, and earn points along the way. Each MCC event has a poll in the middle of the game to involve fans in deciding what minigame to play. The tenth MCC allowed fans to apply for the competition and form teams with their friends. 
Many content creators engage with their fanbase in their videos and streams. MrBeast, known for donating large amounts of money and performing expressive stunts, made a gaming channel to collaborate with other content creators. His videos involve fans, such as "I Made a 100 Player Skyblock Challenge!" and "Raiding Servers With 10,000 People!" Twitch streamer RTGame makes challenges with fans such as "I forced 200 Minecraft Players to turn an island into Starbucks" and "I forced 200 Minecraft Players to dig through the world itself." Involvement in these types of streams is exclusive to Twitch subscribers. He uploads highlights of his streams as YouTube videos. Musician and comedian Wilbur Soot also streams on Twitch and makes videos where players are involved in his "experiments," such as in "Making a 100 Player Ant Farm in Minecraft." There are thousands of Minecraft content creators making more content each day, and YouTube and Twitch allow them to connect with their fans. 
Fan art, a staple of all fandoms, plays a huge role in fan's engagement with content creators. Talented artists of all ages create digital art, traditional art, any and all mediums of art of their favorite video moments and content creators in their unique styles. Artists also create original characters (OC) or personas of their Minecraft character. Some artists work on sketches and art pieces during live streams. Dream made a Twitter account specifically to follow artists and retweet their fan art, which helps artists gain more followers, traction, and attention. Artists are sometimes commissioned for their work. Content creators sometimes ask artists to use their fan art as headers, profile pictures, and thumbnails on YouTube and Twitter— with proper credit, of course. Fans also create video edits as well as using art or pictures of their favorite content creator. 
Probably the first time ive finished an art series in my life #dreamteam #dreamfanart @Dream__Fanart pic.twitter.com/dpqBuETuEk

— cy n lun ඞ ඞ (@cyticalis) September 26, 2020
Another form of art found in most fandoms are animatics, storyboard like sketch frames played with audio. They can range from short videos to hour-long, fully animated movies with original scores and voice acting. Content creators have reacted to popular animatics while streaming, drawing more attention and appreciation towards artists' work. SAD-ist is one of the most popular fan artists in the community. Her animatic featuring audio from one of Dream's videos reached over 11 million views and is her most viewed video on YouTube. Her animatic based around Dream SMP War events has 8.9 million views. This animatic took the community by storm, inspiring artists to recreate their favorite scenes in their art style. SAD-ist's animatic, based on MrBeast's challenge video where Dream and Technoblade battled in Minecraft combat for $10,000, has 5.9 million views. This animatic was on the main trending page of YouTube for over a day. SAD-ist has become so well-known that artists even make fan art of her. 
Twitter is the app where fans can engage with content creators the most by sending memes, photos, and art. Fans can also tag the creator with hopes that they see their message, and content creators respond occasionally. Almost every day, the trending page is filled with unusual phrases related to content creators. Sometimes these can be inside jokes, memes, or celebrating the creator. The hashtag #HappyOneYearDream was created to celebrate Dream's first year on YouTube, and it was number one trending in the US. Whenever Dream hits a milestone of 1 million subscribers, his name can be found trending on Twitter as congratulations from his fans. As one of the fastest-growing Minecraft channels, he currently has reached 12 million subscribers. #1millioninniters was used when Tommyinnit hit 1 million subscribers on YouTube. During MCC, fans livetweet their reactions to the event and cheer for the teams. These hashtags often catch local attention, and fans inform other Twitter users about the Minecraft community.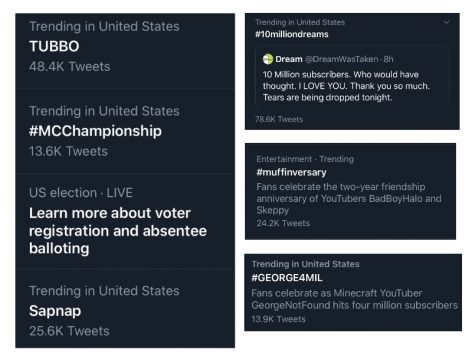 Another way for fans to support their favorite content creators is to purchase their merchandise. Dream and Sapnap's merchandise stores showcase hoodies, mugs, posters, phone cases, etc. Many Minecraft content creators collaborate with Youtooz, a company that makes collectible vinyl figures of avatars that then are sold to fans for a limited time.
Minecraft parody songs are almost as old as the game itself. If a song exists, you can bet that a parody version has been made in the block style. These videos feature animation, combining the skills of musical artists and visual artists. To this day, new songs receive millions of views, and the old ones are rewatched with nostalgia. Fans also created original songs. These days, Faster is known for remixing audio clips of content creators and creating songs out of them. 
"They [parody songs] made Minecraft seem much more exciting! And the songs themselves were really catchy. I really liked how each of the videos carried their own stories, despite being parodies of popular songs. For example, I could tell you the whole plot of the Fallen Kingdom series by CaptainSparklez by heart! They were very well made and became an icon of the Minecraft community," said Hannah Bruty ('21). 
Dream Team Prom was an event where fans could play Minecraft, Kahoot, and other games. It was hosted by a fan who live-streamed on Twitch for an hour. The server was left open for the whole day of Aug. 14. Over 2,000 fans participated, and a few content creators joined the server as well. 
DTTWT Prom was so much fun! Thank you for everyone who came and played! 🥺 pic.twitter.com/oYCVDL4tT4

— nav (@hwalnav) August 15, 2020
TikTok, Instagram, and Tumblr are also places for fans to interact and talk about the game. People post favorite video clips, art, theories, analysis, quotes, and meet other fans. Also, fans are inspired to stream themselves and make their own content. There are Discord servers for different content creators, and fans moderate these. 
As the best selling game of all time, Minecraft has influenced and shaped YouTube's gaming community. YouTube served as a platform that inspired players to create endless possibilities with their limitless imagination. The community will always be a huge part of what makes Minecraft so special, whether the game is on the rise or not.
"The popularity of it [Minecraft] is already on decline. Among Us is the new video game. It's how video games and pop culture goes, new things come in, and then they get shuffled in the back when something flashier comes in. Minecraft will never age, though, and will influence generations to come. There is no plot, so people don't get easily bored playing the same game over and over, the graphics are fairly basic, and there are updates, not new versions to the game. It will always be here, waiting for us to play," said Anderson.