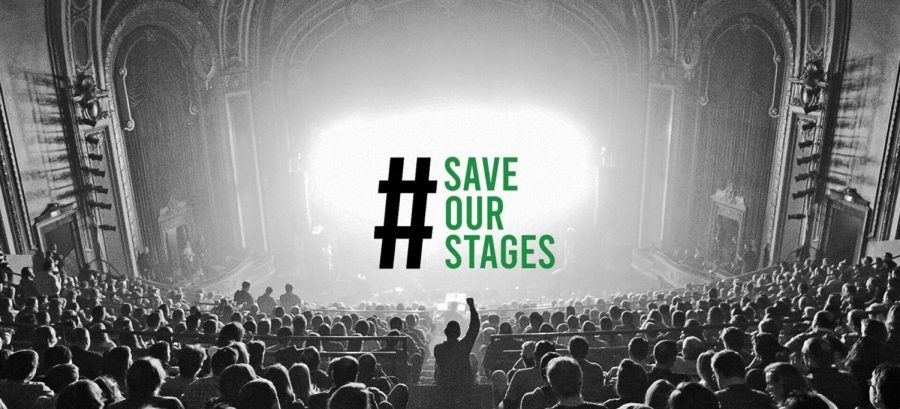 (Photo Credit: National Venue Independent Association)
Independent music venues were the first establishments to close due to COVID-19, and they will most likely be the last to open. The Save our Stages was a virtual music festival raising awareness and money for independent music venues all across the U.S. 
The virtual music festival featured the Foo Fighter, Miley Cyrus, Dave Matthews Band, the Lumineers, and 29 other artists. The goal was to raise awareness and relief funding for these venues. In total, the festival itself and donations have raised nearly $2 million so far. However, it will take much more to save these small music venues. Due to COVID-19, roughly 90% of indie music venues are estimated to go out of business by the end of the year unless action is taken soon to save them. 
The Save Our Stages festival was run by the National Independent Venue Association (NIVA). The festival was a way to amplify the efforts of the need-based grant program to provide relief for independent venues as they wait to see if Congress passes the Heroes Act
If passed, the Heroes Act would grant 10 billion dollars to small venues. Venues would be able to use that money to cover rent, mortgages, utilities, and any other expenses. The Heroes Act was brought up in the Senate by John Cornyn (R-TX) and Amy Klobuchar (D-MN). The act is very divided as some senators believe there are more important areas of relief that need to be attended to first, like the distribution of billions of dollars to airlines. However, many believe that small venues are important to society's culture and economy. Every $1 spent on a concert ticket at a small business, $12 of economic activity is generated for surrounding businesses like restaurants, cafes, hotels, and shops. 
It's important to take this issue very seriously. If the U.S. small music venues all go out of business, so will small musicians. There needs to be a venue for all kinds of musicians and bands. Small venues allow for the artists and crowd to connect on a deeper level. It's a much more personal concert experience compared to larger venues. Generations to come will never be able to experience the excitement of small venue concerts unless we act now.  
What scares us this #Halloween: The devastating effect of losing America's independent venues. #SaveOurStages pic.twitter.com/uIgpNcZhPQ

— NIVA | #SaveOurStages (@nivassoc) October 31, 2020
"I think it's important to grant relief [for smaller venues] because art is an expression, and I know various musicians are taking a hit from COVID-19 and once this is over then those artists won't have an outlet due to the shutting down of these small venues. I think it's really important to aid them because of this," said Sabrina Pedregal ('22).
The Save Our Stages festival is just one step closer to providing relief for independent music venues. It's important to save these businesses from shutting down due to COVID-19 because they help the economy and allow people to experience more personal concerts compared to large venue events.
Below are several ways you can help independent venues:
Donate to the NIVA and Save Our Stage emergency relief fund https://www.saveourstages.com
If you previously bought tickets to a show, don't request a cash refund. It's better to ask for a credit for a future show or just donate it to the venue
Buy gift cards to your favorite venues
Donate to independent venues directly here: https://lyte.com/covid19relief/
Donate to NIVA's general operation fund here: https://www.nivassoc.org/support-niva
Buy merch here: https://www.nivassoc.org/merch