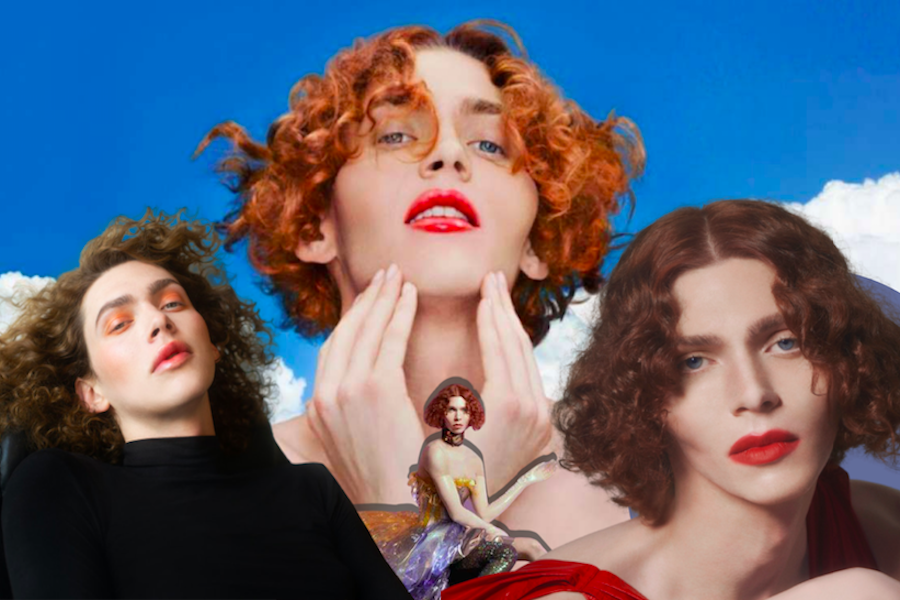 (Photo Credit: Sophia Garcia/Piktochart/Achona Online)
On January 30, SOPHIE or Sophie Xeon passed away due to an isolated accident in the early morning at age 34. SOPHIE died at home in Athens, Greece at 4 A.M. by watching her muse, the moon, then slipped and fell. The news of her passing was confirmed by her talent management company, namely Modern Matters.
pic.twitter.com/8hZMkTzJ2t
— Transgressive (@transgressiveHQ) January 30, 2021
Born on 17 September 1986 in Glasgow, SOPHIE grew up surrounded by electronic music through her father. She was immersed with daily electronic tracks in the car and was taken to raves during her youth which cemented her desire to create progressive and eccentric pop. In an interview published by Lenny Letter, SOPHIE says, "I spent all my time listening to those cassette tapes. I'd steal them from the car." Once she had received a keyboard for a birthday gift, Sophie's musical talents were utilized and crafted. 
Around the age of nine or ten, SOPHIE suggested dropping out of school to become an electronic music producer. Although her parents did not allow this, she continued to create music from then on and expressed that "I'm just going to lock myself in my room until I've made an album."
Amanda Castillo ('22) says, "I never listened to SOPHIE's solo music, I mainly stuck to what she produced for other artists like Charli XCX, Vince Staples, and Kim Petras. I started to listen to her solo stuff when her 2018 album came out and when I heard about her death it was such a major loss. She made pop music so good and I'm sad she died so young."
Before she came out as a trans woman in 2017, SOPHIE remained an anonymous figure for the beginning of her career. Her release of  the "It's Okay To Cry" music video was the first instance where her face, body, and voice were public. Her influence on the experimental pop community as well as the trans community had not gone unnoticed, her debut 2018 debut album "Oil of Every Pearl's Un-Insides" was Grammy nominated for Best Dance/Electronic Album. 
Her track "Faceshopping" discusses and alludes to body modification and plastic surgery to exude her own personal identity to be "real when I shop my face." The trans community also feels a personal connection to the message of the song, being that your body and gender belong to the individual, not to stay static in one assigned role from birth. During a 2018 interview with Paper Magazine, when asked "Do you believe in God?", she responded bluntly by saying "Yes. God is trans."
Kira Cardillo ('22) says, "I would say SOPHIE changed my view on music because she showed me how big of an impact a producer has on music. Although I did not listen to too much of her solo music I could so clearly pick up on her style when listening to songs that she produced. Her death affected me because I was excited to see her grow and work on more music so it saddens me that it had to come to an end."
The PC music genre has flourished under SOPHIE's close work and production efforts, she has worked with PC musicians A.G. Cook and GFOTY. SOPHIE also produced for large names such as Charli XCX, Vince Staples, Kim Petras, Let's Eat Grandma, Namie Amuro, and Madonna. Her bizarre pop production which tested the limits of how vocals and music should sound, she produced nearly a dozen tracks for Charli XCX, a close friend of SOPHIE's. Charli XCX took influences from SOPHIE, meshing electronic pop and more abstract experimental sounds to create hits like "Vroom Vroom." SOPHIE's production of "Bitch I'm Madonna" was one of the highlights of her career, SOPHIE's personal touches of glitzy beats, colorful, upbeat pop synths and production. 
Beyond SOPHIE's solo and production work, her impact across the music and culture world are noticeable in the experimental genre of hyperpop. Hyperpop is characterized by intense tempos, glitchy pop beats mixed with altered vocals and labels SOPHIE as one of its founders. Known names of the genre include 100 gecs, Gupi, Charli XCX, P4rkr and more underground artists who have taken inspiration from these idols and SOPHIE herself. The hyperpop genre has paved a vocation for other trans and nonbinary artists, such as Dorian Electra, Kim Petras, 100 gec's Laura Les and Osquinn to create self expressive and music that contrasts from the norm. Her legacy can be heard in upcoming music genres, modern pop and the manipulation of electronic sound and won't ever be erased or forgotten. Rest in peace SOPHIE.