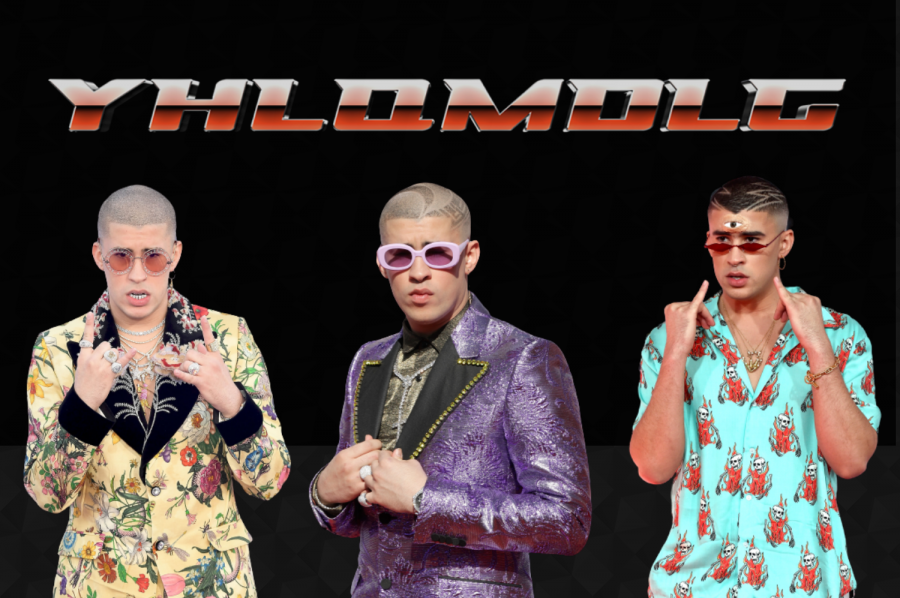 (Photo Credit: Kimberly Egoavil / Piktochart/Achona Online)
Benito Antonio Martinez Ocasio, better known as Bad Bunny, is a Puerto Rican rapper, singer, and songwriter. His early career started in 2016-2017 via the app SoundCloud. While working as a bagger at a grocery store, he released some music independently, and one of those  songs called "Diles" caught the eye of the record label Hear This Music.
Shortly after his breakthrough single "Soy Peor" came out, it topped the charts, coming in at 22 on Billboard and amassing more than 650 million views on Youtube. This song established his career and set his trajectory to the top of Latin music. He has collaborated with some of the biggest names in the Latin music industry, including J. Lo. , Ricky Martin, Maluma, and Marc Anthony to name a few. 
Bad Bunny's "El Último Tour Del Mundo" (1.86B) surpasses J Balvin's "Colores" (1.85B) to become the 14th album released in 2020 most streamed on Spotify. 🌎 pic.twitter.com/tyjbmPacHR

— Access Bad Bunny (@AccessBadBunny) March 22, 2021
Bad Bunny has incorporated trap music and other controversial forms of reggaeton into his music, and although he has found success, in the past this type of music was discouraged. Trap music and reggaeton were regulated in the late 90's much like hip hop in the United States. Icons such as Ivy Queen have been vocal about when this genre was looked down upon by popular Latin pop artists especially in Puerto Rico, where the music used to be confiscated by police officials. During the 2000s, reggaeton has easily become one of the most influential genres of music, with Bad Bunny being one of the de facto leaders. His deep voice and instantly recognizable tone made him successful amidst his unprecedented rise in the music industry. 
Dani Baez (21) said, "I really like him and his music though it might not be appropriate for younger listeners. My family's from Puerto Rico so the summer before freshman year, I went to go visit and my cousins started showing me a lot of his music and that's when I really got into him."
Hispanic culture is very conservative and restrictive, but Bad Bunny has been using his platform to highlight important issues and normalize inclusivity within Hispanic culture. He has a fondness for flamboyant outfits, multiple piercings, bizarre patterns, tiny glasses, and, of course, his signature painted nails. His self-expression shows younger generations that masculinity is not defined by the social construct of gender norms.
His music video "Yo Perreo Sola" breaks barriers in a genre that is male-dominated and often stereotypes women as sexual objects. In the video, Bad Bunny dresses in drag with three different outfits and dances by himself, to represent all the women who simply want to dance alone and enjoy themselves safely in the club. A message at the end of the video reads, "Si no quiere bailar contigo, respeta, ella perrea sola." which translates to, "If she doesn't want to dance with you, respect her, she dances alone." 
During an appearance on The Tonight Show Starring Jimmy Fallon in March of 2020, Bad Bunny paid tribute to Alexa Negrón Luciano, a homeless trans woman who was brutally murdered in Puerto Rico. He wore a white t-shirt with the words "They killed Alexa, not a man in a skirt," written across in Spanish.
happy coincidence: conversation students discussed Bad Bunny this week after winning Grammy for YHLQMDLG. we talked about hegemonic masculinity, trap, "Yo perreo sola", & his performance on The Tonight Show (w/ the shirt "Mataron a Alexa, no a un hombre en falda") pic.twitter.com/E5Jz5noZqU

— Dr. Olivia C Cosentino (@occosentino) March 16, 2021
In addition to promoting inclusivity, Bad Bunny is constantly involved with service, especially with Puerto Rico. In 2019 he supported and protested amongst the citizens to kick out the corrupt governor Rossello.  Residente, iLe, and Bad Bunny released a single called "Afilando los cuchillos" in the middle of the protests; they rap about the unity among Puerto Ricans and about the former governor's money misusage, homophobia, homes still left roofless by hurricanes, and manipulation of news outlets. 
Another song, "Estamos Bien," was a single released almost a year after Hurricane Maria devastated the island of Puerto Rico. He used this song to raise awareness about the plight of Puerto Rico after the hurricane devastated the island. When he sang live on The Tonight Show with Jimmy Fallon he made sure to say,  "On September 20th, 2017 Puerto Rico was exposed to the full force of nature's ferocity. After one year of the hurricane, there are still people without electricity in their homes. More than 3,000 people died and Trump's still in denial. Estamos bien y vamos a estar mejor, Puerto Rico! (We're good and we'll be better, Puerto Rico!)"
View this post on Instagram
Bad Bunny has been a light for new youth culture and a challenger to conservative standards and identity politics. He confronts the norms embedded in Latinx culture such as gender, sexuality, and fashion and opens up conversations worldwide. His music is just as effortlessly done, his versatility with sounds and fusing reggaeton sounds with elements of trap, hip hop, and more recently hints of rock create different entry points for all kinds of listeners. He has taken his career and used it to take action for important social issues and developing connections with his community, thus cementing his career on authenticity and taking the listener along for the ride.