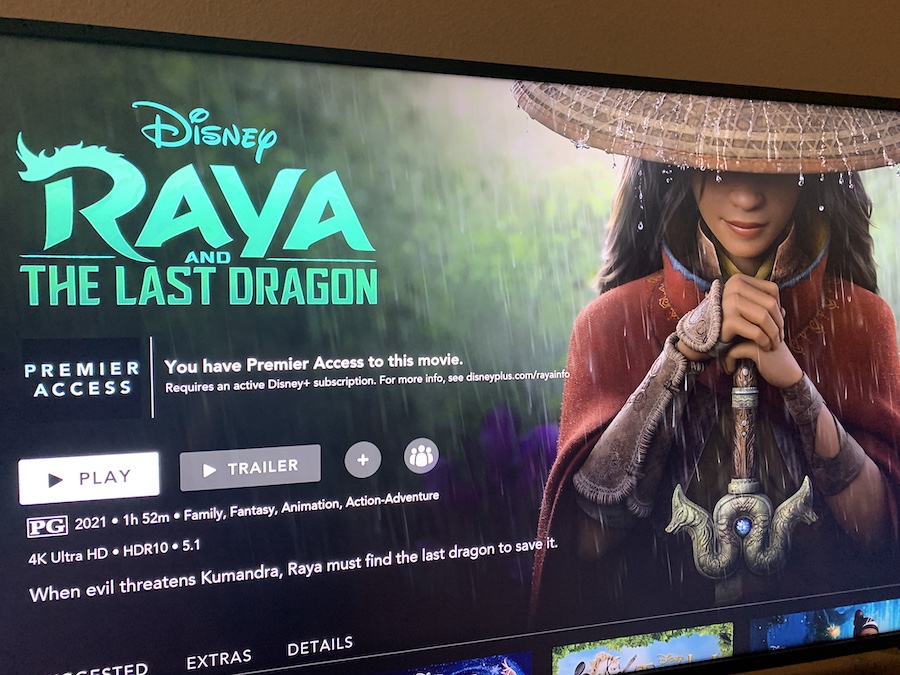 (Photo Credit: Anika Schmid/Achona Online)
As the 59th Walt Disney Animation Studios film, "Raya and the Last Dragon," was released on March 5, 2021, in theaters and Premium Access on Disney+ for $29.99. On June 4, it will be available for free on Disney+.
Directed by Don Hall and Carlos López Estrada, the film features Kelly Marie Tran as Raya, Awkwafina as Sisu, Daniel Dae Kim as Benja, Izaac Wang as Boun, Gemma Chan as Namaari, Sandra Oh as Virana, Benedict Wong as Tong, and more talented voice actors. 
Happy Friday to this impromptu photoshoot with Kelly Marie Tran. #DisneyRaya pic.twitter.com/qSOkCvUUGc

— Raya and the Last Dragon (@DisneyRaya) March 5, 2021
Once living in harmony with dragons, the mythical land of Kumandra was united. After the dragons sacrificed themselves to save humans, Kumandra was separated by greed and named after parts of the dragon: Tail, Talon, Spine, Fang, and Heart. 500 years later, Raya is the guardian of the Dragon Gem, the last remaining dragon magic. She must embark on a journey to search for the last dragon and reunite her land. 
As the heroine, Raya represents 670 million Southeast Asians from 11 countries. This representation will inspire young girls who will see themselves in a major Disney movie for the first time. 
Screenwriter Adele Lim said, "To be a part of this where the place where I grew up was going to be the central inspiration and to have a Disney heroine, a warrior princess so that my daughter can look at and see her face reflected, means the world to me."
However, not all of Southeast Asia has access to Disney+. Singapore recently launched the streaming service on February 23, 2021. It is expected at some point in 2021 that Disney+ will launch in other Southeast Asian countries. Additionally, the film has received criticism for its lack of Southeast Asian actors and for mixing Southeast Asia's cultures and folklore. 
Actually no, because Disney+ is still unavailable in much of Southeast Asia. https://t.co/RGoDspqyVR

— R. (@rincredible) March 6, 2021
As Kelly Marie Tran's first lead role, she does a wonderful job encapsulating Raya's passion and dedication. As a warrior, Raya is an empowering protagonist. Her status as a princess is not a hindrance to her mental and physical strength. She has her flaws, of course, due to her jaded nature and hesitance to trust others. Raya is fiercely independent, yet she must rely on and form close bonds with each character she meets. The supporting characters each stood out and served a distinct role. Despite their differences, they came together to strengthen Raya on her journey. The pursuit of a common goal was the motivation for Raya's allies and enemies. 
The movie's theme of trust and friendship was inspiring, especially for those who struggle with suspicion and cynicism. Kelly Marie Tran hopes that audiences will recognize that "human beings are just human beings, and we can all find compassion for one another."
Raya: "The world's broken. You can't trust anyone."
Sisu: "Maybe it's broken because you don't trust anyone. You just have to take the first step."

One of the best dialogue in the movie, Raya & the Last Dragon…

I'm loving this movie. It's all about FAMILY, FRIENDSHIP & TRUST

— Andre Christian (@AndreXXXtian39) March 9, 2021
While some of the dialogue was predictable, there is an evident tension between Raya and her rival Naarmai through their taunting banter. It was refreshing to see a rivalry between two women characters, especially as they fight to protect their land. 
Whether it be a lighthearted scene to lighten the mood or an intense chase scene, there was never a dull moment in the one-hour and 48-minute movie. The pacing had a great balance of emotional moments and humor, and the story flowed from one event to the next. 
Composed by Oscar-nominated James Newton Howard, the score was impactful on the mood of scenes. "Lead the Way," an original song written and performed by Grammy-nominated Jhené Aiko, played during the credits.
The film showcased gorgeously animated scenery and attention to detail in color and texture. There were remarkable action shots and unique character designs. From Talon's vibrant and lively marketplace to the bleak, snow-covered Spine, each kingdoms' setting stood out.
View this post on Instagram
"Raya and the Last Dragon" made $8.6 million in its domestic box office during its opening weekend, and has grossed $26 million worldwide. The Rotten Tomatoes audience score is 85% and 96% from critics. While I enjoyed the film, I recommend waiting until it is available for free. 
"I have not seen 'Raya and the Last Dragon,' but I plan to watch it in June when it will be free. I have seen lots of trailers, and it looks like it'll be a very fun movie for all ages," said Claire Wong ('22).