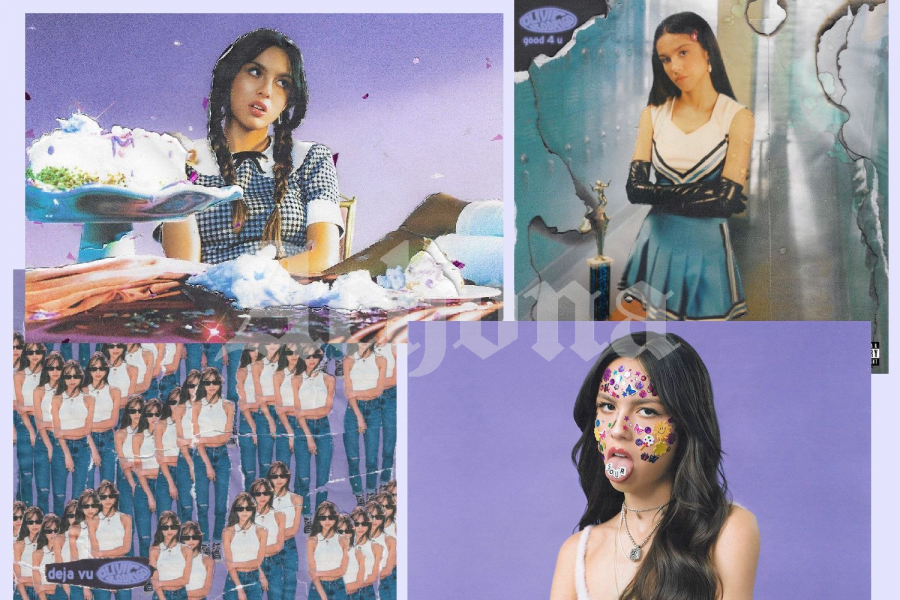 Chloe Mintz/ Adobe Photoshop Mix/ Achona Online
11 songs. 35 minutes. Unadulterated teenage fervor. 
Friday, May 21, Olivia Rodrigo released her debut album "Sour" with tracks reminiscent of her predecessors (re: Taylor Swift, Blondie, Pat Benatar, et al.). There's a bit of 90s grunge, a bit of Swifty's pop, and a bit of melodious lyricism. 
Prior to the album's release, Rodrigo debuted singles "drivers license", "deja vu", and "good 4 u". Each of which garnered national attention in its own right. Within the first 24 hours of its release, "drivers license" accumulated a record-breaking 15.7 million streams on Spotify. "deja vu" acknowledged Rodrigo as the first artist to "debut their first two entries in the top five." And "good 4 u"? It topped charts at number one. 
Olivia Rodrigo's debut album, "Sour," opened at the top of the latest Billboard chart with the equivalent of 295,000 sales in the U.S., the biggest opening yet this year. https://t.co/D6fp2SGvrV

— The New York Times (@nytimes) May 31, 2021
Of "Sour" 's 11 songs, I chose five to review. That's not to say the other six are not enjoyable; I merely found these tracks to be Rodrigo's best.
Please note, these reviews are based solely upon my personal opinions (and occasionally those of others).
jealousy, jealousy
Best lyric: All I see is what I should be/ Happier, prettier, jealousy, jealousy
"jealousy, jealousy" is a vehement response to the perverse environment social media has stimulated. Rodrigo sings of perpetual self-doubt and jealousy on account of the seemingly perfect lives she scrolls through each day. Though they don't appear to offer a resolution to such faulty perceptions, her lyrics are effective and land a packed punch on society's status quo. However, if I'm being honest, it's not her lyrics I found compelling, but rather her bridge. Rodrigo's frustration and chords crescendo simultaneously to then merge into the track's chorus. It's all pretty spectacular.
brutal 
Best lyric: "And I'm not cool and I'm not smart/ And I can't even parallel park"
"brutal" is one of my favorite tracks on the album solely because it's every teen's angsty anthem. With lyrics like, If someone tells me one more time/"Enjoy your youth," I'm gonna cry, you can't help but sing (or shout) along— impassioned by a similar sense of frustration. Of course, as an internet sensation, it's a bit difficult to believe Rodrigo is, in fact, uncool. But I'm willing to ignore such discrepancies as I'm in favor of blaring the song pretty much everywhere— the car, my bedroom, the shower, et al. 
enough for you
Best lyric: But don't tell me you're sorry, boy/ Feel sorry for yourself/'Cause someday I'll be everything to somebody else
"I love 'enough for you' because of the message of the song. Olivia Rodrigo does a great job of communicating to her audience that they will always be enough for the right person and that they shouldn't try to change themselves for anyone else. The song is simple but has a great melody and is one of my favorites on the album," says Maeve Miller ('22).
deja vu
Best lyric: Now I bet you even tell her how you love her/ In between the chorus and the verse (Ooh; I love you)
"deja vu" is my favorite of Rodrigo's singles. I'm not entirely certain as to why, but I'll try my best to explain: music, as of late, is riddled with auto-tune and voice enhancement. Such tracks, which are meant to be expressive, are inherently disingenuous. "deja vu" is different. Rodrigo's natural talent is apparent, and it's reassuring as a listener— residing within a terribly superficial society— to know she's legit. Rodrigo is also an incredibly creative lyricist; with each verse, I am more in awe of her ability to weave a unique story with both rhythm and wit. 
favorite crime
Best lyric: And now, every time a siren sounds/ I wonder if you're around/'Cause you know that I'd do it all again
"'favorite crime' is definitely in my top three for me on Sour. Olivia Rodrigo is becoming more and more of a storyteller, and we really see that throughout this song. She sets a scene, and her beautiful voice strings it along. She and Taylor Swift are one and the same for making their storytelling a huge part of their success. And to compare the two again, this song also reminds me of 'Getaway Car' by Taylor Swift (which I also love)," says Allie Ragano ('24).
I suppose the appeal of Olivia Rodrigo is the intensity and frankness with which she writes. Her music is directed towards a particular demographic, no doubt, yet the commonality of her lyrics is felt by all. Heartbreak, jealousy, diffidence; each sentiment is emblematic of the human experience. Perhaps we merely experience Rodrigo via recordings, yet I can't help but feel as if she's a dear friend of mine. It's our shared commiserations.  
I have no way of knowing what the future may hold for Rodrigo; but, if her chart-topping, record-breaking success is any indication, I don't believe "Olivia Rodrigo" is a name soon to be forgotten. 
Tl;dr: the album's best tracks are "jealousy, jealousy", "brutal", "deja vu", "enough for you", and "favorite crime". Honorable mentions include "drivers license" and "hope ur okay".