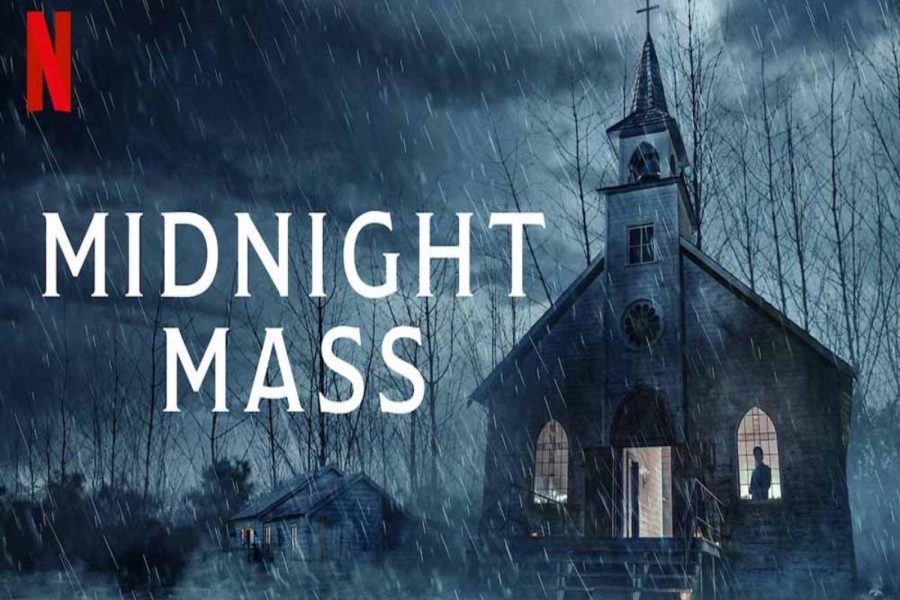 Photo Credit: Netflix
Best known for his gripping horror films, American filmmaker Mike Flannagan has produced yet another hit limited series, Midnight Mass. Released on Netflix on September 24, the one season show encases contemporary Catholic horror through the dark intersection of trepidation and faith. Since its debut, Midnight Mass has received various positive reviews, including an 89% rating from Rotten Tomatoes.  
This one is special. Cannot wait for you to see it. pic.twitter.com/z7elBvERSb

— Mike Flanagan (@flanaganfilm) August 9, 2021
**SPOILERS AHEAD**
Midnight Mass is set in a small, secluded, island community in which following the arrival of a mysterious priest, Father Paul, begins to experience supernatural occurrences. The story follows Riley Flynn, a newly-recovering alcoholic who was incarcerated for four years after killing a young woman in a drunk driving accident. After his release, Riley returns home to Crockett Island, a town primarily inhabited by dedicated Catholics. While in jail, Riley loses his faith, disconnecting him from the religion-bound community. But, on account of his parole, he must attend Alcoholics Anonymous meetings, which are held one-on-one with Father Paul. 
Although the tight-knit religious community appears to be dedicated to the strong Catholic ideals of holiness, evil begins to brew within the church. Father Paul is revealed to be the island's former priest, Monsignor Pruiett, who had just traveled to Israel. During his pilgrimage, Monsignor Pruiett encounters an "angel" who drinks his blood and in return reincarnates him to a younger, unrecognizable form. Now a blood-hungry vampire, Father Paul struggles with attending to the parish and restraining himself from acts of murder. As the residents of Crockett Island grow excessively loyal to him, Father Paul and his closest follower, Bev serve the unsuspecting parishioners human blood. With digesting this tainted blood, the citizens are able to be revived after death. In the show's final episode, the mass attendees are encouraged to drink poison and those who do are brought back to life as ravenous, blood-sucking creatures. 
so so good #MidnightMass pic.twitter.com/qlGn6cfru0

— dél (@dwlrdel) October 21, 2021
**END OF SPOILERS**
Although Flanagan's two previous works, The Haunting of Hill House and The Haunting of Bly Manor are part of the Haunting anthology, he announced that Midnight Mass had no connection to either. Rather, Midnight Mass encompasses a somewhat personalized storyline in which Flanagan confronts some of the hauntings of his past.
"I've watched all three of Flanagan's Netflix shows and Midnight Mass is definitely my favorite so far…by the end of the season, you feel sort of a personal sympathy towards almost all of the characters," says Academy sophomore, Ava Tuccio ('24). 
Flanagan further relates the element of vampires, which have been long associated with religious practices and symbols, to the variations of religious zealotry and its harsh repercussions. Using Midnight Mass characters, he embodies his own relationship with faith and specifically through Riley, depicts his alcoholic struggles. Flanagan even wrote to the critics ahead of the show that he was three years sober himself and believes that he wouldn't have been able to produce Midnight Mass prior to 2018, since he could write about alcoholism, but not sobriety. 
Flanagan says, "There's a very natural thing that happens where, if you're writing anything that tiptoes into a personal place, you find yourself vomiting up all sorts of things into it."
As seen in all of Flanagan's works, Midnight Mass presents underlying themes of forgiveness and understanding, along with its components of horror and religion. Similar to The Haunting of Hill House, the show expresses symbolic spirits and shadows that continue to haunt families or communities as grudges are held, driving them apart. 
Holy moly #MidnightMass was by far one of the most thought-provoking shows i've ever watched. An insightful look at blind fellowship and religious belief.

At its core, Mike Flanagan offers a deep and meaningful story about love and forgiveness.

One of @netflix's overall best. pic.twitter.com/CLKPaUv9YX

— Zeddy (@NickZednik) October 23, 2021
The show's characters struggle with the need to be forgiven, the need to forgive others, and the need to forgive themselves. One major forgiveness-themed conflict was that between Father Paul (Monsignor Pruiett) and islanders Sarah and Mildred Gunning. He carries the guilt of feeling as though he had been an inadequate significant-other to Mildred, and an even poorer father to Sarah. Once forgiven by the both of them, Father Paul is able to realize the error in his recent actions and seeks to right his wrongs. This blinding guilt had prevented him and many others from their own personal growth, revealing that seeking genuine forgiveness is the only way to move on from troubles of the past. 
Once again, Mike Flanagan has created another captivating horror show that is not only beautifully filmed, but also drives its viewers to think beyond the surface when watching. Midnight Mass perfectly encapsulates the corruption of morality and how in some cases, the same faith that nurtures us can have tragic consequences if followed blindly. The short series incorporates deep reflection on past, present, and future and on it's central focus, religion. Unlike most horror films, Midnight Mass refrains from an overuse of jump scares. Instead, Flanagan uses his characters' portrayal and derangement as fear-producers, leaving his audience both emotional and successfully frightened. 
"I really loved the show. It has an ending that you wouldn't expect which is super interesting. The reason I particularly liked the shows was because I grew [up] catholic so I enjoyed being able to connect to all of the traditions and prayers that they included in each episode. Though it was definitely scary, I feel that its not too morbid and I definitely recommend it," says Ellie Warnke ('22).