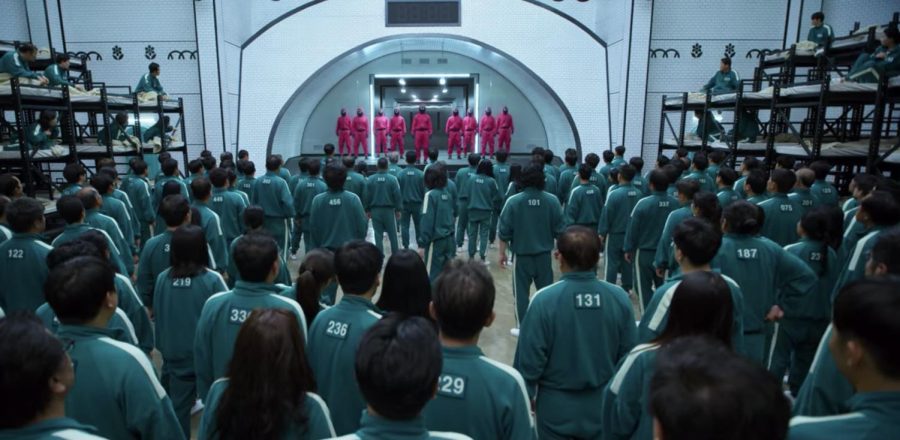 Photo Credit: Olivia Payne/ Canva
Our favorite childhood games have been reincarnated in Squid Game but with a new deadly twist. Squid Game premiered on Netflix on September 17 and is now the number one series in the world. It is now on track to be the most-watched show in Netflix history. This is especially monumental because Squid Game is a Korean show. The show has been increasingly popular across the world, taking over social media and fashion trends.
 In Squid Game, 456 contestants compete to win 45.6 billion won, a form of South Korean currency. All of these contestants chose to come to play the games because they have millions of won in debt. However, they realized that they have been tricked and that the losers of the games are killed. The game is comprised of six deathly versions of children's games, such as Red Light, Green Light and Tug of War. The complex plot with many different types of characters, each with his or her own struggles, captured viewers around the world. Samantha Cogburn ('24) has only seen the first episode of Squid Game, but she has high hopes for the rest of the series.
"I like the little girl, the daughter of the main character. She's really cute and I can see why he's fighting so hard for her. I don't like the main character too much but his love for his daughter is admirable. The show's boring so far but I'm told it'll pick up soon," said Cogburn. 
Many characters of Squid Game have become beloved to the viewers. Kang Sae-byeok, who is portrayed by HoYeon Jung, is one of the most popular characters in Squid Game. Jung gained 14.6 million Instagram followers since Squid Game premiered. Another breakout star of Squid Game is the large doll who conducts the Red Light, Green Light game. The doll has gained attention for her eye movements and her role in revealing the plot of the show.
No one:
That doll in Squid Game: pic.twitter.com/Fiyc14COOS
— Yok (@KristianTorrero) September 30, 2021
While having an English voice dub, many English viewers opt for the original Korean version because the voice dubs did not translate the meaning and emotions of the words well. Even so, many Korean-American viewers noted that the English captions did not truly translate the meaning of some of the actors' words. One main feature of the character Han Mi-nyeo was that she did not have access to proper education and depicted classism in society. However, the captions said, "I never bothered to study, but I'm unbelievably smart." This prompted many viewers to reflect on the under-payment of translators and the importance of understanding other cultures. Other foreign shows and movies have been big hits on Netflix, such as Lupin, a French series, and Alice in Borderland, a Japanese show similar to Squid Game. 
The subtitles for 'Squid Game' are awful.
For English speakers, the easier-to-digest but incorrect translations prevent meaningful exploration and understanding of Korean culture. For Koreans, it feels like erasure. https://t.co/tv8RwFhjKa
— VICE (@VICE) October 8, 2021
Squid Game also became a hot topic because of its political commentary and its critique of capitalism. The show revolves around people who are so desperate because of their debt that they would rather have a chance at money and risk death than face their lives in the outside world. "I don't have a home to go back to. In here, I stand a chance at least. But out there? I got nothing out there," said Player 322. It comments on the power that rich people have over the poor. It is revealed that the creator of Squid Game made the game because he was bored with all his riches and wanted to have some fun. "Do you know what someone with no money has in common with someone with too much money? Living is no fun for them," said the creator of the game, Il-nam. 
Squid Game prompted many conversations about the extent of capitalism and the control that the rich have over the poor. Many of the challenges also depict the unfairness that a capitalist society presents. In the Red Light, Green Light challenge, players could hide behind others so that their movement was not detected. Many fans theorize that this represented the way that rich citizens can use the poorer members of society to protect themselves. Many games also heavily relied on chance and luck, which represented the way that people are randomly lucky by being born into riches. 
Korean entertainment has continued to influence American culture. K-pop, Korean pop and rap music, took America by storm, starting with Gangnam Style by Psy in 2012. Groups like BTS, Blackpink, Twice, and Stray Kids have garnered many fans in the US. Squid Game has continued the influence of Korean pop culture. The green tracksuit that Squid Game contestants wear has become the number one searched item on Amazon. There was a 7800 percent spike in sales of white slip-on Vans, which the contestants also wore. As many trending shows do, Squid Game has taken over the trends on Tiktok. The hashtag SquidGame has 37.9 billion views on TikTok, with many of the popular videos having 6 to 15 million likes. Many videos feature dalgona toffee, an old popular Korean street food, which was used in one of the Squid Game challenges. Other highly liked videos feature makeup tutorials, fan theories, and popular clips. 
"I haven't done any of the trends, but I've seen them and think it's great to see people trying things from different cultures. One of my favorite parts about Squid Game was its characters and themes. I think the way that they set up the show, character backgrounds, and its theme of choice and capitalism gave a really interesting insight to society and how it affects the people who have the very least. I thought it was really interesting and am really glad that it opened up a lot of people to shows from different countries," said Catalina Salgado ('24).