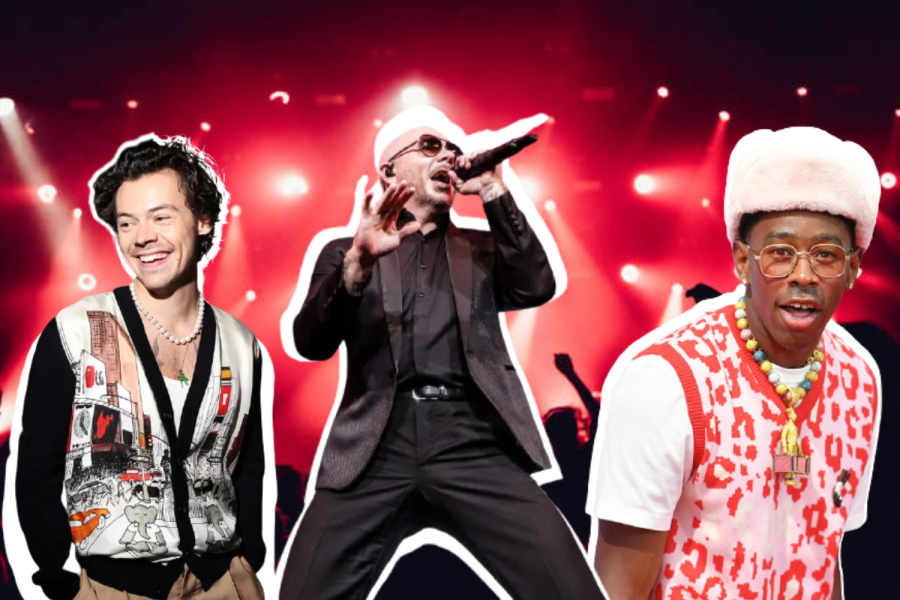 As Covid-19 cases have begun to decline, concerts are making a comeback to the Bay area. Performance-lovers have been unable to enjoy live music since early 2020, so the revival of concert-going is an exciting prospect. Within the next year, tons of concerts and music festivals are scheduled to be held in Tampa Bay with hit artists Harry Styles, Pitbull, and Tyler the Creator included. 
On October 10, English actor and singer-songwriter, Harry Styles is bringing "Love on Tour" to Tampa Bay. At Channelside's Amalie Arena, he will be performing music from his latest album, Fine Line and other fan-favorites. 
Styles began his second concert tour on September 4 in Las Vegas and plans to put on 39 shows. Heavily anticipated by "Stylers" across the country, the show's set-list consists of Styles' biggest and most popular hits, some of which are "Adore You", "Watermelon Sugar", and "Sign of the Times". 
LOVE ON TOUR will be going out across the USA this September and I could not be more excited for these shows. As always, the well-being of my fans, band, and crew, is my top priority. pic.twitter.com/6VWHxrfrGK

— Harry Styles. (@Harry_Styles) July 14, 2021
Following Styles, Cuban-American pop star and rapper, Pitbull will also be making a stop at Tampa's Florida State Fairgrounds on October 13 while on his "I Feel Good" tour. Also referred to as "Mr. Worldwide", Pitbull is well recognized for his Spanish and English hit music. His tour will also feature Australian rapper and singer songwriter, Iggy Azalea.
I don't know about you, but I feel good!
Yours truly is back on the road again with special guest @IGGYAZALEA and our very own @themostbadones.
Excited to reunite with all of my fans.
Dale!! #IFeelGoodTour pic.twitter.com/SWh6w4mztV

— Pitbull (@pitbull) June 22, 2021
n March of 2022, Tyler the Creator, known for his alternative, hip hop, and R&B style, is performing at USF's Yuengling Center in North Tampa. The show will include Tyler's latest album, Call Me If You Get Lost, which debuted No. 1 on the Billboard 200 chart. Tyler's most recent performance at Lollapalooza towards the end of the summer a big hit, so fans are expecting a great concert. 
CALL ME IF YOU GET LOST: JUNE 25TH pic.twitter.com/2FkiNkLJl5

— Tyler, The Creator (@tylerthecreator) June 17, 2021
Since the pandemic is still a prominent issue in Florida, concert-goers will need to abide Covid-19 policies. The MidFlorida Credit Union Amphitheatre at the Florida State Fairgrounds requires proof of negative test results or vaccination while the Yuengling Center encourages mask wearing. The Yuengling Center, as well as Amalie Arena, also ensures that each participant attests to Covid-related statements concerning their health. All three venues regulate the size of attendees' bags, recommend social distancing, and have informed guests that individual shows may require masks to be worn.