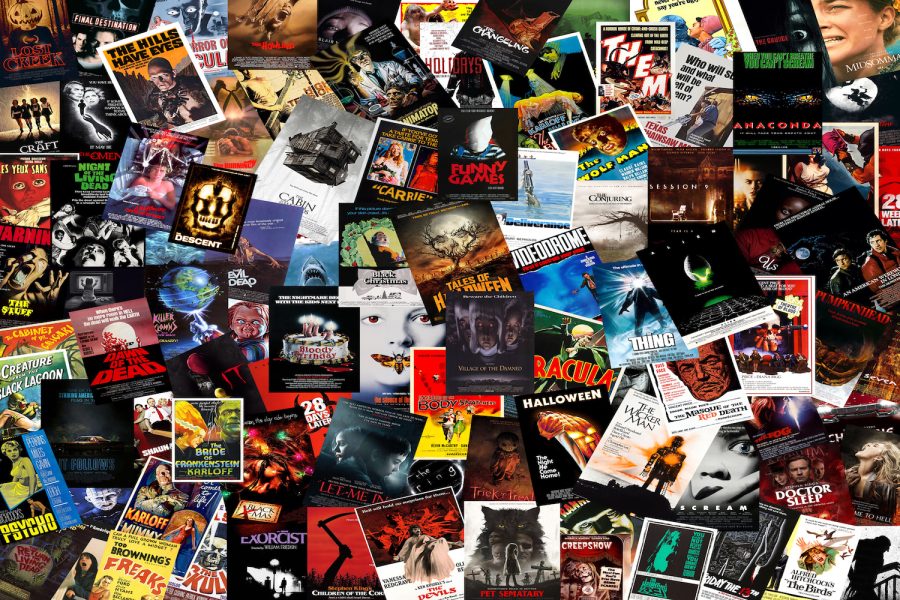 Photo Credit: Aurelia Rich/ Achona
Many of us dress up as classic television and movie characters for Halloween, but what about the costumes those same actors wore in their films? Seeing actors and actresses dress up tends to have a big impact on viewers and allows the audience to get a personal insight into the psyche of a favorite character.
Reese Witherspoon Reminisces About Past Halloweens with Her Iconic Bunny Costume from Legally Blonde https://t.co/2Y0hbBy24y

— People (@people) October 28, 2021
Sophomore Isabelle Williams said, "'Legally Blonde,' one of my favorite movies, did a really good job with Elle Woods' Halloween costume… definitely very on-brand for her."
As the Halloween season officially came to a close this past Sunday night, it only feels right to highlight some of the holiday's most notable costumes worn in tv shows and movies.
Although not an entirely all-out costume, "The Office's" Dwight Schrute wears a pumpkin head with a face cut out on the ninth season's fifth episode, "Here Comes Treble." While wearing the pumpkin, Dwight attempts to scare his coworkers and succeeds in frightening Erin. But, when Dwight goes to remove his head accessory, he realizes it's gotten stuck. In Dwight's attempt to dominate Halloween at the office, he finds himself, as he frequently does, in a chaotic yet hilarious situation.   
Oct 31 Nov 1 pic.twitter.com/qIRa94qbw5

— The Office Memes (@OfficeMemes_) November 1, 2021
In the timeless comedy, "Mean Girls," Cady Heron shows up to a Halloween party dressed as the Bride of Frankenstein. Unfortunately, she didn't get the memo that the rest of the Plastics were dressed in cuter, more appealing costumes. Despite this misunderstanding, Cady definitely outdid her friends.
Are you dressing up for the regular world 👻 or the girl world 👯 this #Halloween? pic.twitter.com/014Gf86rZn

— Mean Girls (@MeanGirls) October 27, 2017
In season two of the popular Netflix original series, "Stranger Things," the Hawkins core four dressed up as the heroic characters from a supernatural classic. Fitting for the show's 1984 setting, Mike, Lucas, Will, and Dustin go as the infamous Ghostbusters. The boys are sure that their Ghostbuster jumpsuits and proton pack will be all the rage. However, when the boys arrive at school, they embarrassingly realize that they're the only ones who are dressed up. 
Who you gonna call?! GHOSTBUSTERS!#halloween2021 pic.twitter.com/EmSDK3zums

— Stranger Things Brasil (@strangertbr) October 31, 2021
Fans of Fox's "Scream Queens" saw Emma Roberts, who played sorority head Chanel Oberlin, dressed up as a smurfette for the show's Halloween episode. In "Halloween Blues," Chanel's body is entirely blue, but not by intention. After receiving a dosage of silver from Dr. Brock to cure a stress-induced rash, she wakes up the next morning with blue skin. Panic results, but Chanel #5 resolves the issue by suggesting that Chanel dresses up as either a blueberry or a smurfette. Chanel's underrated Halloween costume was witty and resourceful. 
Chanel and Denise Hemphill are channeling the spirits this Halloween. Watch #ScreamQueens Tuesday at 9/8c on FOX! pic.twitter.com/5c0Q9dFOsJ

— Scream Queens (@ScreamQueens) October 16, 2016
Along with delivering film-lovers a multitude of costume ideas, Halloween is universally accepted as a somewhat dark holiday, especially in media productions. Oftentimes, films within the various genres of horror use Halloween as a basis for the plot's climax. The ominous mood of Halloween tends to add drama and fear to the storyline, more so than other holidays such as Christmas or Thanksgiving ever could. Incorporating holidays like Halloween into films also allows the fictional characters to be seen celebrating the same event that everyday people enjoy, giving viewers a sense of relatability and connection.