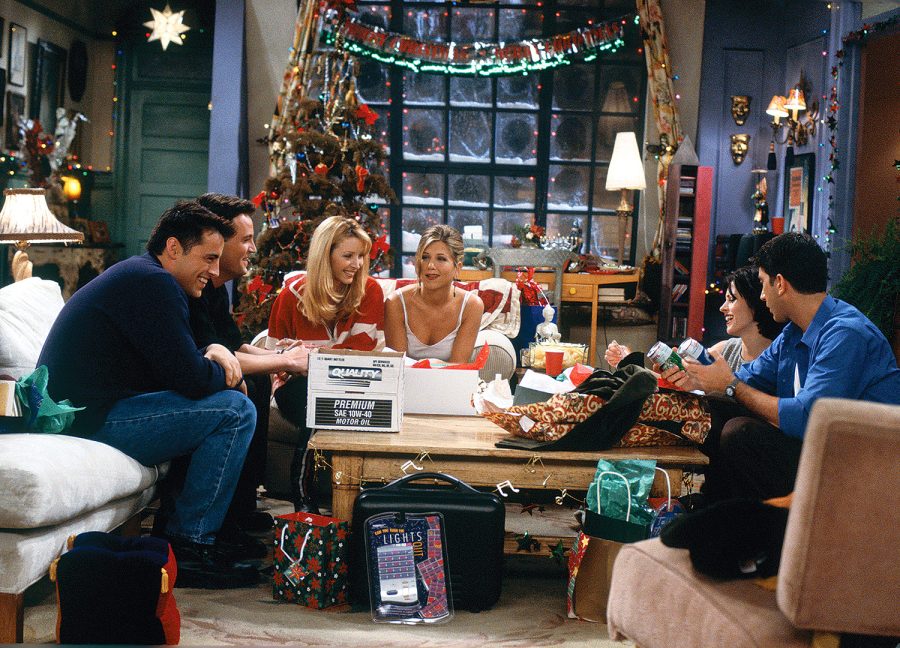 Photo Credit: Caroline Kross/Achona/People Magazine
"Friends" is a timeless show, it was huge during its air time and even more popular after its release. The show first aired in 1994 and still has numerous viewers today. Below is my ranking of the best "Friends" holiday episodes.
#10-  Season 8, Episode 11 "The One with Ross's Step Forward"
In this episode, Ross and Mona take a picture in front of Rockefeller center, leading to Mona wanting to send the picture as a holiday card together. Ross panics at this idea and avoids every chance Mona tries to have a conversation about it. 
#9- Season 9, Episode 10 "The One with Christmas in Tulsa"
Chandler is forced to spend Christmas in Tulsa to finish work that must be completed before Christmas day, or be fired. Therefore, he won't be able to spend Christmas in New York with Monica and all of his friends.
#8- Season 7, Episode 9 "The One with all the Candy"
Monica makes Christmas candy for her neighbors to get to know them better. However, this quickly escalated once the candy turned out to be a huge hit and she had lines of people waiting for her to make more. Eventually, it gets out of hand and Chandler stands up for Monica and tells everybody to leave. 
#7- Season 1, Episode 10 "The One with the Monkey"
To celebrate the new year, Monica decides to throw a New Years party. Chandler made a no-date pact between all of the friends which quickly changes throughout the episode. Meanwhile, at the party, Ross decided to bring his new monkey, Marcel.
#6- Season 3, Episode 10 "The one where Rachel Quits"
Rachel had gotten a job as waitress at Central Perk while she waited to pursue her fashion career. However, she wasn't very good at the job and her boss wanted her to go through training again, even after being an employee for 2 years. Chandler and Joey talk her into quitting which she quickly regrets when reality hits her. Thankfully, she found an interview and got a job at Fortuna Fashions, which turned out to consist of nothing but making coffee for her boss.
giving you a thumbs up to put those Christmas trees up! #Friends pic.twitter.com/BgaOZgZUoL

— Nick at Nite (@nickatnitetv) December 1, 2021
#5- Season 4, Episode 10 "The One with the Girl from Poughkeepsie"
The Holidays had been tough at the time for Ross and Monica. Monica gets a new job as head chef at a restaurant, however, she faced a lot of disrespect and bullying. Her and Joey come up with a plan to fire Joey to show the employees that Monica is boss. Meanwhile, Ross meets a great girl from Poughkeepsie, the only problem is that he has to take a 2 hour train to see her. He decides to break up with her but he never got a chance to once he fell asleep on the train ride there and never heard from her again.
#4- Season 2, Episode 9 "The One with Phoebe's Dad"
To thank the staff in Monica and Rachel's apartment building, instead of giving them money, they give them homemade Christmas cookies. They turned out to be a huge fail and nobody liked them. Later that day, Ross breaks the heat at the same time Monica is throwing a Holiday party, which quickly turns into a sauna. At the same time, Phoebe's grandmother finally tells her who her real father is. However, she was never able to bring herself past the mailbox to knock on the door and say hello.
#3- Season 5, Episode 10 "The One with the Inappropriate Sister"
Rachel had been anxiously waiting to go out with a guy named Danny. This quickly went downhill when she met his sister, Krista. She was in shock of how childish and close their relationship with each other was. She freaks out over this and decides to break up with him. 
#2- Season 6, Episode 10 "The One with the Routine"
Joey's Roommate, Janine, was hired to be a dancer for a popular New Year's Eve special. Ross and Monica freak out over this because it had always been a dream of theirs to be on the show. Janine is able to get them in the show but their dance moves were not that great. Determined to be noticed by the camera, Ross and Monica pull out their childhood dance routine they had practiced and earn them a spot on the dance podium, reaching their goal of being on camera.
#1- Season 7, Episode 10 "The One with the Holiday Armadillo" 
Ross's family usually celebrates Christmas but this year he wants to teach his son, Ben, about Hanukkah. Ben is uninterested about Hanukkah and just wants to see Santa. In an effort to get Ben to listen to him, he goes to a costume shop to buy a Santa outfit but they have been sold out. Therefore, he purchases an armadillo costume. He called himself the Holiday Armadillo, a friend of Santa's, who came to teach Ben about Hanukkah.