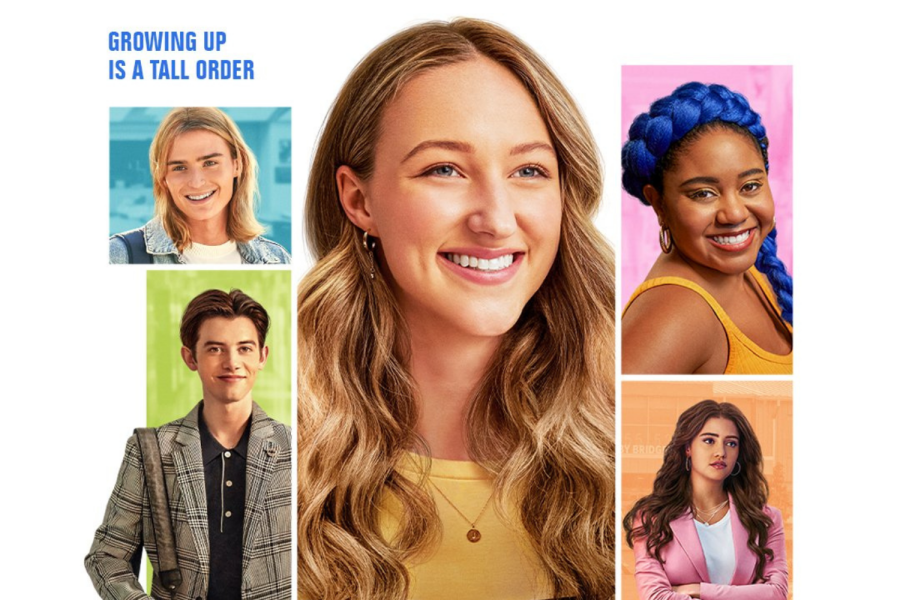 Photo Credit: IMDB
Jodi Kreyman's size 13 Nikes return in Tall Girl 2, but this time Jodi has bigger problems.  
Released on Netflix on February 11, 2022, the film's protagonist, Jodi Kreyman, has now become popular at her high school at which she was previously bullied for her height, and she gains the bravery to star in the school's production of Bye Bye Birdie alongside her charming co-star Tommy. Jodi faces problems with her confidence and growing stress, as well as issues in her three-month relationship with her best friend, Dunkleman. 
Tall Girl 2 fails to captivate the audience with a plot that continually feels flat. Unfortunately, the actors do little to enhance the already boring plot. Most give a bland, unemoting performance. This is especially a problem with Jodi's actress, Ava Michelle. Michelle lacks chemistry with both of her love interests and her onscreen best friend. She struggles to show emotion in any of her dialogue. She shows more acting in her voice overs as Jodi's "evil" voice in her head. The combination of the flat plot and tired performance of the actors makes the movie hard to continue watching despite being only an hour and a half. 
Tall Girl 2 is exactly what happens when you make a sequel and have no idea what to do with it, while it is better than the first movie. It still suffers from poor writing, very weak acting (Sabrina Carpenter and Anjelika Washington are solid though.) and poor pacing. pic.twitter.com/cXKcutvULk
— Jerome! (@JeromeM94Movies) February 11, 2022
The first installment of Tall Girl faced backlash as many saw it as a dramatization of the struggles a tall person may have. Jodi even asks the audience to "beat that" when she describes her struggles with wearing size 13 Nike shoes. Tall Girl 2 randomly addresses the controversy in a scene where Jodi auditions for the school play. It's a very obvious reply to the criticism, as the interviewer goes from listening to Jodi sing to directly saying, "Getting a terminal illness, being homeless, not knowing where your next meal is coming from… those are real problems. What do you have to complain about?" Jodi answers by saying that while being tall isn't as bad as those things, her problems are still very real. They also faced criticism for having an odd, boring plotline. The concept of a tall girl in high school being the entire plotline does not captivate many Netflix users. They attempted to contradict the lack of a story by tackling bigger issues, but the story still falls flat.
Senior Julia Talbot said, "I never watched Tall Girl… I didn't think it would be interesting."
The movie attempts to tackle mental health issues and incorporate a romantic storyline, but struggles to balance these focuses as well as the side stories of supporting characters. The film shows Jodi and other teens' struggle with anxiety, but the depiction seems very childish, as if it was trying to inform someone about anxiety who had never heard of it before. It personifies Jodi's struggle with self-confidence as an ominous, evil voice in an attempt to make it easy to understand, but it resembles mockery of serious issues for teens. Tall Girl 2 tried to take a more serious message than its predecessor, but the multitude of elements and storylines thrown into the movie does not allow it to be portrayed clearly. 
A contributor to the chaos of the movie is the Netflix signature rom-com sequel plotline. Netflix has produced successful teen movie franchises, such as To All the Boys I've Loved Before and The Kissing Booth. However, after having a special and captivating first movie, the sequels tend to fall into the same storyline — the main character is happy with her boyfriend but then they have issues; the main character meets a new love interest, typically a person of color, who treats them better than the boyfriend; yet, the main character goes back to her boyfriend after receiving support from the respectful new love interest. 
Tall Girl 2 does not completely focus on this storyline as other films have, but it does incorporate it as the main romantic plotline. Jodi encounters and kisses Tommy, the new love interest who has a striking resemblance to Jordan Fisher — who was the new love interest in To All the Boys I've Loved Before — but eventually returns to Dunkleman because she is not completely over him. Jodi and Dunkleman's conflict throughout the movie is caused by this plotline; however, instead of stringing out this storyline throughout the movie, all of their conflict occurs in the first half and the second half is spent fighting over an argument that is barely memorable. At the times when they are together, they have no chemistry.
I had high hopes for Tall Girl 2, but Jodi & Jack have zero chemistry. She had more chemistry with Stig. pic.twitter.com/8YipL5EPi2
— Ashley (@ashleyraea1994) February 12, 2022
A more captivating element of Tall Girl 2 was the side plots of the supporting characters. The "mean girl" of the movie, Kimmy, has a bland plotline about her small personal growth, but she adds more interest to the movie than Jodi as she drops one-liners such as, "miss me, Stiggy baby?" The side characters add all of the humor and chemistry that the main characters lack. Jodi's best friend, Fareeda, also drops memorable lines, such as calling her future love interest, the Swedish exchange student Stig, "IKEA."
The film also had issues with advertising and attempting to gain viewers. An abundance of Twitter users made it clear that they were watching the movie for Sabrina Carpenter, who stars as Jodi's sister, Harper. This is ironic as Carpenter did not attend the premiere nor did she promote the movie. After a few days of the movie being on Netflix, Carpenter alone became the thumbnail for the movie. Netflix knew that promoting stars such as Carpenter and Griffin Gluck, who stars as Dunkleman, would bring in their large fan bases from their previous popular works. Dedicated fans support their favorite actors or actresses in all of their works, even if they do not like the film. Netflix relied on this strategy to create viewership for Tall Girl, as they even included a cameo from Jake from the popular State Farm advertisement. 
Did anyone else's brain short-circuit when they saw "Jake From State Farm" in Tall Girl 2? pic.twitter.com/jTx4XHEECf
— Netflix (@netflix) February 15, 2022
Tall Girl 2 has shown success as it was number one in the United States for a short amount of time. Many viewers have shown concern that Netflix may add Tall Girl to the short list of Netflix teen trilogies. Tall Girl 2 does leave room for a third movie, as characters make many small comments about college and senior year. This would align with the similar plot of the third movies of Netflix trilogies, which focuses on the main character's struggle with choosing a college. Making a third movie in the Tall Girl franchise would be a mistake for Netflix, as they keep reusing the same plotline. Eventually, fans are going to catch on and Netflix will be forced to finally come up with something original. 
"I do like Netflix rom-coms, but I think they are beginning to sound a little repetitive, so I think Netflix should stop making them," said Amelia Prieto ('23).