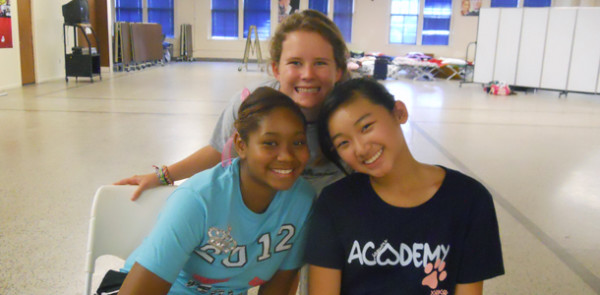 It was midnight, and  Arlyn Barlaan, AHN eleventh grader, could not fall asleep. She had just made the eerie trek down to the dark kitchen on the ground floor in search of more sugary delights. The day had been filled with ice breaking games, line dancing, and even a haunted adventure or two. However, most importantly, it was her first time singing with the Quarter Notes.
Arlyn was one of nineteen Quarter Notes who attended the first ever Quarter Notes Retreat, this year held at Mary Help of Christians Center on August 19.   After Ms. Linda Ruescher and Ms. Stefanie Rotolo,  Quarter Notes directors, unveiled the new Quarter Notes dresses, the senior members welcomed the rest of the group with their own impromptu version of "Teenage Dream, "  followed by group games and activities.
Claire Patton, a sophomore, stated, "I really enjoyed bonding with the girls, especially the new members. I really look forward to another year with the Quarter Notes."
Ms. Ruescher added,  "My favorite part was when the veteran Quarter Notes adopted the new girls as their little sisters. Ms. Rotolo and I had planned to ask the experienced girls to do this, but you all sorted yourselves out and found little sisters. It was hard for us not to have happy tears when we saw that. It really is a testimony to what a caring and cohesive group you are."
The girl got down to business when it came time for practice. Everyone learned new songs for future Quarter Notes events such as the Madrigal Dinner on December 9,  and the Taize Evening Prayer on December 11,  both to be held at Academy.   The songs for these two performances date back to the Middle Ages, so the first tries were shaky at first, but after a few rounds, the girls achieved perfect harmony.
"The newest members have never been challenged with harmonies before, but  I can already see that they will get the hang of it very soon, " acknowledged Jennifer Compton, AHN senior.
At the retreat, the Quarter Notes prepared for their first event of the school year: singing at the 5 pm Saturday Mass at Mary Help of Christians Church.
After mass, one parishioner praised the group and said, "The girls were confident and looked right into my eyes when they answered. You don't see that anymore."
The following students look forward to a successful year in many Quarter Note presentations here at Academy and throughout Tampa Bay and Florida:  Cavesha Anderson, Arlyn Barlaan, Elise Belluccia, Charmaine Bondoc, Ashlyn Bradshaw, Margaret Brekka, Jennifer Compton, Jacqueline Que-Phuong Do, Jacqueline Henderson, Melanie Huamani, Katelyn McCormick, Colleen McInerney, Cassidy Morrison, Claire Patton, Ketaira Phillips, Jessica Riddle, Patricia Shepard, Juliana Sowers, and Carly Stagg.//
// ]]>