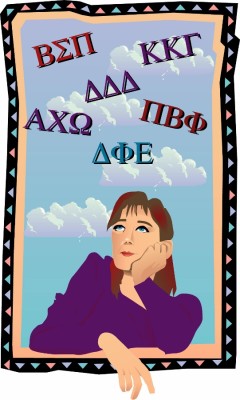 Peter LaVigna illustration/MCT
Last week, current Academy students kept track of the Class of 2013's photos, tweets and statuses' during rush week. As a senior, I wonder if Greek life is a good fit for me once I attend college. The Daily Eastern News compiled a list of things high school seniors and college freshmen should consider. The Eastern stresses the importance of getting to know each sorority and disregard any rumors you may have heard. However, it is also noted that students should not envision Greek life as Hollywood portrays it.
If students decide that Greek life is for them, then rush week is an important time to evaluate each sorority and "find out what they're about, what they do, [and] what their goals and initiatives are." Every sorority possesses a different set of principles and it is important find the right fit for you. While you may be getting excited and already have your "top three," it is important to remember that sororities are not only a time commitment, but also a financial one.
Senior Miranda Lopez thinks that joining a sorority has benefits, but also drawbacks. "I like the fact that sororities help you meet new people, stress service and school spirit, but they can cost a lot and take up free time." The Eastern and Lopez present key factors about Greek life and what it entails. The Eastern also assures those who do not want to participate in Greek life altogether. "Don't let anyone pressure you into joining anything you don't want to. Follow your instincts and find what's best for you."