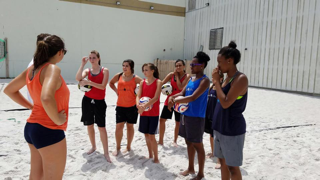 Photo Credit: Lexie Diez (used with permission)
Academy cultivates a student body that wants to make an impact on their community. Senior Lexie Diez is using her passion to help the girls of Hope Children's Home. She founded her company, Sandlife, two years ago and recently she has begun working with the Hope girls volleyball team to share her love of beach volleyball. Diez has been playing volleyball for eight years and is more than qualified to share her knowledge and passion. I had the privilege of sitting down with Diez to learn more about her organization.
Achona: "When did you start Sand Life?"
Diez: "I started Sand Life in my Sophomore year. Even though I technically began it then, it wasn't until the end of Junior year that I started to really focus on creating a business by making new logos, making clothes, and publishing my website."
A: "What gave you the idea to start this organization?"
D: "This was actually pretty funny I think. It basically started all because of a conversation I was having with my mom and coach during a tournament. Freshman me was rambling on about how there's Salt Life, Swamp Life, etc., and there was no Sand Life (referring to sand/beach volleyball). The moment I said this, my mom, coach, and I dreamt up the idea to make a business. It's still crazy to think that all because of a silly conversation, I now have my own company." 
A: "What made you partner with Hope Children's home?"
D: "When I first got in contact with Hope Children's Home, I didn't know the effect it would have on the months to come. I started out coaching eight girls. I went in knowing that the girls played indoor volleyball at Hope and that they wanted to learn beach volleyball. Ever since I started playing beach about four years ago, I have grown an extreme love for it, so I was more than willing to pass the sport on to these girls. Even with only having about eight practices, I grew a strong affection for the girls I had just met. They were incredibly talented, kind, and energetic. I am so honored that I had the opportunity to coach and spend time with them. Even though I was their coach, they taught me so much about being grateful and positive and I am forever thankful for the experience."
A: "What is your mission as an organization?"
D: "Since becoming involved with Hope Children's Home, my overall mission is to help the families and kids living there. Many of the teenagers who live there, graduate from their high school, but cannot afford to go to college. That is why I am hosting this tournament to raise money that will go towards the Home's College Scholarship Fund."
A: "What impact do you think your work has on the volleyball players of Hope Children's Home?"
D: "I hope that I left a lasting impact on all of their lives. Almost all of the girls that I met did not come from an easy upbringing. The challenges they have already faced in their lives are so much greater than I or anyone around me has, so to be there for them and hopefully give them a great day on the beach was always my goal for every practice. The amazing part for me is that all of them were incredibly positive, caring, and happy; I have yet to meet anyone stronger than them."
A: "You have a fundraiser coming can you explain what it entails? And how can girls get involved? Where is it?"
D: "On November 19. I have set up a Beach Volleyball Tournament fundraiser to raise money for the Hope Children's Home College Scholarship Fund. For anyone who wants to play, registration is on my website now! You don't have to be good or even play volleyball to sign up. The goal of the tournament is to have our community come together help support the children who need it the most. If you are not willing to play, you can always come and volunteer your time, it is always greatly appreciated! The tournament takes place at Frenchy's on Clearwater Beach, starting at 8 am. I hope to see everyone there!"
Diez is another Academy girls who is out in the world making an impact on her community. She is truly making a difference in the lives of all of the girls she is coaching. Want to support SandLife? Sign up here.