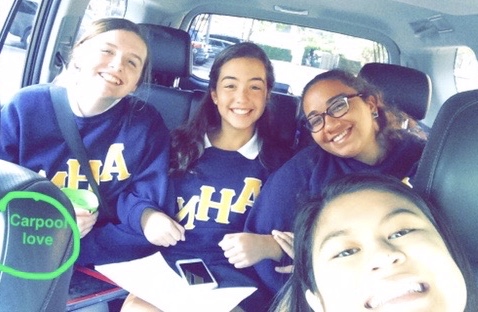 Photo Credit: Marie Dela Cruz (used with permission)
Everybody has carpooled at one time or another. Carpools are extremely popular at AHN because the student population comes from areas all around Tampa. Some students live as far as Lakeland and Clearwater, while some reside right here in South Tampa. No matter the proximity, carpools still offer efficient alternatives and add flexibility to students' schedules on their way to school or other events.
Save Money on Gas
It is better for the environment to carpool to places like school and sporting events. Studies show that the average American travels 39 miles each day, and when gas prices at about $2.30 a gallon, a person spends roughly $3.74 dollars on gas a day. Some people even give their drivers money for gas every week, so it is a quick and easy way to earn cash. 
Form Friendships
An easy way to get to know people is to carpool with them. The people in the car develop bonds because they spend so much time together five days out of the week. Often, students will study in the car together, grab breakfast on Wednesday, or run by Starbucks in the morning.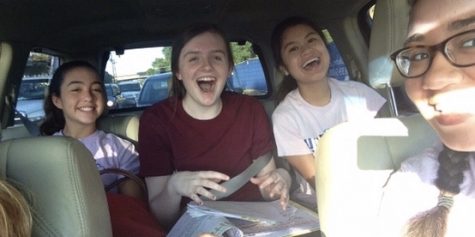 "Every Tuesday, Grace would play throwback Taylor Swift from her old CDs and we would jam out," Senior Marie Dela Cruz chimed. "There are so many great memories from our carpool and we are all still close ever though we all drive separately now."
A Chance to Know Other Grade Levels Better
A carpool often will include different grade levels. This gives students the opportunity to interact with other grade levels they would not have otherwise. Underclassman can learn from older Academy students and upperclassman hear the struggles of freshman and sophomores.
In senior Lizzie Dolan's case, the senior in her carpool pleaded with her to try out for the track team. She explained, "Allie Reichert (A'14) became a big sister figure to me and treated me so kindly, taking me out to breakfast and making amazing memories, one including our car breaking down on the side of the highway."
Brightens the Morning (if they are awake)
With Christmas right around the corner, more than ever carpools are blasting Michael Buble's "It's Beginning To Look a Lot Like Christmas" and Mariah Carey's "All I Want For Christmas is You" on their trek into the parking garage. Research states that commuting to school with others is far less stressful than traveling on your own. However, some girls simply don't feel like talking in the morning, because they are tired or are finishing up homework in the car
Karianne Buser, a senior, added, "Usually we talk in the morning or might meet early for study sessions, but, sometimes, they fall asleep on the way to school which I do not mind because I enjoy the company."
Catch a Ride Somewhere 
In a pinch, carpools get people to where they need to go when they don't have a ride. It's much easier than asking a parent or friend to come and get you. Carpooling also gives flexibility to schedules.
Easier For Parents
Parents love carpooling because it makes it cuts down on their driving time. It is also convenient for parents who work full 8-hour days from 9-5 because they don't have to drive from work to pick up their children. 
Junior Jackie Beltram explains,"My mom used to have to drive all the way from South to North Tampa to drop off my sister and me, but now that I carpool with Gretchen, it cuts down on her drive time."
Freshman Kara Kivenas  states, "I like to have people in the car, because I like to have someone to talk to and listen to music in the car."
For some students, carpooling is their only way to get to school every morning. It proves to be an efficient and enjoyable way to get to school every day, whether they listen to music, sleep, or study. It is easier for working parents and students.