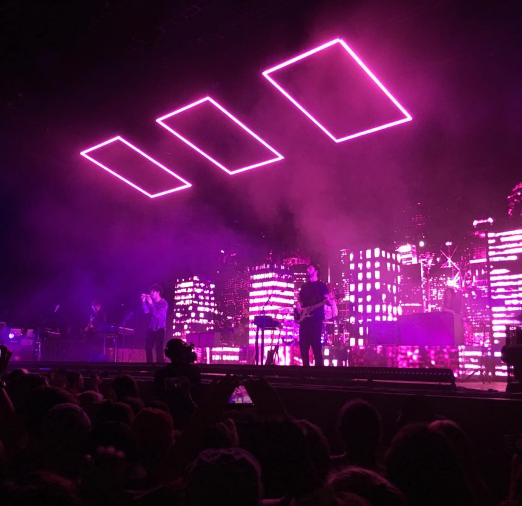 97x Next Big Thing had another amazing comeback this Saturday, December 3, 2016. This annually hosted concert by the radio station 97.1 was held at the MidFlorida Credit Union Amphitheater. A number of various bands performed on the Main Stage and Side stages appealing different genres that appeal to all music tastes.
Sponsoring the Next Big Thing 97x were many well-known brands such as, Pinchasers, Rent-N-Roll, Ed Morse, Metro Pics, Circle K, Marines, U.S. Army, 411-Pain, CW44, Ferg's Live, Malektronic, and McDonald's. Scattered around the event, these sponsors were holding raffles for the concert-goers to see their favorite bands.
Junior, Macy McConnie, was one of the many people who desired to meet The 1975. She says, "I entered every single contest from previous weeks and all the raffles at NBT.  I left the pit during the middle of Phantogram's performance to see if I won, and I was feeling very hopeful.  They drew the names and the guy standing next to me won which was super exciting!  I didn't win this time but I'm determined to meet them one day!!".
In order to give appreciation to those who attended the 13-hour music festival, the NBT16 Crowd photographers took pictures of those in the Lawn section of the Amphitheatre. Check to see if you were captured by the photographers here. Photos from the Circle K Pit, sponsored by Circle K, are here.
Below is the schedule for the whole day:
10:00: 2 Local Bands (second stage)
11:30 a.m.: 888 (second stage) 
12:20: Weathers (second stage) 
1:10: Lewis Del Mar (second stage)
1:40: COIN 
2:20: Judah and the Lion (second stage) 
3: The Naked and Famous 
4: Bishop Briggs 
5: Capital Cities 
6: Kongos 
7: Phantogram 
8:10: The Head and the Heart
9:45 p.m.: The 1975
Headlining the concert was a crowd favorite, The 1975.  Presenting an absolutely beautiful performance with an illuminated stage with their signature three shining rectangles. Mainly focusing on their current album I like it when you sleep, for you are so beautiful yet so unaware of it, the audience was blown away with Matty Healy's luscious hair and beautiful dance moves.
Senior, Audrey Anello says, "The 1975 is my favorite band of all time so seeing them live for the first time was incredible. They not only lived up to all my expectations, but it was even better than I thought it was going to be. Their music is so different and unique and so was the show. Matty's energy was amazing and you could feel the entire amphitheater excitement. "
McConnie hopes to attend 97x Next Big Thing next year saying, "I have a jean jacket that all of the celebrities I've met have signed, so I want to add them to the collection.  I did, however, win meet and greets to see Weathers and Bishop Briggs which was amazing, and all of them signed my jacket!! All in all, NBT was amazing."