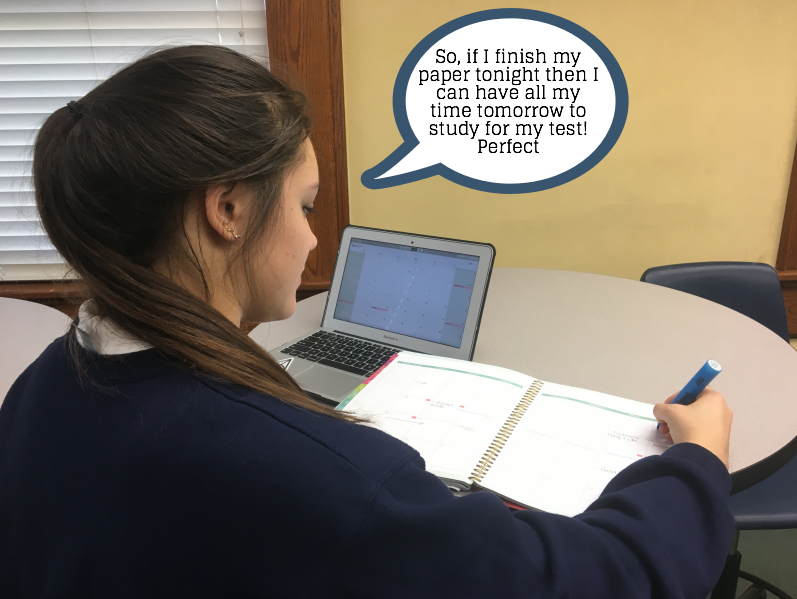 Credit: Kendall Bulleit/AchonaOnline
As the year draws closer and closer to the end, it is difficult for many students to maintain hard work in the classroom. Mini-course week, Spring Break, and summer all seem so close that many people drift off into a time of constantly waiting rather than taking initiative. Grades second semester are just as important as the first semester, yet harder to maintain through the distractions. Here are a few tips on how to maintain being a good student through the end of another school year.
Stay organized
Organization is sometimes half the battle when it comes to being able to sit down and study or finish homework. Keep everything in the same place for each class, so that it is easy to access when an assignment comes. Opening a backpack to see a bunch of papers scattered around can sometimes be seen as more work than its worth, prompting a student to give up before even looking at the material. Use an up-to-date planner to keep track of all the events happening over the next few weeks.
Senior Hope Rossi says, "I can't live without my planner because it not only keeps me on task with all of my school assignments, but also has my day-to-day schedule written out so that I know when and where I am supposed to be."
Credit: Courtesy of [GIPHY]
Pay attention in class
The Macbook can be pretty distracting when an important event is coming up and someone just has to find the perfect outfit, but paying attention throughout class makes finishing homework and studying so much easier. Rather than having to learn all the material first because they were not paying attention in class and stay up for hours, a student can just review over her notes in half the time for a test and then get a good night's sleep in order to ace it the next day.
Credit: Courtesy of [GIPHY]
Stop procrastinating
Procrastinating can become the downfall of a student's GPA, especially toward the end of the year. Many students come home from school or practice and use the time to rest rather than taking initiative to start their homework. Then, they end up starting their work late at night because of taking even more time to eat dinner and take a shower. This vicious cycle of putting off work needs to stop in order to fully have time to complete assignments correctly and efficiently.
Freshman Sophia Arnold says, "I have a hard time really buckling down after school because I am so tired from my classes throughout the day and then my practice that all I really want to do is sit on the couch, but I resist that mainly because I would rather be able to get to bed earlier each night."
Credit: Courtesy of [GIPHY]
Turn off the phone
Just as the computer can be distracting in classes throughout the day, a student's phone can cause them to put off their homework while at home. Many people spend hours on their phones, checking all platforms of social media and talking to their friends. Turning off the phone can open up many extra hours of time that can be used for other academic inquiries.
Credit: Courtesy of [GIPHY]