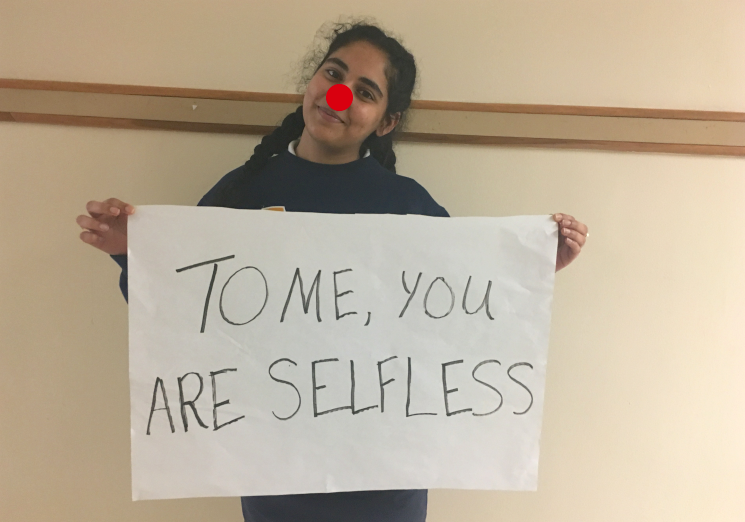 The United Kingdom and the United States of America are preparing to celebrate Red Nose Day, a day celebrated every two years to raise money to end child hunger in developing countries and bring awareness to poverty in their own country. In order to bring awareness to the cause, countries will host a TV special where celebrities will wear red noses, perform funny skits, compete, be interviewed, and sing songs to bring attention to donations and make people laugh.
Half of the money raised on Red Nose Day goes toward programs geared to helping the poor in America or the UK, while the other half is distributed to countries in Latin America, Asia, and Africa. In America, the money raised helped people in all 50 states and also partnered with charities, such as Boys and Girls Club and Feeding America. On May 25, NBC will host a night of "FUN-raising".
The UK recently hosted their Red Nose Day, sponsored by Comic Relief a non-profit organization, and raised over £73,026,234 for children in need in 2017.
Mark your calendars for #RedNoseDay's return to the US! Join us May 25, 2017 as we come together to end child poverty, one nose at a time. pic.twitter.com/vCqMZHEGHj

— Red Nose Day USA (@RedNoseDayUSA) January 26, 2017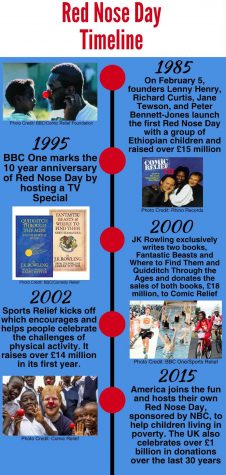 "With the support of millions of Americans, major partners, and hundreds of celebrities, Red Nose Day has raised over $60 million since its start in 2015," said NBC News.
"Between January 2014 and September 2015, we made grants totaling £138.8 million, to help make a difference to the lives of people both in the UK and in some of the world's poorest communities," said Comic Relief
It was a star-studded event with James Corden, Ed Sheeran, Peter Capaldi (Doctor Who), and more who raked in money for through auction, telethons, and skits.
In the past, bands like One Direction have raised money by traveling to developing countries to see the poverty-stricken areas that are improved because of the donations from Red Nose Day. The also released a music video, a cover of the hit "One Way Or Another", back in 2013 to help bring in donations, succeeding in earning over £3 million for Comic Relief.
As a way to raise money and bring attention to Red Nose day, Ricard Curtis, the director of Love Actually, the British romantic comedy that follows the intertwining lives of couples during the holidays, released a "where are they now" clip of the cast, 14 years later.
It follows the lives of all the characters from Hugh Grant as the Prime Minister to Thomas Brodie-Sangster who played Sam. It begins with the recreation of the famous cue card scene where Mark (Andrew Lincoln) stands at the door, asking Kate (Keira Knightley) to donate on Red Nose day. It later pans to The Prime Minister (Hugh Grant) dancing to Hotline Bling where he is then scolded by his love interest, and later wife, Natalie (Martine McCutcheon). As it turns out, Jamie (Colin Firth) and Aurelia (Lúcia Muniz) are happily married with three children and one on the way, despite the language barrier in the movie. Finally, it settles on Daniel (Liam Neeson) as he greets Sam and finds out he still loves the girl from his childhood, Joanna (Olivia Olsen) and plan to get married.
What Red Nose Day's Love Actually sequel revealed about the fate of its characters https://t.co/anaeJgxSE1 pic.twitter.com/sZAHTrS90v

— Indy Film (@TheIndyFilm) March 24, 2017
In the clip, Colin Firth gives an inspiration speech on compassion and charity saying, "Wherever you see tragedy, you see bravery too. Wherever you see ordinary people in need, you see extrodinary people come to their aid."
Many people from all over the world appreciated the reunion and it brought attention to the goal of making a better community for those in the UK and Africa. Comic Relief, over the years, has advocated for the elderly and people with disabilities to have a voice and combat abuse and discrimination and made a true difference in the eyes of many.
People all over the world are helping bring more than laughs and smiles to those who need it most. Donate today via online, text, or by mail.