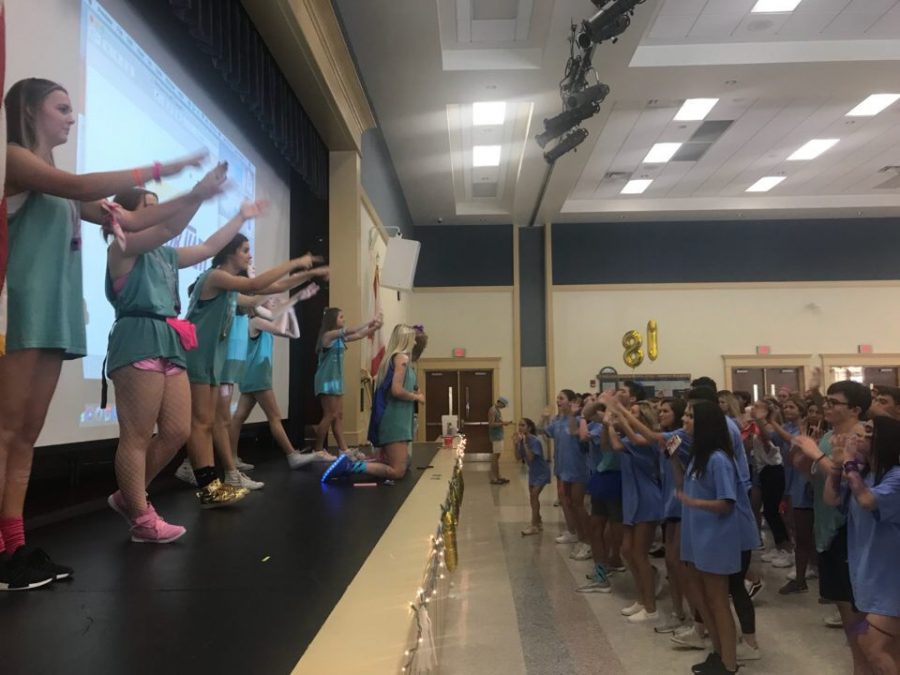 Photo Credit: Camden Collins (used with permission)
On October 20, the annual Dance for Haiti, a mini dance marathon held by student-run nonprofit Teens for Haiti, took place at Academy of the Holy Names. From 1-8pm, high schoolers throughout the Tampa community danced and participated in lively competitions in order to reach the $30,000 goal. By the end of the night, the Dance had raised over $40,000. The funds raised in the 2018 dance are going towards a technology lab in St. Suzanne, Haiti; the lab is reported to provide access to computers, English tutors, and a library.
Uniting teenagers from various Tampa high schools, Teens for Haiti has a diverse group, lending to its great success in widespread participation and donors. Rachel Halfaker and Sarah Cimino founded Teens for Haiti in 2012 after their mission trip to St. Suzanne upon discovering that the city's sole power generator was broken. Since then, Teens for Haiti has volunteered locally, put on events with Christ the King Church, serve on an annual mission trip to Haiti, and, of course, host the renowned Dance for Haiti.
In the weeks leading to the trip, Teens for Haiti hosted fundraisers at Yogurtology and got donations from companies such as PDQ and Abdoney Orthodontics. On October 18, Teens for Haiti reached $30,000 including the donations from companies and businesses.
Design committee member and junior Kathia Guzman says, "As a first-year board member, it was neat to see all of the board's hard work pay off in the end. Everyone, including the board, had a really fun time, and it was all worth it."
1:00-2:00
Dance for Haiti 2018 started at 1pm in the Brady Center. The first hour was for late sign-ups, check-ins, and snacking on Moe's chips and queso. Additionally, members on the Teens for Haiti board split into teams that were labeled by color (such as pink); as people signed in, they also chose which teams they would like to join.
2:00-3:00
At the eve of each hour, the same line dance is performed by all of the participants and board members. The Teens for Haiti board introduced themselves and taught the attendees the six minute line dance. For the rest of the time throughout the dance, whoever danced with the most enthusiasm won a bag filled with goodies from the sponsors. Lil Kiki, a SoundCloud rapper from Tampa, performed during this hour.
3:00-4:00
TFH introduced an unconventional hour: P hour. All of the activities available this hour began with the letter "P" such as ping-pong, portraits, PDQ, Village Inn pie, Blackjack Pizza, face paint, listening to the all-female acapella at Plant High School called the "Pink Panthers," and finishing off the hour with a performance by the Plant High School Pridettes Step Team.
5:00-6:00
A combination of football games on and cup pong tournament could translate into none other than tailgate hour. During this hour, Green Lemon provided pre-made tacos and the ingredients to create your own bowls.
6:00-7:00
An on-stage dance battle kicked off competition hour. During this hour, the different colored teams went head-to-head in knockerball, an obstacle course in the bounce house, ping pong, and chubby bunny. To wrap up this hour, attendees competed in lip sync and karaoke tournaments.
7:00-8:00
The infamous rave hour was the grand finale to a jam-packed day. During this hour, McDonalds served chicken nuggets, cheeseburgers, and apples as students danced to the mixes of DJ IAM. Two teenage rappers from Tampa, Yovng Primo and Money Mitch, surprised their fans before the hour ended.
Students who attended the dance for the full time were awarded 20 service hours and received goody bags.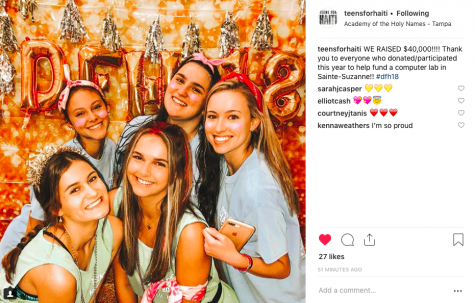 "It was so cool to see the transformation from Sunday meetings where everything seemed a bit disorganized to coming together for the Dance and raising $10,000 over our goal," says dance committee member Rebekah Eicholtz ('19).