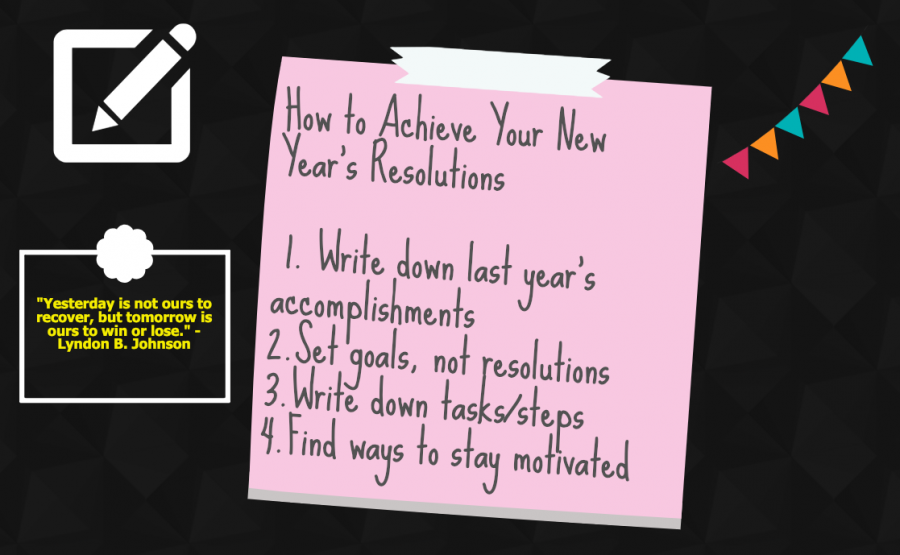 (Photo Credit: Adriana James-Rodil/Achona Online/Piktochart)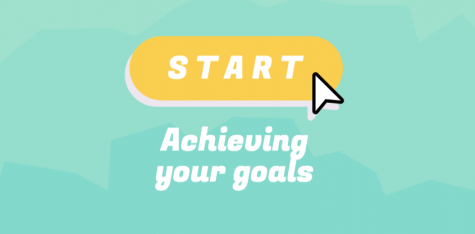 January 1, 2019, marked the start of the continuous cycle of resolutions and the cliché "new year, new me" attitude after the common abandonment of healthy habits during the holiday festivities. However, although people hope to stick with their resolutions throughout the year, according to U.S. News, 80% of resolutions fail by the second week of February.
Jennifer Pham ('20) said, "I don't want to say [I have a] New Year's Resolution. I feel like it's more of a life goal. I'd say [one goal of mine is] time management. It's really important to me, so I have to work on that because I tend to procrastinate a lot and [also] to make education my priority because sometimes I can fall out on that because of distractions. My [other] goal is to do random acts of kindness every single day because I know that it can actually change someone's life. I feel like when you say New Year's Resolution, you say it, but you don't tend to do it. But, making a life goal is going to motivate you to partake on harder challenges in life."
According to Inc., 71% of people in the United States adopt the resolution of a diet or eating healthier (at the top of the resolutions list for 2019) and 65% want to exercise more, which explains the sudden surge of gym memberships and purchase of dieting books in the beginning of January. Unfortunately, come February, the majority are sitting on the couch contemplating what went wrong.
Elizabeth Paparo Soph ('21) said, "[For my New Year's Resolutions] I'm trying to be more honest with myself about procrastinating [and to] eat healthier. I can't remember [my resolutions of last year], but it was probably similar. I usually make it [to keeping my resolutions] until March or April. I think people set the bar to high for themselves, and they have to make smaller goals. Make little goals to get to a big one. And you just can't change as soon as it gets to January 1. You can't just flip your habits. You have to work up to it."
Put simply, making a New Year's Resolution automatically sets you up for failure as breaking bad habits or adopting new ones is difficult. Habits are rooted in behavior which have complex psychological, social, and neurocircuitry systems that are not easily erased.
NEW YEAR NEW ME…… 🤔🍕

((Would You Take The Pizza?!!)) 😂 pic.twitter.com/XMlcPJGXE8

— Arron Crascall (@arron_crascall) January 8, 2019
Typically, avoiding uncomfortable or anxious circumstances provides a decrease in distress. However, when facing those circumstances, there is an increase of anxiety, but it benefits you in the long run as the tables soon become flipped. Avoiding uncertain situations results in an increase in stress and facing them provides the opposite. However, most are unable to cope with the short term anxiety, and, therefore, surrender to defeat.
Additionally, giving up or lessening your consumption of food and other commodities, which better your mood, is a hard task. When given a reward after having completed an action, such as after a long day of work or school, there is an increase in the brain's neurotransmitter dopamine which the body craves. So, depriving yourself of that delicious, sugary doughnut after a long day is much more difficult than perceived and most commonly results in failure.
However, setting goals for the new year is attainable and realistic if approached the right way. First, to ease stress and provide confidence, write down your accomplishments, experiences, and people you have met (and the more you come up with the better) in the past year.
You can't fail your New Year's Resolution if you don't have one pic.twitter.com/7ian1nR8I9

— Buko Pandak (@rus_Van_) January 2, 2019
Ashley Canal ('22) said, "I have a New Year's Resolution [which is] to do better in school, get better grades, and study harder. I don't usually have New Year's Resolutions, but I decided to make some this year because it's high school, and I want to set higher standards for myself [because it counts towards college]. It depends [if resolutions fail or work] because sometimes if I don't try hard, then I fail, but if I put my mind [to it] and keep a positive mindset, then they could work. I think I will be able to keep my resolutions for the whole year." However, when Canal was asked if the probability of achieving her resolutions would increase if she made them goals, she agreed.
Then, set your goals for the coming year, but also write down the steps needed to take in order to accomplish them. For instance, resolutions are vague, such as "Get fit." But, "go to the gym three days this week for 45 minutes" is a doable action and results in the achievement of your overall goal.
Writing down your goals, and tasks needed to achieve them, makes them 1.2 to 1.4 times greater of success than if you do not. When your goals are written down, you also remember them better. A study was conducted that compared a group of people conducting hiring interviews which consisted of some interviewers taking notes and others who were not. The interviewers who were taking notes remembered 23% more information on the job applicant than the others.
One tip to remind yourself and maintain motivation is to download apps on your phone which pertain to your certain goal and gives you reminders to accomplish your tasks. If you want to exercise more often, for example, download an app which keeps track of your workouts and reminds you to do them.
In the meantime, here are some inspiring quotes to jumpstart your determination and new "goal achieving" attitude.
Arthur Conan Doyle said in "A Study in Scarlet," "What you do in this world is a matter of no consequence. The question is what can you make people believe you have done."
Malcom X said in "The Autobiography Of Malcom X," "So early in my life, I had learned that if you want something, you had better make some noise."
Margaret Thatcher said, "Look at a day when you are supremely satisfied at the end. It's not a day when you lounge around doing nothing; it's a day you've had everything to do and you've done it."
Elbert Hubbard said, "The world is moving so fast these days that the man who says it can't be done is generally interrupted by someone doing it."
Richard Bach said, "You are never given a dream without also being given the power to make it true. You may have to work for it, however."
Sandra Day O'Connor said, "Do the best you can in every task, no matter how unimportant it may seem at the time. No one learns more about a problem than the person at the bottom."