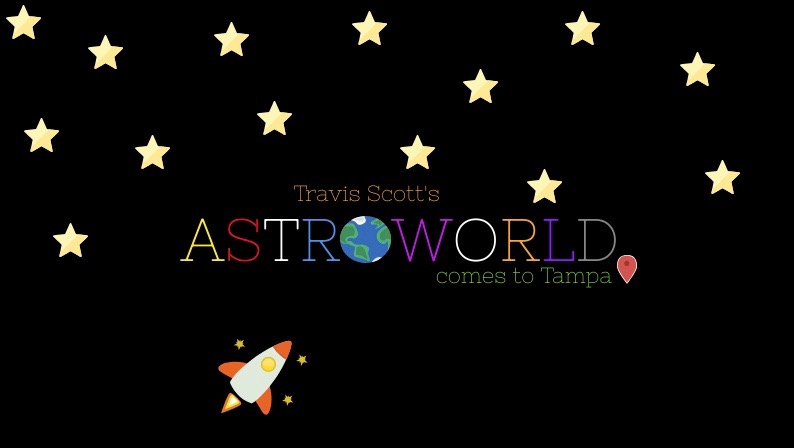 (Photo Credit: Megan Scanlan/ Piktochart/ Achona Online)
After postponing his first concert in November, Travis Scott performed in Tampa on Sunday, Mar. 17, on his Astroworld tour.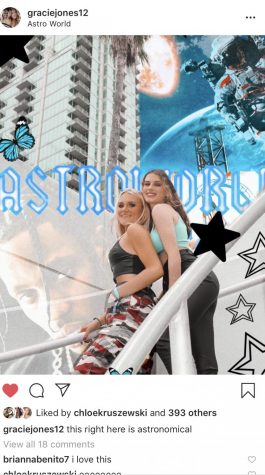 Scott's "Astroworld" is named after the theme park, Six Flags, that got taken away from his hometown Houston, Texas. After feeling let down and furious by the closing of the park, Travis created this album to represent the thrill and joy of an amusement park. "Astroworld" is also the second album to his saga started on his first album, "Rodeo".
The concert contains equipment that is disguised as roller coasters, which is why many of the concerts had technical difficulties that resulted in postponement. One of the two roller coasters in the concert rides over the floor seats, where fans from the audience get chosen to ride inside of it with Scott.
I .Survived. AstroWorld 🎆 pic.twitter.com/qfTFsCeTHq

— king $olo 💎 (@getovox_ho) March 21, 2019
Grace Anthony '20 says, "I really liked Astroworld because I've been a fan of Travis Scott for a long time and it was really cool to see him in person. I also thought it was really cool that I got floor seats and got to see the roller coasters that he brought on stage. It was a really happy environment for myself and everyone around me. It was definitely one of my favorite concerts so far."
Originally, Scott had three opening performances from Gunna, Trippie Redd, and Sheck Wes. Although, because of the postponed concerts due to technical difficulties, Gunna and Trippie Redd dropped out of the tour.
Nina Perez '21 says, "When I heard that Gunna and Trippie Redd were not performing anymore, I was really upset because I was so excited to see them perform live. But, once I got to the concert I had so much fun and both Sheck Wes and Travis Scott did a great job."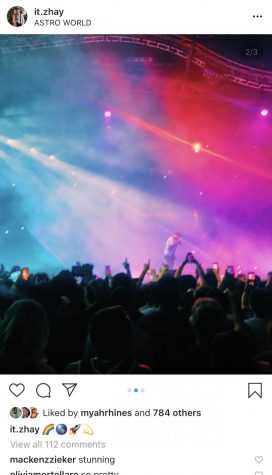 Another complication with the concert was fake tickets. Many people were getting scammed with their tickets, not allowing them to enter the concert.
Isabella Fierre '21 says, "My friend and I had originally bought two tickets from Seatgeek, which ended up being fake. They appeared to be used, so we were not let in. We then bought two more tickets from Ticketmaster, which also ended up being fake. By that point we were upset and confused, so we headed down to the ticket box to find out what was happening. They told us that since the concert was sold out, a lot of third parties were selling fraudulent tickets. However, six tickets later, we got in. In the moment I was really confused and mad, but now I just feel glad to have made it in to see Travis Scott."
The setlist for the concert consisted of 30 songs in this order:
Stargazing
Lose
Carousel
4 AM (cover)
First Off (cover)
Way Back
Mamacita
Butterfly Effect
No Bystanders
Don't Play
Skyfall
Through the Late Night
Upper Echleon
Antidote
Drugs You Should Try It
90210
Love Galore (cover)
Skeletons
Astrothunder
R.I.P. Screw
Houstonfornication
Stop Trying to Be Good
NC-17
ZEZE (cover)
Beibs in the Trap
Yosemite
Piss on Your Grave (instrumental)
Can't Say
Goosebumps
Sicko Mode