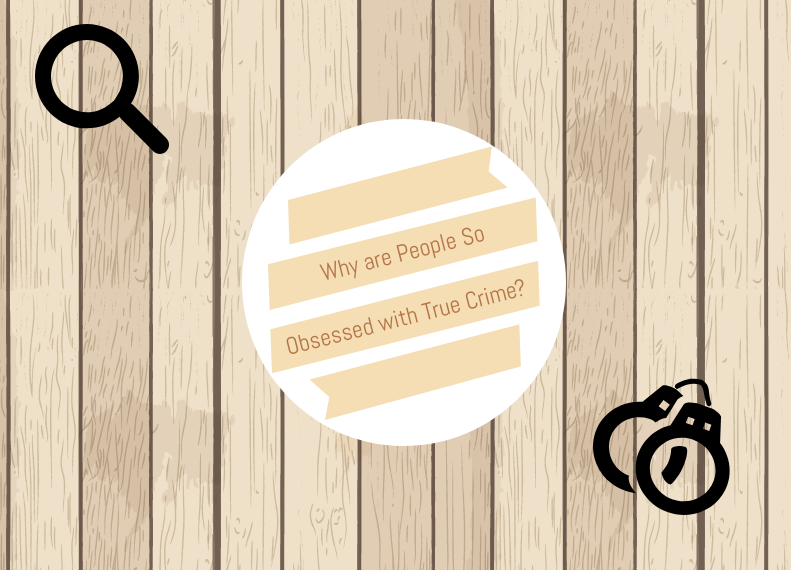 Photo Credit: Adrianna Radice/AchonaOnline/Piktochart
Recently, there seems to have begun a new surge of true crime inspired documentaries, docuseries, and biopics. This surge can be seen in the popularity of certain projects such as "The Ted Bundy Tapes," "The Assassination of Gianni Versace," "The People Vs. O.J. Simpson," and even YouTube series such as Buzzfeed's "Buzzfeed Unsolved" series. In light of the prevalence of this genre in recent years, the following question begins to arise: why are people so obsessed with true crime?
In an article written by Wired, the writers investigate whether or not the recent interest in true crime concerns social justice, while also addressing where the surge got its starting point. In 2015, Netflix released the docuseries "Making a Murderer," essentially skyrocketing the amount of interest in true crime and beginning a variety of discussions. With this series, much of the discussion centered around whether or not people believed the suspect's case deserved to be reexamined, making it, centrally, a social justice issue.
In this same article, Joe Berlinger, the director of one of Oxygen's true crime series, "Unspeakable Crime: the Killing of Jessica Chambers," spoke up about his thoughts on why people find true crime so fascinating.
Berlinger said, "I think this explosion is due in part to the aesthetics of true crime storytelling: Crime stories, especially ones that involve a trial, have perfect dramatic structure—there is a clear beginning, middle, and end to the story. Something horrific occurs, there is a search for the guilty person, a conclusion to the legal proceeding, and then hopefully justice is served."
"They knew they did wrong." – Steven Avery #MakingAMurderer pic.twitter.com/1ZhLbfWDRp

— Making A Murderer (@MakingAMurderer) January 10, 2016
A psychiatrist, Dr. Sharon Packer, who is in private practice and is an Asst. Clinical Professor of Psychiatry & Behavioral Sciences at the Icahn School of Medicine at Mt. Sinai, talked about why people may be so intrigued by the genre. She makes the assertion that there is a sense of relief which accompanies watching true crime because, secretly, people are glad that this situation did not happen to them, eliciting a sense of control.
Alternately, Dr. Packer addresses the idea that watching true crime partially has the same effect as watching a horror movie, in that it takes on the role of a "rehearsal" of sorts. What this means is that people watch things like this in order to get an idea of what they would do in those types of situations.
"I think one of the main reasons for my interest in true crime comes from how far removed I am from this type of danger. It solidifies the idea that these are things that actually happen and that the world really can be a dangerous place. It helps me to, in a way, stay aware of everything going on around me and reminds me to be careful about who I trust and where I'm going," says Takkarri Mungin ('19).
Just finished @netflix series The Disappearance of Madeleine McCann. I highly recommend, especially If you like true crime. But this series was both heartbreaking & so frustrating. The mistakes that were made throughout this case & the bias attitudes disgust me. #MadeleineMccann

— Jenn F. (@Jenn_Ann4) March 25, 2019
Another reason people claim to be intrigued by true crime stems from the psychological aspect of the killer and what drove them to do what they did. People are fascinated by what drives serial killers and the like to commit such atrocities, especially when those individuals do not seem like the conventional suspect.
Isabel Laboy ('19) says, "I love true crime because some, especially "The Ted Bundy Tapes," talk about why he might have done what he did or what motivates them or what gets them to talk. It's just so interesting to watch investigators and to watch them figure out why people do these horrible acts. I really enjoy 'The Ted Bundy Tapes,' as well as 'The Disappearance of Madeleine McCain,' and 'Evil Genius.' They go in depth about why serial killers are the way they are, and they talk about the debate of whether or not you are born evil or become evil. It's something so interesting."
When it comes to shows and movies that cover these kinds of topics, many find it incredibly important to remember the victims and their real life tragedies. It is incredibly easy to get caught up in the narration of such an interesting story, but losing sight of the fact that these are real events that happened to real people is a concern many have for true crime lovers.
"I think that it is incredibly easy to forget that there are real victims involved in these kinds of stories. Not going to lie, true crime shows and stuff of that type kind of desensitize people to these heinous crimes that have happened, and I feel like it takes away from the real impact and scope of what happened. People need to keep in mind the real life tragedies that happened in the wake of these murders; it's not just the killer, it's more significantly those they made victims," said Kara Petitt ('20).