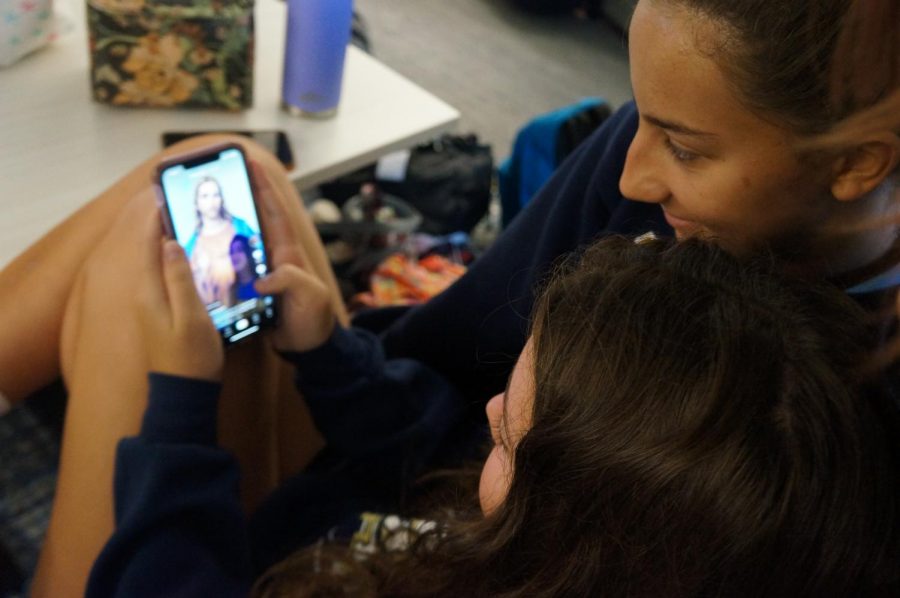 (Photo Credit: Adriana James-Rodil/Achona Online)
TikTok, the globally popular social media app among younger generations, consists of filming fifteen second videos with an array of features including lip syncing, dancing to songs, and acting out sketches with various effects and soundbites. You can also collaborate or "duet" with fellow TikTok users and create original videos. 
TikTok, however, was originally released in September of 2016 as Douyin in China, but in 2017, it became internationally known as TikTok. 
It may remind you of the former Musical.ly app which was released in 2014 by Chinese entrepreneurs Alex Zhu and Luyu Yang. It was then purchased for $1 billion by the Beijing tech company ByteDance in November of 2017. ByteDance already owned TikTok—almost identical to Musical.ly. Musical.ly accounts, in August 2018, were transferred to the new TikTok platform.
Sahar Bueno-Abdala ('21) who owned Musical.ly for a short time before downloading TikTok said, "It [Musical.ly] was mostly overruled by younger kids, and it just got a bit intolerable. [However] TikTok is considered 'cool' because I feel like older kids have basically taken over the app, so it's a bit different, and the sense of humor is a lot more different." 
The New York Times describes TikTok as "a quirky hybrid of Snapchat, the defunct video app Vine and the TV segment 'Carpool Karaoke.'" It was the most downloaded app in the App Store in September 2018 and was downloaded more than a billion times in 2018 alone.
Why is TikTok so popular? Compared to the older Snapchat, Vine, and Dubsmash, TikTok offers far more applications such as sound and visual effects as well as the ability to binge-watch entertaining videos hours on end.
I'm dancing on TikTok again #dancing

— Howie Mandel (@howiemandel) August 19, 2019
Linnea Nestor ('23) said, "Over the summer, I spent hours binge watching TikTok videos. I used to go on it and forget that an hour goes by. The variety of content [on TikTok], like people doing funny dances or amazing tricks, [is entertaining]. It's just different."
In order to produce good quality TikTok videos, like anything, it takes practice which students at the Academy of the Holy Names (AHN) will admit to.
Allie Pramberger('22) was coincidentally making a TikTok video with her friends when approached by Achona Online: "If I see a dance that I like [on TikTok], I'll practice it for a while until I get it. I know sometimes I'll take a break from my homework and go on TikTok, and then I'll get distracted, and it turns into what I thought was going to be five minutes into an hour or two hours. The videos are so funny, and maybe you're learning a dance and you want to get it right, it just takes a lot of time." 
Teenagers such as seventeen-year old Loren Gray and sixteen-year old Jacob Sartorius have a follower base of 32.9 and 20.8 million who have introduced the fad of becoming TikTok famous amongst teenagers.
Ellie Warnke ('22) said, "I started on Musical.ly, so I started with my old videos a long time ago, and my account got automatically transferred to TikTok. Mostly, after school I make TikTok videos. I make videos to get famous. This is a way to get people to know who I am. It's fun when people notice you outside of TikTok."
we love some gewd doggos. post a tiktok of your #PetBFF and we'll donate $1 to the @aspca for every video posted. pic.twitter.com/xIqsZZHGyd

— TikTok (@tiktok_us) August 19, 2019
Here at AHN, there are two famed TikTok users—Anna Reins ('22) and Warnke—who spend a majority of their free time creating Tik Tok videos. Warnke (60.1K followers) and Reins (28.9K followers) have a combined total of 1,959,900 likes on their videos.
Reins explains how she became popular on TikTok. She said, "I started on Musical.ly in seventh grade, and I was just doing it because I didn't have Instagram, and it was my only social media platform, and then I stopped, and [then] TikTok came around. In ninth grade, I'm started [TikTok] just as a joke, and then I had one video that went viral. I think because I'm an outgoing person, it was easier for me to put myself out there than it would be for other people."
With the creation of more and more social media outlets, it can negatively affect people's lives as it causes people to interact more with their screens than with people right next to you, but young people seem to think differently.
This raises the question—are younger generations really losing touch with human connection or have traditional ways simply shifted? 
Reins said, "I think [social media] helps bring people together because there are some friends I have made on TikTok. I had this one girl in the Academy middle school come up to me and be like 'I've seen you on TikTok. Can I have a hug?' That's when it hit me that it actually affects you. I feel like social media is the younger generation's connection with people. It is becoming more and more modern for you to have these connections only on the internet or maybe half and half."