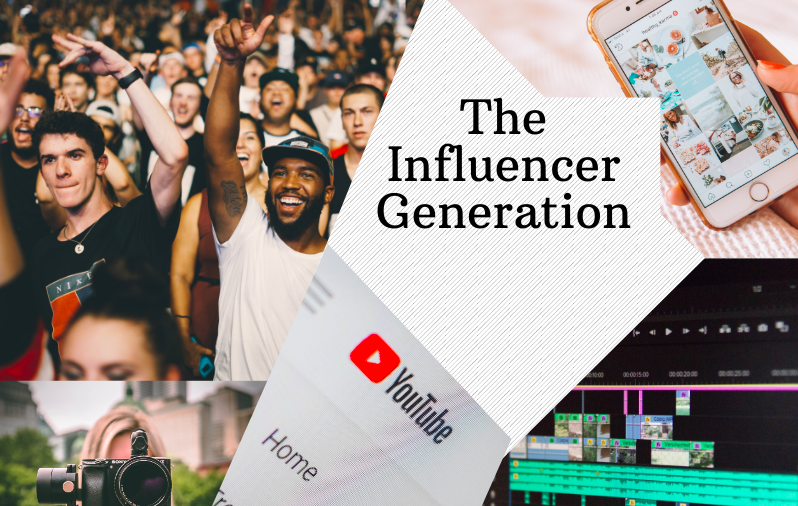 Casey Martin/Achona Online/ Piktochart
Many teenagers today have been greatly exposed to influencers through social media and the internet. The influencer trend of Youtube creators and those with a high following on social media are a trademark of the younger generation.
What is an influencer?
An influencer is "an individual who has the power to affect purchase decisions of others because of his or her authority, knowledge, position or relationship with his or her audience." 
"I think an influencer is someone who tries to serve as a role model for others, like teenagers. I feel like it can be a career for some people who are successful but it's not as ideal as like a job with a degree," Katie Raab ('22).
Many well-known influencers today are known for their followings on platforms such as Youtube, Instagram, and TikTok. Influencers such as David Dobrik the Dolan Twins known on Youtube have fame that originated from their time on the app Vine. Other well-known influencers include Shane Dawson from Youtube, Kylie Jenner from Instagram, and Loren Gray from TikTok.
How do influencers make profit? 
Many social media platforms do not pay influencers according to their following size or likes. However, influencers make a majority of their profits from brand deals and creating ads which they present to their audience.
According to the influencer management platform Traackr, 72 percent of major brands say they are dedicating a sizable portion of their marketing budgets to influencers. 
"I feel companies are doing a good thing by making jobs but I don't think being an influencer is not the steadiest career one could have," said Megan Smolarick ('20).
Brands such as Bang Energy use social media endorsements to further market their products to the population. 
Influencers also create merchandise for their "brand" and hold conventions where fans can meet them and bridge the gap from online influence to in-person entertainment. Conventions such as Vidcon and Playlist Live create events where fans can meet and interact with famous influencers.
So, why do so many teenagers want to be an influencer? 
Why does everyone want to be a motivational social media influencer.

Like, you're living an extraordinarily ordinary life who are you motivating

— Craig Baker (@cregishuman) October 17, 2019
For many of the younger generation, being an influencer became a pathway of ease to fame and fortune. Influencers such as Lily Singh have used their influencer platform to further their career in the entertainment industry.
"I've always wanted to be an influencer because of the growing opportunity for this generation to have a platform to express their creativity," said Ella Hileman ('20).
Many influencers seek to express their creativity through their content, or what they put on their media profiles, and hope to inspire others with their ideas. Being an influencer requires consistency of content for their audience which draws in teenagers of creative mindsets.
"By being an influencer you inspire others to want to be an influencer as well. People want to feel the same validation that you feel when you get good response from the ideas and content you put out on the internet," said Aspen Hunter ('23).
Although being a successful influencer comes with fame and praise for your ideas, some believe that the stressors of content demands overpower the benefits of being an influencer.
"I've seen that people our age who want to be influencers prioritize it over school and sports and then it becomes stressful for them. By focusing on living the life you want to and trying being a role model for other can become difficult for influencers. Even though some people work really hard to make it big, I really believe the luck card comes into play for the success of influencers," said Emory Peterson ('22).
Influencers such as the Ace Family and David Dobrik have come forward and discussed the stressors that come with being an influencer. During a video posted to his channel on Feb. 27, Dobrik explained the decision of producing less content to his viewers: "I want to take more meetings for things. I want to say yes to other opportunities, but I can't because I'm literally constricted by the videos." Many channels have similarly turned to producing less content in order to pursue more goals in their life outside the influencer realm.
"Being a Youtuber is not a realistic job anymore. Adolescents are growing up wanting to be a Youtuber like it's their end goal. In my opinion, Youtube should be a stepping stone for your media career. It's not a sustainable job," said Claire Rogan ('20).