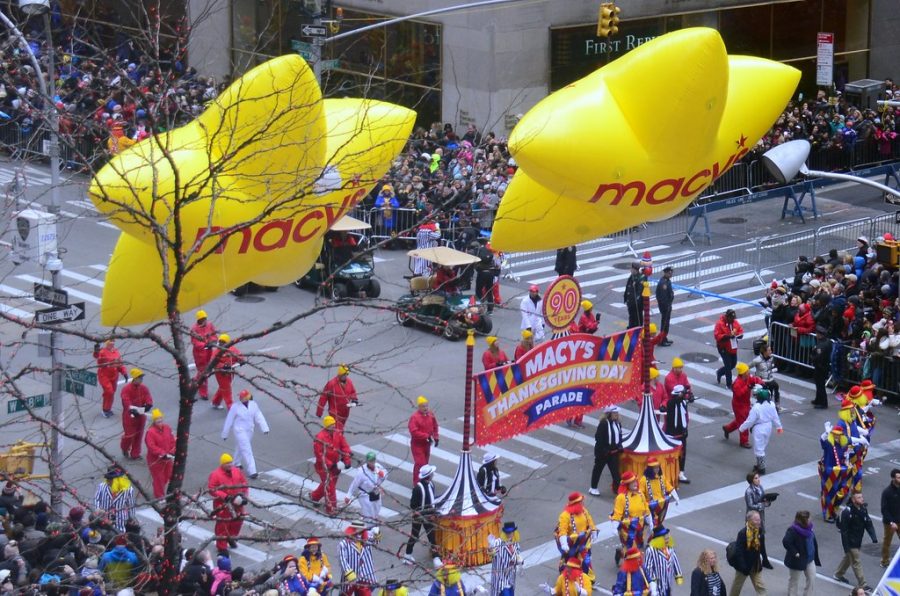 Thanksgiving is a holiday all about traditions, whether you spend it napping after eating all that food, watching football, or spending the day with friends or family. One of the most famous Thanksgiving traditions is the Macy's Thanksgiving Day Parade, and today is it's 93rd anniversary. 
"Every year my family wakes up early to watch the Macy's Day Parade. It's a feel good thing to watch and starts off Thanksgiving in a positive way," said sophomore Ashley Jones. 
The Macy's Thanksgiving Day Parade made its debut on Thanksgiving of 1924. The iconic department store first opened in 1922. The store began to expand rapidly, and by 1924, Macy's flagship store in Manhattan's Herald Square covered an entire city block, stretching from Broadway to Seventh Avenue along 34th Street. In order to celebrate the "World's Largest Store" opening, Macy's decided to throw a parade for New York on Thanksgiving. Although the parade was celebrated on Thanksgiving, it initially was all about Christmas in the hopes that it would draw customers to their store for holiday shopping. 
WOW – now this a throwback! Footage from the 1934 Thanksgiving Day Parade, when the route went down Broad Street! We love seeing City Hall during this time, and the children lined up along the street. We can't wait for the 100th parade in just 16 days! pic.twitter.com/UUAoFYajQo

— Action News on 6abc (@6abc) November 13, 2019
"It's actually always been on my mom and I's bucket list to go to the Macy's Thanksgiving Day Parade. I've always watched it with her growing up and we talk about going together every year," said senior Alyssa Sanchez. 
This year, the Macy's Thanksgiving Day Parade will be shown on NBC as their 67th annual broadcast of the parade, hosted by Savannah Guthrie, Hoda Kotb, and Al Roker. The Parade will start on Thursday, November 28 at 9:00 a.m. and and run until noon. After the parade, the National Dog Show will be broadcasted, and NBC will then show an encore presentation at 2:00. This year, there will include special performances from Black Eyed Peas, Idina Menzel, Billy Porter, Lea Michele, Ciara, and many more. Macy's website provides the full list of performers and floats. 
🦃 EXCLUSIVE: @Macy's Thanksgiving Day Parade will feature @celinedion, @jimmyfallon, @theroots, and more https://t.co/x6uO41yeWU

Who are you most excited to watch? 📺🎉 pic.twitter.com/SJnbWCX6zm

— TV Guide (@TVGuide) November 13, 2019
Although Macy's Thanksgiving Day Parade is a tradition to watch for many Americans, some families decide to take a different route and have their own unique traditions.
"Every year for Thanksgiving, my family takes out our boat. I was raised in New York, so it's unconventional that we don't watch the parade, but now I live in Florida, and here, taking your boat out even during Fall is the norm," said senior Halston Seton. 
Junior Abbey Crowther explained her family's unique Thanksgiving tradition: "Each Thanksgiving morning my parents and I volunteer at homeless shelters. We do this because Thanksgiving is a time to spend with your family and eat good food, but not everyone can afford the usual Thanksgiving meal so we decide to give back before we give thanks."