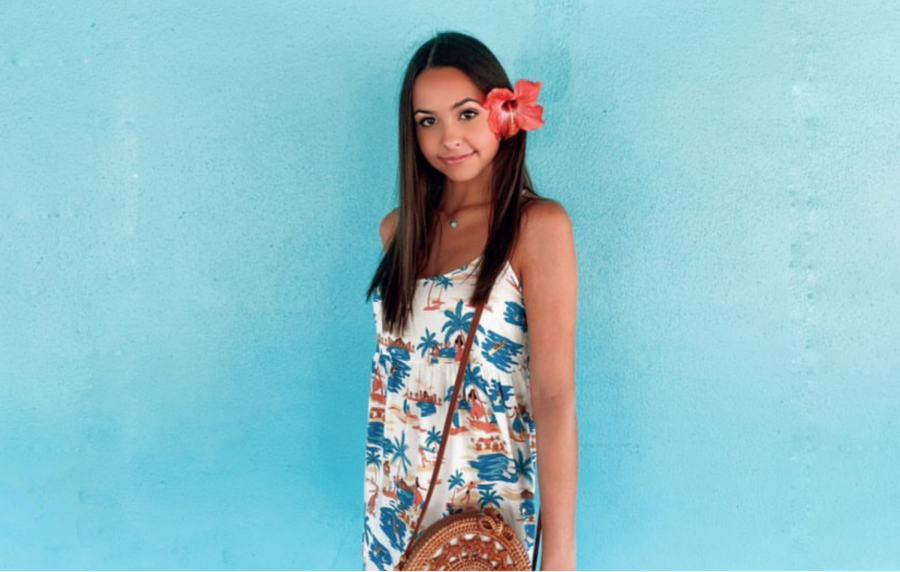 (Photo Credit: Madison Bissett/Used with Permission)
After writing her first blog post on February 9 titled "Valentine's Day Outfits," Senior Madison Bissett began her journey to become a well-known blogger and gain traction in the fashion industry with her blog Madison Bissett. Bissett is a self-taught website creator and fashion connoisseur whose blog centers around showcasing outfits, recommending products, and sharing her lifestyle. As a result, she was approached by Achona Online for an interview.
A: Why did you start a blog, and what inspired you to do so?
B: "I was inspired to create a fashion blog because I am obsessed with all things fashion. I would scroll through Instagram and see influencers representing brands that I absolutely love, and I thought, "I would love to do that!" 
A: When did your passion for fashion, beauty, and lifestyle begin?
B: "I have loved fashion ever since I was a little girl. I have been drawing sketches and designs of clothes in my sketchbook for over ten years now, and it is truly my passion. I always have fun creating posts and content for my blog and Instagram account."
A: How did you learn to create a website? Who/what helped you through this process?
B: "I actually created my website all on my own! I bought a domain online [the website name] and taught myself the whole process, which I am very proud of."
A: What's been the most challenging part about making a blog?
B: "The most challenging part of creating a blog is creating a following and getting big brands to notice you. I have gotten several brand deals already, but I definitely want to expand my collaboration with more in the future. So far, I have brand deals with small boutiques such as the Sunkissedcoconut and Mila Rae Boutique; some larger brand deals I have gotten are with Mr. Bubble and Fresco Case. I am also a part of a team called Influensters where I have been asked to represent makeup brands like Laura Mercier, Urban Decay, Smashbox, and Hourglass. Lastly, I have gotten attention from Scunci, Kendra Scott, Kitsch, and Kylie Skin, but I do not work in association with them yet."
A: What do you hope to accomplish/what are some of your goals?
B: "Some things I hope to accomplish are working with bigger brands, gaining a bigger following, and one day creating my own fashion line." 
A: Do you have any fashion/lifestyle bloggers you hope to emulate?
B: "The fashion blogger that really inspired me to create this blog was Caitlin Covington who owns Southern Curls & Pearls. I really love her content and am inspired by it everyday."
A: What do you consider your "signature look?"
B: "My signature look definitely is dressy and classic. I love to dress up! I like to incorporate a pop of pink in most of my outfits. I would say my favorite type of look would be a chic dress, classic handbag, and a good pair of heels with some simple and dainty jewelry."
A: As you are a senior, do you hope to study fashion in college?
B: "Next year I am planning to study advertising and take art classes. I also want to incorporate some fashion classes into my schedule."
Click here to follow her on Instagram where she posts updates about her blog and, as she says herself, "all things fashion and beauty."