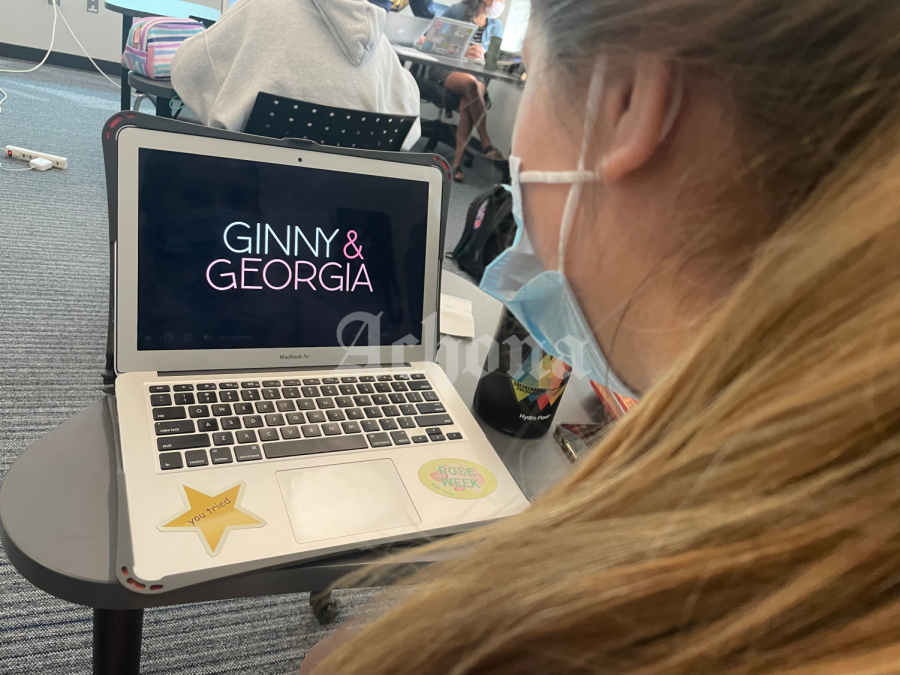 (Photo Credit: Raquelle Elson/Achona Online)
Oftentimes, many viewers are overly critical of TV shows and movies because they are not good from an analytical standpoint. Whether it be that a show did not fulfill its intended goal or that it was not as groundbreaking as it was expected to be, there is always something to criticize. This is because many people do not understand that not every show is made for the purpose of deep thought and analysis.
Madison Kwo ('23) said, "I really like being able to separate critically good movies from casual watching movies. Not every movie has to be a cinematic masterpiece, and that's okay. Every movie has its own purpose and sometimes that purpose is just to have a good time. I actually have a list of my favorite movies on my phone, and it's a mix of the two. There are some movies that I think are just very well-developed, written, or filmed. I enjoy film analysis so I enjoy those movies. Others on the list are just stupid and fun, but hold a special place in my heart. Finding a good mix of the two is when I know I have a really good movie."
View this post on Instagram
"Ginny & Georgia," Netflix's newest comedy-drama, was released on Feb. 24. Originally advertised as the pinnacle of feminism, "Ginny & Georgia" seemingly falls short being that the main character constantly says and does things that contradicts this advertisement. This has given the show a bad reputation, one that it would not have if it was viewed through different lens. 
Shows like "Ginny & Georgia" should be viewed through a more casual lens, not a critical one. These shows have outlandish plots, characters with over exaggerated personalities, and take on topics that they are not well equipped to discuss. Topics such as racism, feminism, and self-harm are brushed over and poorly addressed in "Ginny & Georgia," which it should not be faulted for because this is not the type of show to properly tackle these topics and they were included merely to follow the current trends of the film industry. While it could be argued that "Ginny & Georgia" takes itself a little, this does not undermine the fact that it is clearly not meant to be analyzed. 
Many shows, especially those from the early 2000s or that were inspired by those shows, were made solely for the purpose of entertainment and fully embrace how "bad" they are because this is done on purpose. The CW's 2007 drama "Gossip Girl" fully accepts and utilizes the outlandishness of the show. Being that "Gossip Girl" is written about "Manhattan's elite," the wealthy of the upper west side, majority of the viewers are not living their lives, allowing the writers and directors to make the plot as eccentric as they want. This causes the show to seem, from the perspective of someone who has not seen the show, to be unappealing because of how seemingly unrealistic and unattainable it is. However, these shows still gain popularity and traction, as can be seen by the reboot of "Gossip Girl" that is set to be released on HBO Max.
View this post on Instagram
"I think it's really cool how we get an inside into the New York elite, and it is really interesting how all of the drama goes along with it. I think other people should watch it because it is a good, easy show to pass your time," said Linnea Nestor ('23).
While shows such as "Game of Thrones" and "The 100"  are made with lore and intrigue making them more obviously meant for critical viewing and analyzing, not all shows are made with this in mind. Sitcoms such as "The Office," "Parks and Recreation," and "That 70s Show" filled with zany situations and flawed characters were made for entertainment and fun. Others such as "Pretty Little Liars" and "The O.C." were written at a time where the standard was outlandish and over-the-top television. When shows fall short of standards that they did not set from themselves, it is difficult for them to change their intentions merely for something they did not intend to achieve.
Whether many viewers realize it or not, there is a very clear difference between shows that are meant for critical and casual viewing. Shows meant for casual viewing are shows that were made for the sole purpose of entertainment, without an ulterior meaning or message to be interpreted. Shows meant for critical viewing are shows that are made to make its viewers think about what they have seen, with different elements that can be thoroughly analyzed. Many people adopt the role of a film critic while watching these shows, but take it a step too far by viewing casual shows through this same lens. This causes shows like "Ginny & Georgia" or "Gossip Girl" to be analyzed and perceived in ways that they were not intended to be, causing disdain towards the shows because of their lack of an underlying meaning. This is unfair to these shows because while they might not be high quality television, they serve as quality entertainment.
Why do people always over analyze stuff like movies tv shows etc, because it really takes away the simplicity of things.

— $🥡 (@SimplySnookie_) February 26, 2021
Ann Bordin ('22) said, "I don't watch a lot of shows anymore because I just don't have the patience to watch more than like two seasons, but a show I really liked was "Anne with an E." It follows the story of a girl named Anne who is adopted into the Cuthbert family. While it doesn't have a lot of symbolism behind it, as far as I can tell, it tackles real world issues like racism, homophobia, and sexism all while still telling a beautiful love story. It was little slow at the beginning but it's still one of my favorite shows!"